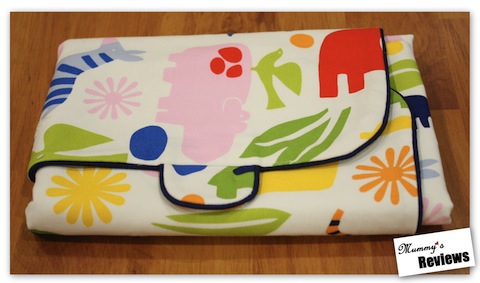 Welcome to Part 3 of Stylish Mum's Essentials series! Mutya (co-founder of Spinkie) found a diaper mat clutch to be "one of the most indispensable products" for her newborn. She offered one for my review and I chose PuddletonBaby's Diaper Mat Clutch in Alexander Henry's "Zoology" print. Yes, animals again because Vee loves them to bits.
This is a waterproof diaper changing mat that turns into a clutch — a sure head-turner in your favourite diaper changing room.
About The PuddletonBaby Diaper Mat Clutch
These are the main features of the diaper mat clutch:
First layer: Made of printed cotton canvas fabric
Second layer: Made of waterproof white polyester vinyl blend (with a small percentage of PVC content). New batch to be replaced with ProCare fabric (non-PVC)
Dimensions: Open: About 18″ x 26″; Folded: about 6.5″ x 9.5″
Country of origin: Made in the U.S.A.
The diaper mat clutch is available in a range of lovely designer prints.
First Impressions
The diaper mat clutch is sleek and beautiful. It closes neatly into a handy diaper and wipes case. (In contrast, my existing LeSportsac diaper mat folds into thirds and is rather bulky.) A small piece of velcro is attached to the tab. I'd prefer a snap button instead, for easier laundry and longer lifespan.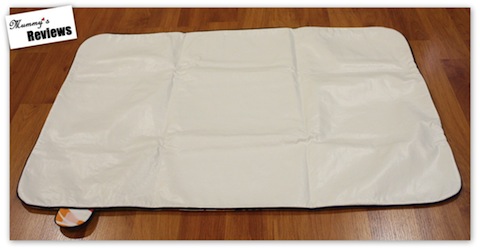 The fabric contents of the waterproof surface weren't stated and we were rushing off for our trip to Perth, so I used it without knowing the contents. This was a major oversight… Read more to find out why.
How We Tested It
Laundry: Before initial use, I handwashed it once. The velcro comes without a laundry tab, so I'm extra careful when washing it. Now, I place it into a separate laundry net before washing with other regular items. There isn't any washing instructions label, so I hope it can withstand my usual warm machine washes.
Performance: Public baby changing tables are among the dirtiest surfaces around, so I always use a diaper mat. During our recent trip to Perth, I brought this diaper mat clutch since it's very small, light and portable.
On the flight, I changed Vee 2 to 3 times. The in-flight toilet cubicle is tiny, yet our family of 3 managed to squeeze in. For each change, I brought along 1 cloth diaper cover, 1 disposable insert, 1 cloth wipe and this diaper mat clutch in a medium wet bag.
When opened, the diaper mat is just big enough to cover the changing table. Vee stands without shoes on the mat, hubby holds him while I change him as swiftly as I can. Every change is a mini battle in the cubicle, with Vee's flying hands and legs.
Besides the flight, we also used the mat when changing Vee in restrooms, parents' rooms, the apartment and the farm.
After each change, it's easy to fold the mat back into a clutch. I absolutely love its portability.
When folded, part of the printed surface (that comes into contact with the "dirty" changing table) touches the waterproof surface (for baby's skin). So it's important to clean the changing table BEFORE placing the mat on it. Otherwise, the printed surface would contaminate the "clean" waterproof surface.
Fabric Content: I made an oversight by not finding out about the waterproof fabric BEFORE the review. After trying and loving the diaper mat clutch, I received a reply from the sponsor that the waterproof fabric is made of white polyester vinyl blend, with a small percentage of PVC. Gosh… dreaded PVC!
I love the idea of a stylish and portable diaper mat clutch, but not one with PVC content in it. Sally, the mother who handmakes each PuddletonBaby product sent me an email after hearing of my concern. Below is an excerpt:
… I had no idea the PVC could be dangerous until you asked if my mats contained it. …I read your blog and I pulled my mats to make sure they were 100% safe. I went back to the fabric store and they reassured me that they only buy safe materials and that the material that I had bought was mainly polyester, with a thin coating of vinyl. Since I read that most vinyl contains PVC I stopped selling the mat regardless of what they said. I have a two and half year old daughter so I completely understand how people could be concerned. I would never buy or sell anything that I knew could do harm to a child. …I have bought Procare fabric and will only make the mats with that material. I truly appreciate your information on the topic…
Each PuddletonBaby diaper mat clutch is retailing at USD30. It'd be good value when the new batch with ProCare fabric (supposedly free from PVC, BPA and phthalates) arrives. If you're buying one, remember to check with the seller whether it's the new batch with PVC-free materials.
—
What we like about it:
Folds into a handy diaper and wipes case — ultra-portable
Beautiful print that would turn heads in the diaper changing room
What can be improved:
Specify content of fabrics used (I found out the contents from the sponsor, Spinkie)
Use PVC and phthalates-free materials, for baby's health (PuddletonBaby has taken note and is working on this)
Add laundry tab or use snaps instead of Velcro tabs
Add washing instructions
—
Get Your Own (with Discount!)
To get your own diaper mat clutch and a wide range of stylish products for baby, visit Spinkie. Be prepared to drool at all the designer prints!
Special Treat: 20% STOREWIDE discount
Discount Code: 20MUMMY2010
Validity Period: Until 31 December 2010
—
Disclosure: I received a PuddletonBaby Diaper Mat Clutch from Spinkie for review. Since it contains PVC and is unsuitable for our use, PuddletonBaby would be sending me the new version made from ProCare fabric as a replacement.
—
P.S. More in this Stylish Mum's Essentials series: