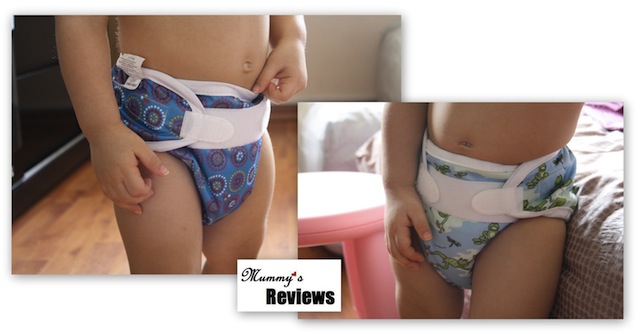 Welcome to Mummy's Reviews™' Bummis Series! In this series of 4 articles, I'd be sharing with you Bummis cloth-diapering products that are high-quality yet economical. What's more, there would be a Giveaway at the end of the series!
When Tiny Pants (distributor for Bummis in South East Asia) approached me to review its products, I was thrilled because I'm already a long-time fan of Bummis Super Brite. (The Super Brite was Vee's very first modern cloth diaper and here's our very first Bummis review.) I was provided with a variety of items to test out and this article shall compare the popular Bummis diaper covers — Super Brite and Super Whisper Wrap.
What is a Diaper Cover?
A diaper cover is worn over traditional cloth diapers (square nappy / flats / lampin), a prefold, or a fitted diaper, to provide waterproofness. Erm… so that Mummy doesn't have to clean up wet clothes, bedsheets, sofa, etc.
About Bummis Super Brite & Super Whisper Wrap
These are the main features of the diaper covers:
Outer layer: Soft laminated polyester fabric
Inner lining: Super Brite: none; Super Whisper Wrap: 100% polyester
Closures: Hook & loop closures, with laundry tabs
Country of origin: Made in Montreal (Canada), fabrics and components sourced in North America and are guaranteed lead, phthalate and BPA free
Both diaper covers come in sizes Newborn (3-5kg) to X-Large (18kg). There is a range of attractive prints to choose from.
First Impressions
1. Bummis Super Brite
The Medium Super Brite looks the same as our Small covers bought 2 years ago. It still has the reliable laundry tabs, durable hook and loop closures, and signature leg gussets.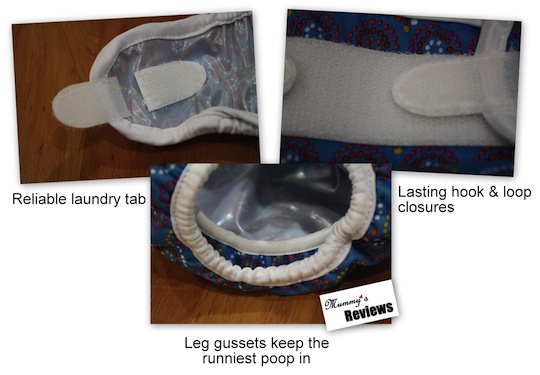 2. Bummis Super Whisper Wrap
The Super Whisper Wrap has no leg gussets. Instead, it has a layer of polyester concealing the laminate, so no laminate would touch baby's skin. This is a feature that I like.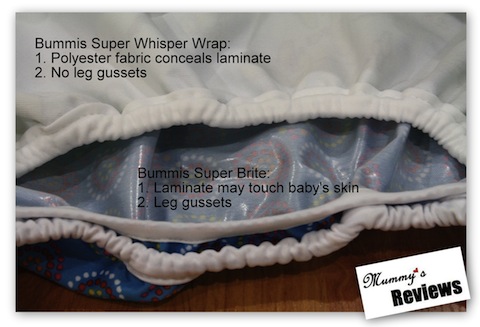 How We Tested Them
(a) Laundry: Before first use, I hand-washed the diaper covers with cold water once. After each use, I'd do one of the following:
if not damp or soiled: reuse it immediately
if slightly damp: wipe it clean, then air dry and reuse at next diaper change
if reused several times, or wet / soiled: wash by hand or washing machine, then dry under the sun.
The laundry label doesn't recommend the washing temperature. I've washed the covers up to 40°C and they're fine. They dry very quickly (usually within a few hours), especially Bummis Super Brite, since no polyester fabric covers the laminate.
(b) Comfort & Fit: As a 3.5kg newborn, Vee fitted into the Small Super Brite very well. He used it until 4 months old, at almost 8kg. Now, at 21 months old, he fits into Medium, which is generously-sized. The elastics are gentle enough not to leave red marks.
The laminate of Super Brite is exposed, so to avoid letting it touch baby's skin, I recommend using it with the Angel Fold (for square nappy), Bikini Twist Fold (for prefold) or a fitted diaper. More of diaper folding shall be covered in the next post on prefolds.
(c) Ease of Use: Since they are sized diapers with hook and loop closures, there is no snap button at all. This means it's as easy to use as a disposable diaper, so any caregiver would be able to use them. My confinement lady used Super Brite on Vee throughout his first month; my hubby and my mum have changed him too.
During the first month, I used the Angel Fold on traditional square nappies, added a liner and wrapped the Super Brite over.
Nowadays, I use both covers over Bummis organic cotton prefolds (to be reviewed in the next article), with or without a liner. This means Vee must lie down for his diaper changes, which he does reluctantly as a busy toddler. It's definitely easier to change angelic newborns.
(d) Protection against pee & poo: We experienced no pee leakage with both covers. Using a thicker prefold / fitted diaper and a stay-dry liner stretches the time between diaper changes. The Super Brite was especially reliable in containing breastfed Vee's VOLUMINOUS explosive poo.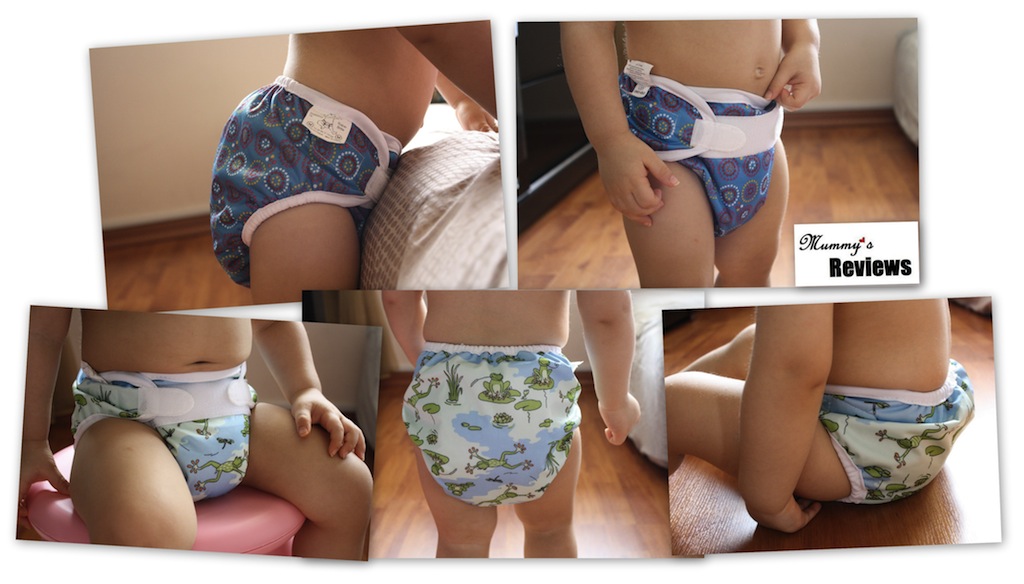 (e) Overall value: I like to use this system during the day because it aids Vee's potty-training while being very economical. As long as his skin is eczema and rash-free, I skip using a diaper liner — so it's only the prefold and the cover. This allows him to feel wet after each pee. Then I'd simply replace the prefold and reuse the diaper cover.
At the most challenging part of his potty-training, we were changing diapers every 1 hour or even less! This 2-part system minimises the laundry load, as compared to using pocket diapers. A prefold is also more affordable than a pocket diaper, AIO (All-in-One), AI2 (All-in-Two) soaker or training pants.
The price of a Super Brite is SGD23.50 (~USD18 or RM56); Super Whisper Wrap is SGD23. When I bought Super Brite two years ago, each piece cost about S$18, so the price has increased. Duh… must be inflation or weaker exchange rate at work! Since each diaper cover can be reused a few times until wet or soiled, it's a very economical AND effective diapering system. The quality of the diaper cover is also top-notch, lasting through many months of washings.
So my verdict: they're superb value-for-money. Whether to choose Super Brite or Super Whisper Wrap depends on your preference for leg gussets and concealed laminate. I'd definitely use them until Vee is potty-trained and on the next baby.
—
What we like about them:
Very easy to use by any caregiver, especially on newborns
Strong protection against leak; Super Brite's leg gussets contain poo very well
Generous sizing — Vee (a large baby) used Small from 0 to 4 months old; he's using Medium at 21+ months, with ample room for growth
Durable yet gentle elastics
Durable hook & loop closures, and laundry tabs
Super Whisper Wrap: no laminate touches baby's skin
What can be improved:
Laundry label states "machine wash and dry at normal temperature" — clarify "normal" temperature
Hook & loop closures produce a relatively loud noise when opened — may awake a sleeping baby during night diaper changes
Stitching on the velcro tab of 1 Small Super Brite came loose after a while (This was easily fixed by my seamstress mum.)
Super Brite: Add a layer of fabric across the waist area to cover the laminate
—
Get Your Own
To get your own Bummis cloth diapering products for baby, visit Tiny Pants (distributor for South East Asia).
You may also check the prices at Amazon.com here:
Bummis Super Brite Diaper Cover
*
Bummis Super Whisper Wrap
*
—
Stay tuned for upcoming reviews in this Bummis Series:
Bummis Organic Cotton Prefolds
Bummis Liners
Bummis Fabulous Wet Bag & a GIVEAWAY!
—
Disclosures: I received 2 Bummis Super Brite and 2 Super Whisper Wrap diaper covers for review.
*: affiliate link to support the growth and maintenance of Mummy's Reviews™
—
P.S. Need help to get started on cloth diapering? Read Cloth Diapering Essentials – A Quick Guide.