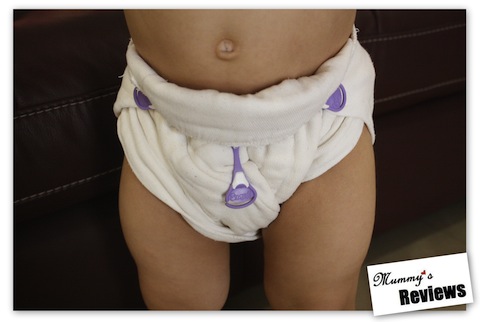 Welcome to Part 2 of Mummy's Reviews™' Bummis Review Series! Tiny Pants provided me with both Infant- and Baby-sized organic cotton prefolds to test out on Vee. When Vee was a newborn, we relied on 3 dozens of traditional square nappies, as I wasn't sure about prefolds. This time, I'm excited to try prefolds while potty-training Vee and they've been working great for us. Moreover, I certainly prefer to lay organic fabrics next to my dear son's uber-sensitive skin.
What is a Prefold?
A prefold is a rectangular diaper with more layers in the centre than the sides. Its design is a major improvement from traditional square nappies (lampin) which is single layer and needs more folding.
When used with a good-quality diaper cover and stay-dry liner, its performance can be comparable to other modern cloth diapers. They're an economical choice, especially for day-time use.
About Bummis Organic Cotton Prefolds
These are the main features of the prefolds:
Material: 100% certified organic cotton twill
Layers: Infant & Baby-sized: 4 x 8 x 4 ply (This means 8 layers in the middle, and 4 layers at the sides.)
Dimensions: Infant-sized: 14″ x 11.5″ (36cm x 30cm); Baby-sized: 19″ x 13″ (48cm x 34cm) (after shrinking from prewashes)
Country of origin: Made in Pakistan
A preemie size in 2 x 6 x 2 ply is also available.
First Impressions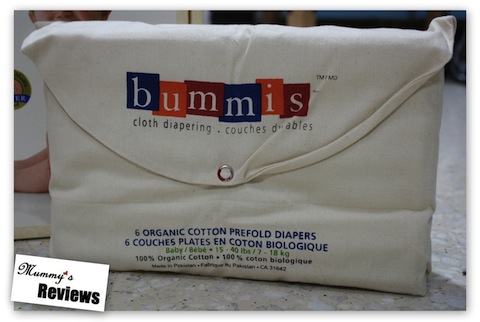 I like the idea of a cloth packaging, that can be reused as a small pouch. However, when I handwashed the pouches, colour-run was experienced. The water turned very yellowish, and it took many rinses to clear up.
The prefolds felt soft and smooth. This is how they look after shrinking 20-25% post-prewashes: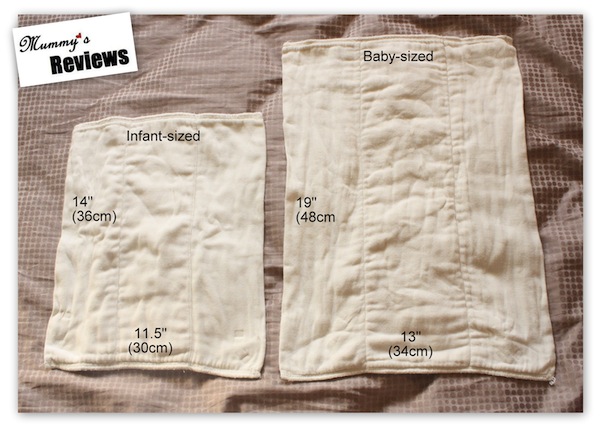 How to Use Prefolds
Bummis has a "Care and Use" resource section that describes clearly how to use the diapering system, including folding instructions. The following is my version:
(a) No Need to Fold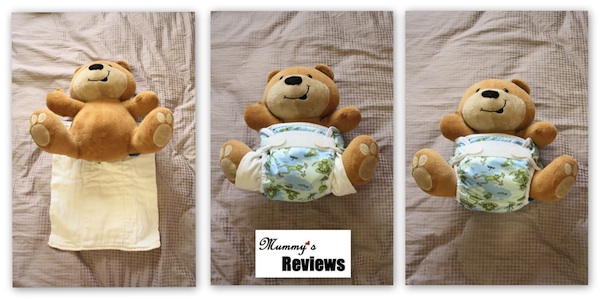 For a toddler, this works with an Infant-sized prefold and diaper cover. Simply lay the prefold on the diaper cover, fasten the cover, and stuff the excess fabric into the crotch area. ANYONE can do this!
(b) Fold into Thirds: For Pee Only or As Insert / Soaker
Infant-sized prefold: When folded into thirds, it's of similar size to a regular insert, so would fit nicely into most pocket diapers. This makes a good back-up insert / soaker for pocket diapers / AI2s (All-in-Twos), especially during rainy days.
This is also suitable for a diaper cover such as Bummis Super Whisper Wrap (that has no exposed laminate).
(c) Fan (or Angel Wings) Fold: For Pee & Poo, Diaper Cover Optional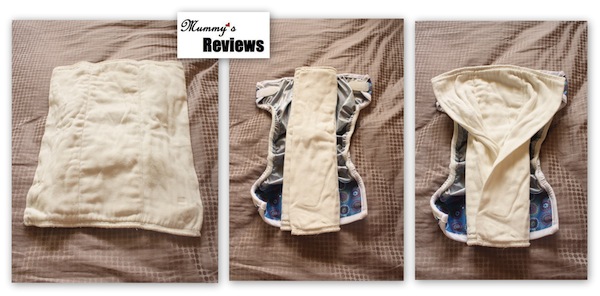 A suitable fold for newborns with explosive poo, especially when used with Bummis Super Brite (that has leg gussets).
(d) Bikini Twist Fold: For Pee & Poo, Diaper Cover Optional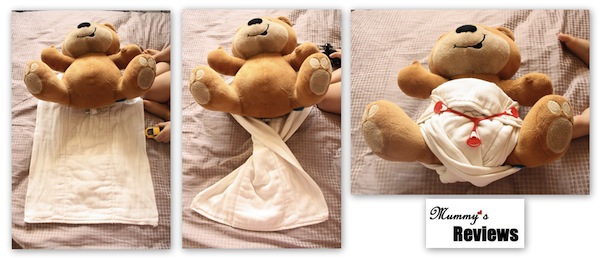 This is currently my favourite fold; I use it on Vee without a diaper cover to facilitate toilet-training in the day. (Note: By right, when using a Snappi, a diaper cover is needed to conceal it from curious fingers. Since Vee doesn't bother the Snappi at all, we can do without the cover.)
How We Tested Them
(a) Prewash & Laundry: I prewashed the prefolds at 60°C using a washing machine. They started absorbing after 1 prewash. In the beginning, they shed a little lint, which is expected. Apparently, when no lint is shedded anymore, the prewashes are completed — i.e. the prefolds have finished shrinking and reached their maximum absorbency.
During normal laundry, I wash these prefolds together with other cloth diapers at 40°C. They take about 1 sunny day to dry.
(b) Comfort & Fit: The Infant-sized prefolds are small and trim, so I like to use them with a diaper cover.
The Baby-sized ones are larger, and can be folded into a Bikini Twist on Vee. Recently, he runs around the house with only a prefold and Snappi, without it ever slipping down his bums. This is an effective way of allowing breathability for his sensitive skin, and more economical than fitted diapers.
(c) Ease of Use: Initially, it took a little practice to master the Bikini Twist fold and secure it with a Snappi on an impatient toddler. Compared to folding traditional square nappies into origami, this is considered easy-peasy.
When using the small Infant-sized prefold with a diaper cover, I prefer the simple no-folding method mentioned above. My hubby has mastered this too!
(d) Absorbency: With a cover, the Infant-sized can hold 1-2 of Vee's pees; the Baby-sized can hold 2-3. The prefold + stay-dry liner + cover combination can last up to 3 hours. This is for a heavy-wetting 21-month old.
Without a cover, we can only use the Baby-sized, and change after every pee. Sometimes, Vee does a forceful pee, and a little bit would wet the floor. Ironically, Vee doesn't mind sitting on wet diapers but HATES wetting the floor. Nowadays, he'd tell me before he pees and get me to bring him to the potty. Thanks to the prefolds for our potty-training progress! 🙂
(e) Overall value: As mentioned in the previous post, I like to use prefolds during the day because they aid Vee's potty-training while being very economical.
The price of 6 Infant-sized prefolds is SGD32.90 (~USD25 or RM79); 6 Baby-sized prefolds is SGD43.90 (~USD34 or RM106). After using these Bummis prefolds for 2 months, I find them functional, easy to use, and more economical than other modern cloth diapers (especially those made of organic fabrics). For super-frequent diaper changes on a newborn or a potty-training toddler, these prefolds are very budget-friendly.
So my verdict: they're versatile, high quality yet affordable. Just like the Bummis covers, I'd definitely use them until Vee is potty-trained and on the next baby.
Stay tuned for upcoming reviews in this Bummis Series:
Bummis Liners
Bummis Fabulous Wet Bag & a GIVEAWAY!
—
What we like about them:
Made of certified organic cotton (Read the benefits of organic cotton at Treehugger.com.)
Very absorbent, especially the largest Baby-sized
The densely-woven fabric is easy to use with Snappi or pins
Reusable cloth packaging
What can be improved:
Prewash the fabric of the packaging so that the colour doesn't run so much
As for the prefolds, I seriously can't find any fault with them…
—
Get Your Own (with Discount!)
To get your own Bummis cloth diapering products for baby, visit Tiny Pants (distributor for South East Asia).
Special Treat: 15% discount storewide
Discount Code: MV15A
Validity Period: Until 30 December 2010, 2359hr
You may also check the price at Amazon.com here:
Bummis Organic Cotton Prefolds Diaper (Infant)
*
Bummis Organic Cotton Prefolds Diaper (Baby)
*
—
Disclosures: I received 3 packs of Bummis Organic Cotton Prefolds for review — 6 Infant-sized and 12 Baby-sized.
*: affiliate link to support the growth and maintenance of Mummy's Reviews™
—
P.S. Need help on cloth diapering? Read all our Cloth Diapering Tips.