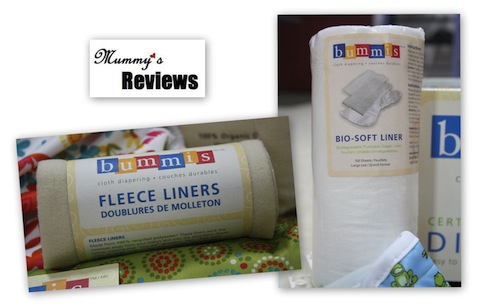 Welcome to Part 3 of Mummy's Reviews™' Bummis Review Series! Tiny Pants provided me with both washable Fleece Liners and flushable Bio-Soft Liners to test out on Vee. Previously, we only had 3 washable fleece liners and had to use conventional disposable liners at times. I certainly welcome more fleece liners and like the idea of biodegradable liners.
What is a Diaper Liner?
Traditional cloth diapers (for e.g. square nappies) don't have a stay-dry layer, so a diaper liner may be placed on them to wick moisture away from baby's skin. It's usually a thin layer and comes in disposable or washable types.
These are situations when diaper liners are useful:
Provide a stay-dry surface on cloth diapers without one (e.g. cotton, bamboo diapers), especially for long hours or night-time use
Prevent stool stains on cloth diapers, especially for newborn's meconium or diarrhoea
Prevent diaper cream from coating cloth diapers, thus avoiding build-up issues
Ease removal of stool from cloth diapers (A flushable diaper liner allows stool to be disposed into the toilet easily. Note: Stool should go into the toilet, not into the garbage bin.)
When a disposable diaper needs to be used (for e.g. during travel), you may lay a washable diaper liner to protect baby's skin from touching the disposable diaper
During travel, you may lay a liner onto a pocket diaper. During diaper change, simply replace the insert and liner, and reuse the pocket diaper. This converts the pocket diaper into an AI2 (All-in-Two)!
About Bummis Diaper Liners
These are the main features of the Fleece Liners:
Material: Repreve "more than recycled" polyester, guaranteed lead, phthalate and BPA free
Dimensions: 11″ x 4.75″ (28cm x 12cm)
Country of origin: Made in Canada
These are the main features of the Bio-Soft Liners:
Material: 100% viscose rayon, a cellulosic fibre derived from natural sources
Dimensions: Baby-sized (Large): 11.25″ x 8″ (28.5cm x 20.5cm)
Country of origin: Made in England
Bummis' website states that the "Bio-Soft liners are made of a non woven material with no binder, and will biodegrade very quickly (within 8 days in a sewage treatment system or 20 days in a septic tank)." A smaller Infant-sized is also available.
First Impressions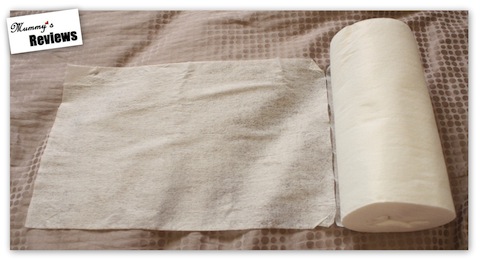 The Bio-Soft Liners come in a roll, and can be torn off for use, just like disposable kitchen towels. After removing the plastic packaging, I'd to keep the roll of liners in a zipper bag. Each liner is thin like tissue paper, soft and smooth.
Update on 1 March 2011: Tiny Pants updated me that the packaging can be opened from the top, then pull out the liners easily. I've been trying it out for a while and it works wonderfully:
The Fleece Liners are relatively thin, and also feel soft and smooth. This is what they look like: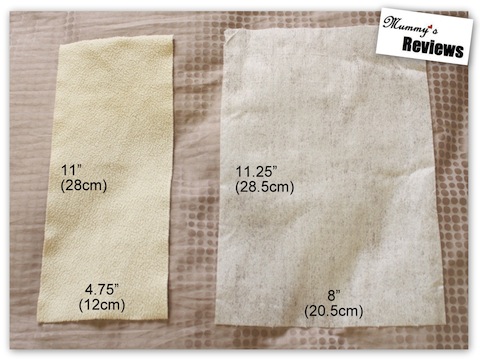 A closer look at the materials:
How to Use The Liners
Fleece Liner: Simply lay onto any cloth diaper that requires wicking or protection.
Bio-Liner: Bummis' website doesn't mention anything about it wicking moisture. The main function seems to be facilitating poo removal. So, lay onto a cloth diaper that requires protection. For wicking moisture, you'd still need a stay-dry diaper or washable liner.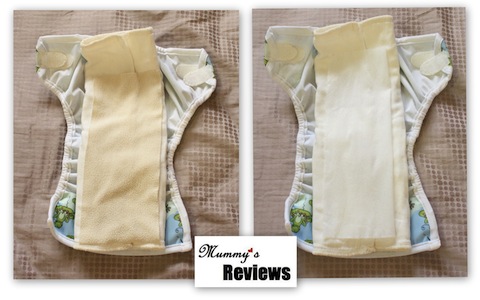 How We Tested Them
(a) Prewash & Laundry: The Fleece Liners "fluffed' up a little after several washes, without any pilling. As expected, Vee's diaper cream left a faint greyish stain on the liners. Our diaper cream is rather cloth-diaper friendly, so I wash the fleece liners with other diapering items. If unsure about your diaper cream, you'd need to wash the fleece liners separately, and strip wash them occasionally.
(b) Comfort: The Fleece Liners wick moisture away rather well, feeling only a little damp. I like its softness against Vee's skin.
The Bio-Liners don't seem to wick away moisture as they feel quite damp when used with prefolds. So, when using prefolds, you may wish to use place the Bio-Liner ON the Fleece Liner.
When used stay-dry diapers (such as inner layer made of suedecloth or microfleece), they feel drier. They're rather dry on bamboo velour too. I use them when Vee needs diaper cream and all the fleece liners are in the wash.
(c) Ease of Use: The Fleece Liners are of the right size and don't require any folding.
The Bio-Liners can be folded across the width to suit the diaper. Since it's very thin, I like that it's wide enough for folding to get 2 layers. This protects the diaper well against diaper cream.
Since my home sewage system is very old, I didn't dare to flush them down the toilet. Anyway, Vee's potty-trained for poo, so the liners are only wet. I simply dispose the used liners into the garbage bin. Even before Vee was poo-trained, I find it easy to spray or dump poo into the toilet, without using any liner.
During our 1-week trip to Perth, both liners were very useful in converting my pocket diapers into AI2s. I brought only several pocket diapers for the trip, and managed to cloth-diaper Vee almost full-time in the day!
At home, fleece liners allow us to use prefolds for a longer period of time, up to 2-3 hours (with a Bummis diaper cover). Since Vee's a heavy-wetter with super-sensitive skin, either liner isn't stay-dry enough for 12 hours of overnight use. They're more suited for his day-time use. Other babies may be fine with them though, so you'd need to try to find out.
(e) Overall value: The price of 5 Fleece Liners is SGD8.90 (~USD7 or RM21) — absolutely value-for-money. A roll of 100 Baby-sized Bio-Soft Liners is SGD12.90 (~USD10 or RM31). Since Vee's poo-trained, we don't get as much use out of them. They'd be more useful on a younger baby (especially when expecting a BIG poo outdoors) and better if they wicked moisture away from the cotton prefolds.
Stay tuned for the upcoming review in this Bummis Series: Bummis Fabulous Wet Bag & a BIG GIVEAWAY!
—
Fleece Liners
What we like about them:
Just the right size
Very green — made of recycled polyester, even the packaging is made of chlorine free recycled fibres
Good quality at a very affordable price
What can be improved:
Even more stay-dry for baby with super-sensitive skin (Erm… am I asking too much?)
—
Bio-Soft Liners
What we like about them:
Baby-sized: wide enough to be folded as needed, to provide 2 layers of protection (especially against diaper cream)
Biodegradable in a short time
Some parents like that the liners are flushable, which facilitate easy poo removal
What can be improved:
Wick moisture away from cotton prefolds
Note: We didn't get to try the liners with poo and didn't flush them down the toilet.
—
Get Your Own (with Discount!)
To get your own Bummis cloth diapering products for baby, visit Tiny Pants (distributor for South East Asia).
Special Treat: 15% discount storewide
Discount Code: MV15B
Validity Period: Until 31 December 2010, 2359hr
You may also check the prices at Amazon.com here:
Bummis Fleece Liners
*
Bummis Bio-Soft Liner (Baby)
*
—
Disclosures: I received 1 pack of 5 Bummis Fleece Liners and 1 roll of 100 Bio-Soft Liners for review.
*: affiliate link to support the growth and maintenance of Mummy's Reviews™
—
P.S. Need help on cloth diapering? Read all our Cloth Diapering Tips.