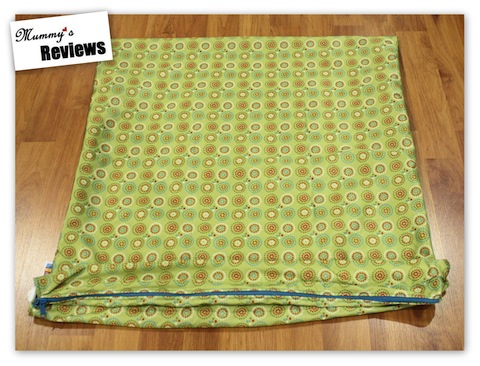 Welcome to Part 4 of Mummy's Reviews™' Bummis Review Series! Tiny Pants provided me with a Bummis Large Fabulous Wet Bag to try out. It's indeed large and fabulous, doubling up as a diaper pail liner!
About Bummis Large Fabulous Wet Bag
These are the main features of the wet bag:
Material: 1 layer of laminated polyester (same as Super Brite diaper cover), guaranteed lead, phthalate and BPA free
Closures: Pull-strings AND zipper
Dimensions: ~ 23″ x 23″ (58cm x 58cm)
Country of origin: Made in Montreal (Canada)
The Large Fabulous Wet Bag is EXCLUSIVE to Bummis Organic Cotton Diaper Kit. Small and medium Fabulous Wet Bags are available, featuring a snap-able handle and a zipper.
First Impressions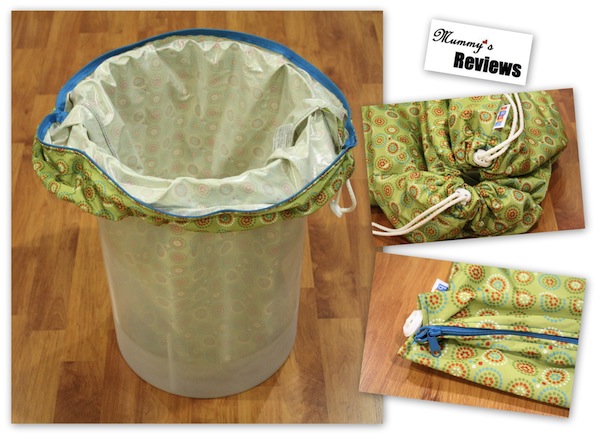 This is the LARGEST wet bag I have seen! I was totally blown over when I first opened it up. It fits nicely into my existing dry diaper pail, with ample excess fabric. I like the choice of closing it with either pull-strings or a zipper and was eager to test it out during our 1-week Perth trip, with an aim to cloth-diaper Vee as much as possible!
Moreover, it's in the same familiar Bummis Super Brite print, which livens up Vee's room.
How We Tested It
(a) Prewash & Laundry: As with any new laundry items, I handwashed it in cold water once before initial use. After that, it's very easy to wash and dry after use. The laminate has withstood more than 2 months of regular use, and looks as good as new.
(b) Effectiveness: During our 1-week trip to Perth, my plan was to cloth-diaper Vee whenever possible, so we chose a service apartment with a washing machine and dryer. I hung the pull-strings on a door knob to use it as a hanging laundry bag. When doing so, it was difficult to use the zip, so I fastened the pull-strings each time after dumping a cloth diaper or soiled laundry in. It has a HUGE capacity and can hold 1-2 days' worth of cloth diapers.
It's very sturdy and is currently my preferred diaper pail liner.
(e) Overall value: There is NO price for this Large Fabulous Wet Bag because it's available exclusively in Bummis Organic Cloth Diaper Kits. Being somewhat of a mathematical freak, I derived the value of the wet bag by taking the price of the diaper kit and subtracting the total value of all the other items in the kit.
To see the workings, click the thumbnail here: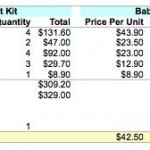 Value of 1 Large Fabulous Wet Bag in:
Infant Diaper Kit: S$19.80 (what a steal!)
Baby Diaper Kit: S$42.50 (still reasonable, considering the bag is so big)
Infant & Baby Diaper Kits: S$16.65 (great to have 2 diaper pail liners to rotate!)
—
What we like about it:
Very generous size
Doubles up as a diaper pail liner
Option of using pull-strings or zipper to enclose it
Easy to wash and dry
What can be improved:
Offer it for individual sale!
—
My Opinion on Bummis Diaper Kits
Getting a Bummis Diaper Kit is a convenient way to have the complete diapering system in place — diaper covers, prefolds, liners and wet bag (cum diaper pail liner). Before Vee was born, I was shopping all over the place for the various items. The number of items included in each diaper kit is reasonable for starting a stash.
Personally, I prefer to have more Infant-sized than Baby-sized prefolds (because they're slimmer and more versatile) and find diaper covers a MUST for my newborn baby. Most newborns don't fit into one-size cloth diapers until they're 5kg, about 2-3 months old. At the newborn stage, the prefold + diaper cover system is economical since soooo many diaper changes are needed. (FYI: Vee's highest record was 11 poos in ONE day, right after the confinement lady left. I nearly freaked out!)
Conclusion: if I were to choose right at the start, the Infant Diaper Kit would attract me more.
Thank you for reading this special Bummis Review Series covering the prefold + diaper cover system in detail. To catch previous parts of this series again, here are the links:
Happy diapering!
—
Win Your Own
FOUR (4) lucky subscribers will win ONE of these prizes:
1st Prize: 1 Bummis Super Brite Diaper Cover + 3 pieces of Bummis Organic Cotton Prefolds
2nd Prize: 1 Bummis Super Whisper Wrap + 3 pieces of Bummis Organic Cotton Prefolds
3rd Prize: 1 Medium-sized Bummis Fabulous Wet Bag
4th Prize: 1 roll of 5 Bummis Fleece Liners + 1 roll of Bummis Bio-Soft Liners
How to Participate
1. Subscribe to Mummy's Reviews™ via email or in a reader (existing subscribers counted)
2. To get EXTRA entries:
1 extra entry: "Like" Mummy's Reviews™ Facebook page (existing fans counted)
1 extra entry: "Like" Tiny Pants Facebook page (existing fans counted)
1 extra entry (unlimited total): For each participant referred by you (e.g. through sharing the Giveaway on Facebook / Twitter / email)
3 extra entries: Share this Giveaway on your blog / website
3. Fill in the online form HERE
Other Information
This Giveaway is open to subscribers with a mailing address in ASEAN (Singapore, Malaysia, Brunei Darussalam, Cambodia, Indonesia, Laos, Myanmar, Philippines, Thailand, Vietnam).
Winners can state their preference of print /colour of their prizes. The Sponsor will try its best to accommodate; the actual print / colour received depends on stocks available.
It will run until 7 January 2011 (Friday).
The usual Giveaway Terms apply.
Send in your entries now and good luck!
—
Get Your Own (with Discount!)
To get your own Bummis cloth diapering products for baby, visit Tiny Pants (distributor for South East Asia). For information on the Diaper Kits, go to "Products" and then "Bundle Kits".
Special Treat: 15% discount storewide
Discount Code: MV15C
Validity Period: Until 3 January 2011, 2359hr
You may also check the price at Amazon.com here: Bummis Organic Cotton Diaper Kit*
—
Disclosure: I received 1 Bummis Large Fabulous Wet Bag for review.
*: affiliate link to support the growth and maintenance of Mummy's Reviews™
—
P.S. Need help on cloth diapering? Read all our Cloth Diapering Tips.