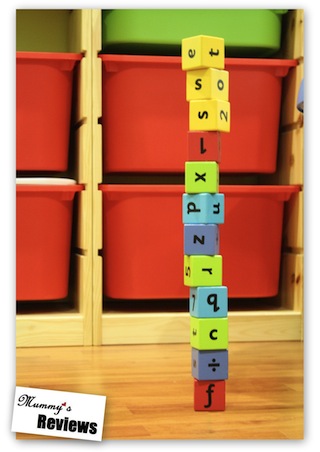 Inspiration this month: Time is so precious — once lost, it can never be earned back again.
Finally, our home-learning activities resumed full momentum this month. I'm so charged up with the regained energy and we're making good use of every waking moment. Here goes his progress…
Learning & Communication
Vee has begun reciting nursery rhymes in Mandarin ("排排坐,吃果果") and English ("Rain, Rain, Go Away"). Just last week, he attempted to sing "Twinkle, Twinkle, Little Star", in a rather garbled way. And when he recites or sings, he'd be upset if anyone tries to guide him. Ha!
He likes to describe opposite terms: big vs. small, long vs. short, high vs. low, etc.
His favourite learning activity is "Linking Memory" and he attempts to arrange the cards in the correct order. He enjoys sticker activities, but is still not keen on colouring. As for counting, he tries to count daily items in this manner "1, 2, 3… 10, 11, 12, 13, 8, 8, 9, 9, 20" (?!?)
We've started on the 2nd cycle of The Shichida Method's 63-Day Lightning Rapid Calculation Programme. His attention for the daily short flashcard session is still considered good. Tip learned from the Principal: insert some interesting flashcards such as pictures of favourite family members and cartoon characters.
His new favourite book of the month is The Very Busy Spider (by Eric Carle)*. It has textured pictures, beautifully illustrated, and again suitable for practising linking memory. Vee loves reading it with My Favorite Words Library (also by Eric Carle), to match the small and large animals from the 2 books.
Motor
Stacked 12 blocks when I can only do 14 with the same blocks!
Going up and down stairs with no or minimal support
He has finally started jumping with both feet lifted off the ground! Erm… or more like hopping forward like a frog. 🙂
Behaviour & Social Skills
He's asserting more independence by wanting to do things by himself or his way — no touching him when he's on the potty, and he must wear NICE shorts for going out (mini vainpot!)
Diet & Feeding
To help him pee less at night, we increased his milk intake in the morning and afternoon, and let him drink only half a cup before bed. It seems to work! Now, he pees only once at night or early morning.
Potty Training
Fantastic progress! Since the day I started using prefolds + Snappi (without diaper cover), he has been telling me several times a day before pee-ing, with sufficient time to reach the potty. Once, he was "bottomless" while I was in the bathroom and he needed to pee. I told him to go to the potty by himself and he DID IT! AND once last week, he woke up DRY after sleeping for 10 hours!!! Otherwise, he'd request for a diaper change if he pees at night. Hope he'd repeat the feat again.
Now, I let him eat 2 prunes FIRST thing in the morning when he's hungriest, so that there's no excuse for skipping them. Result: only 5-10 minutes needed on the potty for his big motion. Great for earlier bedtime.
Sleep
To let him learn falling asleep independently, after our bedtime routine, I'd lay him on his tummy while I sit behind him. Quite often, he turns around to look at me. Then it'd take a little coaxing / negotiation (that sometimes escalates into threatening!) before he'd obediently drift off to dreamland by himself.
It's amazing that Vee's reaching the final year of toddlerhood when he turns TWO in 2 months' time. I must treasure this very innocent and lovable stage…
P.S. View more developmental milestones (from 8 months old onwards).
P.P.S. Our latest homeschooling updates are posted at MummysHomeschool.com HERE,
—
*: affiliate link to support the growth and maintenance of Mummy's Reviews™