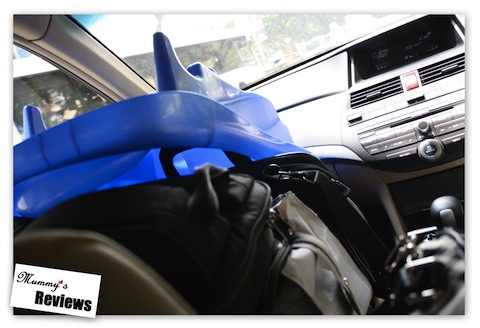 If you're planning to travel with baby some time this year, then this article is just for you. Since Vee was a baby, we've travelled several times via road and air between Singapore and Kuala Lumpur (in Malaysia). Then 3 months ago, we visited beautiful Perth in Australia. I've even survived a few flights with Vee alone.
Comparing our recent versus the first trip, my packing has become much more compact and organised. Hubby's very relieved at my improved packing skills. (I know this sounds crazy, but on our first road trip, I brought Vee's bath tub along. Just look at the picture above!) Read on for our travel tips and download an extensive packing checklist at the end.
Travel Tips
(a) Road Trip
Choose departure time wisely: depart once baby is freshly-awake or just before nap time, depending on whether baby sleeps well on the road.
Try to travel in the day: some babies may fuss over long distances in the dark. In case of any road emergency, it's also easier to make contingency plans in the day.
Always let baby travel in a car seat: you may be a safe driver, but other drivers may be reckless.
If baby is awake when travelling in a car seat, stop for a rest after about 2 hours. Use this time to change diapers or feed her.
Bring a bag filled with her favourite toys and books. Children's attention span for each toy could be very short, so entertain her with a new toy often. For toddlers, offer activities such as sticker books and puzzles.
Prepare a few types of baby's favourite healthy snacks. Examples are bread, o-shaped cereals and fruits.
Load CD player with many nursery rhymes and sing to baby along the way.
(b) Flight
For babies who sleep well anywhere, choose a night flight so that you can rest during the flight. For fussy sleepers, choose a day flight so that baby won't be screaming the plane down when everyone's trying to sleep.
Book a bassinet seat in advance.
If the ticket's at a good price and budget allows, get an extra ticket for baby and get more space. This is especially useful when Mummy's travelling alone with baby. (Interestingly, on a few flights, getting an extra ticket is CHEAPER than the admin fee for baby travellers. So check beforehand.)
During take-off and landing, let baby suckle at the breasts, drink from a bottle / sippy cup or suck a pacifier. This reduces possibility of ear pain.
If you'd like to breastfeed baby during flight (and are travelling alone with baby), consider getting a window seat for more privacy.
Check customs' and airline's restrictions for bringing baby food and fluids on board. Some allow bringing baby food, milk, water, medication and medicated creams.
Check if airline allows bringing stroller until just before boarding flight. For JetStar Airways S'pore-KL route: the answer is yes. If the stroller must be checked in, some airports provide rental strollers. (Give the rented stroller a GOOD wipe before using though.)
(c) Accommodation
For long trips, consider accommodation with laundry facilities. This way, you can afford to pack less.
If you'd like to cook for baby during the trip, consider getting accommodation with kitchen facilities. Usually, a serviced apartment offers more space, laundry and kitchen facilities, if budget allows.
Request for baby cot in advance. Even if you practise co-sleeping, you may use it as a play-pen or a temporary safe zone for baby in a new non-child-proof environment.
If you're travelling with 2 or more children, request for a king-sized bed and extra bed in advance. Also, request for a non-smoking floor to protect baby's sensitive nose.
Upon reaching the place, scan it for dangerous corners, sockets, switches, oven knobs, etc., so that you may take try to baby-proof it.
If you're used to bathing baby in a tub, check whether the accommodation has a tub. If not, consider bringing an inflatable travel tub.
(d) Feeding
Breastfeeding baby directly is the most convenient way during travels. Otherwise, bring sufficient milk powder and bottles / cups for the entire trip.
If baby has started weaning, bring packed baby food to last at least the first 2 days. The packet or pouch type are more compact, lighter and less fragile than those in glass jars. Examples are Rafferty's Garden and Organic Bubs. Most supermarkets in urban cities would have baby food on sale.
If you'd like to cook for baby during the trip, check customs restrictions whether you're allowed to bring in fresh produce. Otherwise, buy groceries on the first 1-2 days upon reaching. Essential items in general are vegetables, fruits, eggs, milk and bread. Bring a travel-size steamer for fast and easy food preparation.
(e) Diapering
Disposable inserts or diapers are the most convenient during travels. If you'd prefer to cloth-diaper baby as much as possible (especially if she has sensitive skin), these are the tips:
For 2-3 days trip, you may cloth diaper baby as usual. Prepare a large wet bag to bring the laundry home to wash.
For a longer trip, consider an accomodation with laundry facilities, such as a serviced apartment or a hotel with D-I-Y laundry room. Hotel laundry services are usually expensive and may not laundry cloth diapers appropriately. A dryer would be useful to dry inserts / soakers and allow you to reuse them quickly.
Some diapering options to save luggage space:

All-in-Twos (AI2): reuse shell; replace soaker during change unless soiled
Pocket diaper: add a diaper liner to reuse pocket; simply replace insert during change unless soiled
(f) Potty-Training
If baby or toddler is going through potty-training, bring a travel potty during trips, so that she won't have to re-learn her skills after the trip.
If possible, encourage baby or toddler to poo in the potty or toilet, to avoid poopy mess on the go.
Packing Checklist
I did up a packing checklist so that we can conveniently refer to it for future trips. It's VERY extensive. You may not need all the items, so just pack what you think would be essential for the particular trip.
Download your Packing Checklist HERE (pdf).
—
P.S. Feel free to bookmark this page and share it with your friends. Have a splendid year ahead!