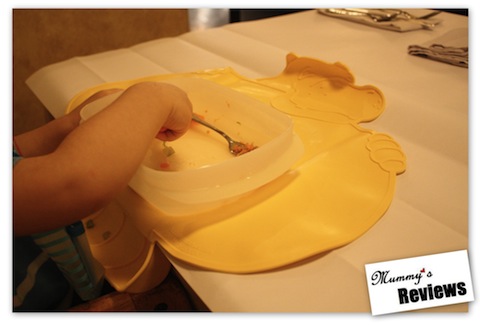 Our family just returned from a vacation in Singapore and I feel super-refreshed! It's wonderful to have THREE babysitters (Mum, Dad and sister) for Vee while hubby and I take a well-deserved break. I've bought all my Lunar New Year clothes and bags (shopping in Singapore is fanta-bulous!), and we're so into the celebration mood although the festival is 4 weeks away.
Anyway, back to the main topic. As a follow-up of the recent article "Travelling with Baby: Tips and Packing Checklist", I'm writing a Travelling Essentials Series. This shall cover our favourite items when travelling with Vee, either outdoors or overseas. The first item reviewed is the Kiddopotamus Tiny Diner Placemat and I'd add to the series as time goes.
About Kiddopotamus Tiny Diner Placemat
These are the main features of the placemat:
Material: 100% waterproof material; phthalate compliant, lead compliant, BPA free, latex free, PVC free (Please verify with manufacturer's website, which is down at the time of writing)
Suction cups: 5
Scoop in front to hold in the mess
Country of origin: Made in the U.S.A.
It's available in yellow, green, blue and pink.
First Impressions
I bought this placemat more than a year ago, when Vee started eating solid foods. As a cleanliness freak, I like the idea of Vee eating off a clean table surface, especially when he loves to mouth things. However, the placemat didn't work for us for a few months as Vee was only interested in yanking it off the table top. Duh!
When he outgrew the I-wanna-yank-the-placemat-off-the-table phase and became interested in finger-feeding himself at 12 months old, this placemat became VERY useful.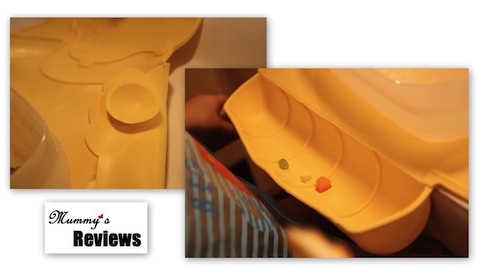 (a) Aesthetics: It looks pretty. The yellow placemat has the picture of a hippopotamus, which is one of Vee's favourite animals now. The material is smooth and flexible.
(b) Suction Cups: There are 5 suction cups under the placemat, which keep it in place on the table.
(c) Scoop: The scoop in front is for holding messes, which is great if baby's bib doesn't come with a scoop or she doesn't wear one.
Our Experience Using It
(a) Ease of Use: It's very easy to unroll and stick to a smooth surface. In restaurants where wooden table tops or table cloths are used, the placemat won't stick. The trick is to roll the placemat backwards and allow it to lay flat on the table (see the first picture in this article, where it's placed on paper).
The placemat is too big for most highchair trays, so it's more suitable for use when the highchair doesn't have a tray.
When the meal ends, I'd brush the remaining pieces of food onto a plate, clean it briefly with a wet cloth wipe, roll in back into the scoop and keep it in a wet bag. The size is fine and fits into our diaper bags, even the smaller ones.
(b) Effectiveness: The placemat is big enough for Vee's meal. When he was in the finger-feeding phase, I simply poured small cubes of food (such as carrots and apples) onto the placemat and he helped himself. This avoids having bowls with food being thrown or accidentally dropped onto the floor.
Now, he's learning to feed himself with a fork and spoon and can hold his bowl. So I place his food in a bowl and puts the bowl on the placemat. When he drops pieces of food, he can still eat whatever is on the placemat. (Personally, I'm not comfortable with him eating things off public tables.)
Depending on his mood, he can really make a GIGANTIC mess when eating outdoors, so having the placemat with scoop reduces the mess on himself, the table top and the floor.
(c) Washing: It's easy to clean with a soft sponge and our usual dishwashing detergent. Till now, we haven't had a stain on it. After it's dry, roll in back into the scoop and keep it, to prevent dust from settling all over.
(d) Overall Value: Since we bought it long ago, I think the price was about SGD20+. I felt it was pricey and hoped that it'd work. (It's cheaper at Amazon.com, about USD10.) Now that it's a staple in our diaper bag for outdoor meals, I certainly find it value-for-money.
—
What we like about it:
Easy to unroll; easy to roll back into scoop for keeping
Easy to clean
Sticks well on a smooth surface
Scoop is big enough to keep messes off child's lap
What can be improved:
I'm happy the way it is. Wish it were cheaper in Singapore and Malaysia, so that more parents would benefit from it. I haven't seen anyone else use it before!
—
Get Your Own
Kiddopotamus Tiny Diner Placemats are available in most major babystores. We bought ours in Singapore and have seen it at the baby department in Robinsons (KL, Mid Valley).
You may also check the price at Amazon.com here: Kiddopotamus Tinydiner Placemat
*
—
P.S. Read more on Feeding Solids.
—
Disclosure: I bought my own Kiddopotamus Tiny Diner Placemat.
Mummy's Reviews™ is a review site that receives compensation if readers make purchases from affiliate links (these are marked with an *). If we receive compensation from the companies whose products we review, this would be disclosed. These compensation help to maintain and grow Mummy's Reviews™. We test each product thoroughly and give ratings according to our experience with it. We are independently owned and the opinions expressed here are our own.