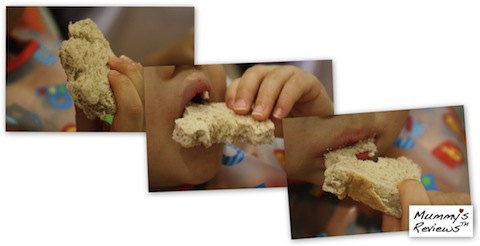 Grace from Simple Thots sent me 2 sets of Lunch Punch food cutters to review. She started the online store "to make parenting simpler, and the journey of raising your children even more enjoyable", a vision which I can clearly identify with.
Well… Vee fell in love with eating bread ever since his first taste of it at 1 year old. At meal-times, once he sees bread, he'd only want to eat that and NOTHING ELSE. So you can imagine my panic when a restaurant waiter serves bread as an appetiser. You can literally see me scrambling to cover it up with with anything on hand before my little guy lays it eyes on it and dumps his homecooked dinner aside.
After trying out the Lunch Punch® for several weeks, Vee loves his bread even more! To the extent I've to reserve these cute food cutters for special occasions. If you've a hard time getting fussy-pot to eat his sandwiches, this might be a saviour…
About Lunch Punch® Food Cutter
These are the main features of Lunch Punch®:
Materials: FDA certified food-grade plastic (BPA FREE, Phthalate FREE, PVC Free and lead FREE)
Recyclability: Both The Lunch Punch® and its packaging are 100% recyclable.
Country of origin: Made in China (Designed in Australia by a mother)
4 sets of designs are available.
First Impressions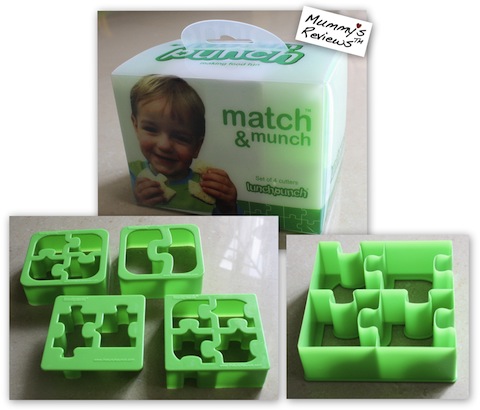 Vee and I love jigsaw puzzles, so we were thrilled to have Match & Munch™. Just imagine fixing jigsaw puzzles with your sandwich! With the pieces, you could actually make a gigantic jigsaw puzzle with bread — a splendid idea for a party.
The cutting edges are relatively sharp, but not enough to cut through skin.There was a very slightly jagged edge, which I wished were smoother. It's safer not to let a child play with these in the kitchen.
And I know all train-lovers would love this from the VRRRM™ set: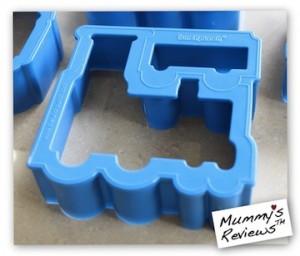 How We Tested It
(a) Ease of Use: I followed the instructions closely — place The Lunch Punch on the bread, press down firmly, then twist back and forth twice. After removing The Lunch Punch, the bread pieces were still rather stuck together. Removing them didn't give the smooth edges I wanted.
So I prefer to flip The Lunch Punch with the bread and use my hands to press the bread right through, then remove them.
Tadaa… Vee's perfect jigsaw puzzle wholemeal bread: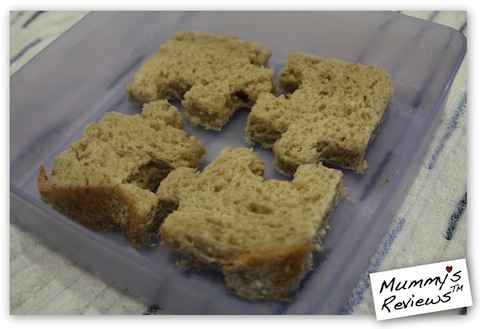 (b) Size: The Lunch Punch is just right for a medium-sized bread, with little wastage around the edges. It's also high enough for a sandwich. After cutting, the puzzle pieces are just the right size for a young toddler's hands.
(c) Effectiveness: Usually for breakfast, Vee eats 1/2 to 1 slice of bread, after milk with oats or bananas. With the Lunch Punch, he would ask for more puzzle or train bread.
(d) Washing: Each Lunch Punch has many crevices, so washing it takes some skills. I wash them in a small basin of soapy water, and use a small brush to clean every single corner. Then dry well before storing, to prevent any mould from growing, especially in our humid climate.
(e) Overall Value: The Lunch Punch is priced at SDG19.90 per set (~USD15.50 or RM47), which means SGD5 per food cutter. Previously, I've bought tiny food cutters at SGD2 each from Daiso, so these larger Lunch Punch seem reasonably-priced.
They cut through bread quite well without being sharp enough to cut my skin. This is good since I'm very paranoid of cutting myself accidentally in the kitchen. They'd be very useful for kids' sandwich parties or their bento lunchboxes.
—
What we like about it:
Cute designs that entice children to eat their healthy sandwiches
Cuts through quite well without being too sharp
What can be improved:
Ensure smoothness on all cutting edges
—
Get Your Own (with Discount!)
To get your own Lunch Punch and other interesting products for Mummy and baby, visit Simple Thots.
Special Treat: 15% discount on The Lunch Punch® and The Orb Factory Sticky Mosaics (stay tuned for upcoming review)
Discount Code: MR15OFF
Validity Period: Until 23 February 2011 (1 month from today)
Live outside Asia? You may also the price at Amazon: Lunch Punch Sandwich Cutters
*
—
Disclosure: I received 2 sets of Lunch Punch® (Match & Munch™ and VRRRM™) for review.
Mummy's Reviews™ is a review site that receives compensation if readers make purchases from affiliate links (these are marked with an *). If we receive compensation from the companies whose products we review, this would be disclosed. These compensation help to maintain and grow Mummy's Reviews™. We test each product thoroughly and give ratings according to our experience with it. We are independently owned and the opinions expressed here are our own.