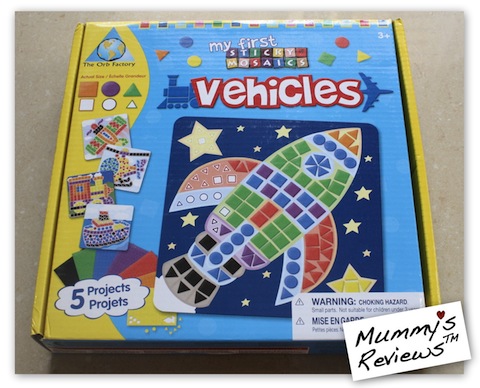 Besides The Lunch Punch®, Grace from Simple Thots also sent me 2 sets of My First Sticky Mosaics® to review. For the past few weeks, these sticky mosaics have become part of our homeschooling activities, helping Vee revise his colours and shapes, and practise his fine motor skills, all while having fun.
About My First Sticky Mosaics®
These are the main features of Lunch Punch®:
Materials: Not specified (Refer to General Certificate of Conformity)
Contents: 1000+ sticky foam pieces, 5 designs and 5 plastic hangers
Country of origin: Made in China (Designed by The Orb Factory Limited, based in Canada)
8 sets of designs are available.
First Impressions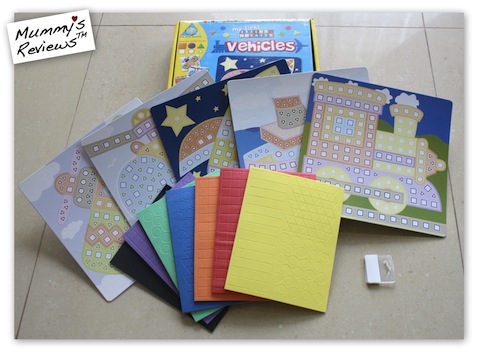 Vee loves vehicles and animals, so I chose the sets "Vehicles" and "Pets".  Each set comes with 5 pictures and many foam stickers. I like that the cardboard pieces are thick and durable enough to withstand rough-holding by a young toddler.
One downside: the content of the foam pieces isn't specified; though there's a Toy Safety Statement and General Certificate of Conformity (GCC) document published online. The foam pieces are very colourful, and here's a close-up: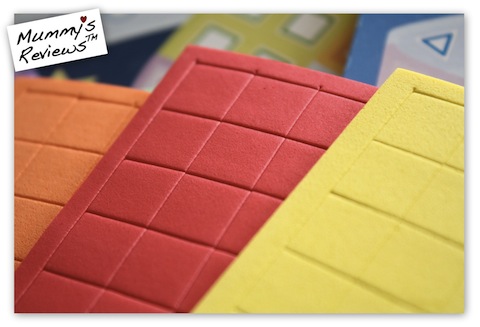 The packaging states that this activity is meant for 3 years old and above. The small foam pieces could pose a choking risk for young children who mouth things, so I supervise Vee closely when using them.
How We Tested It
(a) Ease of Use: For some time, Vee has loved playing with stickers. After I demonstrated how to stick the foam pieces onto the cardboard, he grasped the idea very quickly. The stickers are just the right size for his little fingers yet small enough to be challenging.
Initially, he tried to stick the shape in the correct position, and ended up at a distance away from the guide. Over a few weeks of practice, he's now able to stick them with precision, matching the correct shape and colour. I like that the pieces are easy to unstick and re-position, without damaging the cardboard surface.
Since he has too little patience to stick THAT MANY pieces for 1 picture, I stuck most of them. We usually spend 5 to 10 minutes on this activity, and complete 1 picture over several days. No rush, just ensure that he enjoys it.
Take a look at 3 of our "masterpieces":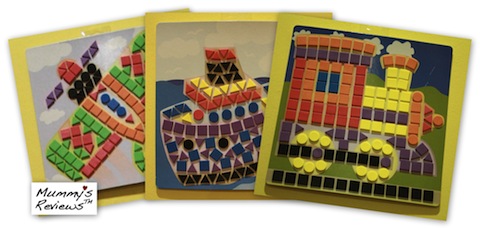 (b) Contents: Vee adores the circles much more than the squares and triangles, yet the pictures needed fewer of them. There are 5 small plastic hangers for hanging the pictures up. We don't have hooks on the walls, so I stuck the pictures onto the wall instead. I like decorating Vee's room with our completed craftwork.
After finishing the 5 mosaics, there're still many pieces of foam stickers left. I used some of them for our letter B activity, where he can trace his fingers over the foam pieces. He loves it!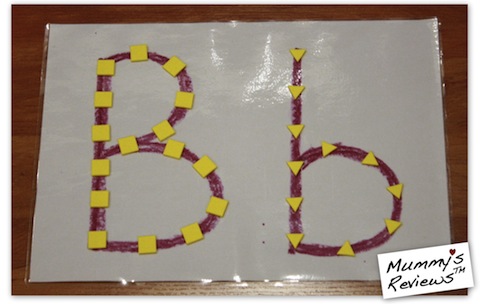 (c) Overall Value: My First Sticky Mosaics is priced at SDG17.90 per set (~USD14. or RM43). This is a fun activity for revising shapes and colours, while practising fine motor skills. The completed craftwork can be used to decorate the room, and the leftover pieces can be used for other activities. I think they are absolutely value for money and fit well into our homeschooling lessons.
—
What we like about it:
Easy to use — easy to stick, unstick and re-position
Thick and durable cardboard
Many extra pieces of foam stickers for other homeschooling activities
What can be improved:
Include more "circles" in the mosaics (Vee loves circles but the pictures needed many more squares and triangles than circles.)
Specify content of foam stickers, besides publishing a Toy Safety Statement and GCC document online
—
Get Your Own (with Discount!)
To get your own My First Sticky Mosaics and other interesting products for Mummy and baby, visit Simple Thots.
Special Treat: 15% discount on The Lunch Punch® and The Orb Factory Sticky Mosaics
Discount Code: MR15OFF
Validity Period: Until 23 February 2011
—
P.S. Our latest homeschooling updates are posted at MummysHomeschool.com HERE,
—
Disclosure: I received 2 sets of My First Sticky Mosaics® (Vehicles and Pets) for review. I also received a packet of Sippy Straw Cleaner (SGD5.50), which is not part of the review.