Spinkie gave me the opportunity to review The Butterfly Pillow. I've fallen in love with it, so it forms Part 4 of the popular Stylish Mum's Essentials series!
About The Butterfly Pillow
These are the main features of the pillow:
Upper layer: Made of 100% cotton designer fabric
Lower layer: Made of minky-dot fabric
Contents: Polyester fiberfill is recycled, washable, and non-allergenic
Country of origin: Handmade in the U.S.A.
The Butterfly Pillows are co-designed by Mutya (who co-started Spinkie) and are available in a range of lovely designer prints.
First Impressions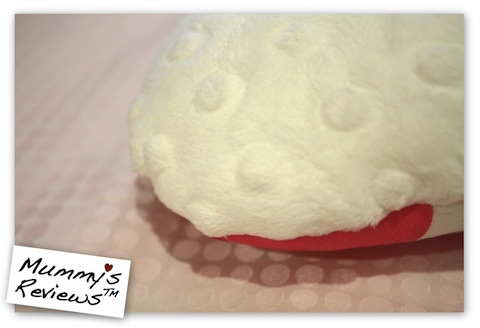 The Butterfly Pillow looks stunning and stands out among the mountain of bolsters and pillows on our family bed. One side is the same type of soft and plush dotted minky fabric as the The Pat-a-Cake Baby Blanket. The other side is made with beautiful designer fabric, which I adore.
There's a little card explaining the various ways to use The Butterfly Pillow. And I'm happy that the laundry tab says it's washable!
How We Tested It
(a) Uses & Effectiveness: There're many ways to use the pillow and I didn't simply follow what the little card mentioned. Here's how our family has used it:
Relieve blocked nose when sleeping: Occasionally, my sinus problem returns and I get blocked nose at night. Placing The Butterfly Pillow on top of my pillow helps to lift my head up by the much-needed inches and I get to sleep soundly. Its firmness and contour supports my neck well, so I don't get any stiff neck in the morning. Wonderful!
Neck / shoulder support when sitting on the bed: I frequently use the laptop on the bed and The Butterfly Pillow keeps my neck and shoulders comfortable while lying against the wall. There were nights when Vee had blocked nose and hubby had to carry him to sleep while sitting up. The Butterfly Pillow has been a total saviour for his poor neck through the night.
Neck support during long car rides: During our 4-hour road trips between Kuala Lumpur and Singapore, Vee loved using The Butterfly Pillow in his car seat. Since young, he prefers to sit up REALLY straight than recline on any bed, stroller, car seat or high chair. The pillow supports his neck, allowing him to sit up straighter, and he insisted on using it through the journey.
(b) Laundry: I was eager to try the pillow during our long road trip, so didn't prewash it. Oops! At the end of the trip, Vee dropped it onto the floor in the car and I subsequently dropped it onto the car park. Gross! Finally, I handwashed it in cold water with a little mild detergent. It was heavy to wring the water off the pillow at the final rinse. Then I laid it flat to dry under the sun for a couple of days. And it looks as good as new.
(c) Overall Value: Each Butterfly Pillow is USD30. It's multi-purpose, beautifully-designed and very well-made. Anyone in the family from young to old can use it, so I definitely find it value-for-money.
—
What we like about it:
Provides comfortable neck / shoulder support in various situations
Beautiful design for stylish mums
Washable for easy maintenance
What can be improved:
Instructions suggest folding the pillow into half for neck support. I find it too stiff to stay in place after folding, and am happy to use it without folding.
—
Win Your Own — CLOSED
To celebrate the launch of Mummy's Reviews™ Parents Club, this Giveaway is EXCLUSIVE to Parents Club members. TWO (2) lucky members will win one gorgeous The Butterfly Pillow worth USD25 each!
How to Participate
1. Join Mummy's Reviews™ Parents Club (existing members counted)
2. To get 1 extra entry: "Like" Spinkie Facebook page (existing fans counted)
3. Fill in the online form HERE
Other Information
This Giveaway is open to subscribers with a mailing address worldwide (except in countries that don't allow participation in lucky draws / sweepstakes).
If you're a winner, the colour / design of your prize depends on the stock available.
It will run until 25 February 2011 (Friday) 2359hr (GMT+8).
The usual Giveaway Terms apply.
Send in your entries now and good luck. Feel free to get your friends to join in the fun too!
—
Get Your Own (with Discount!)


To get your own The Butterfly Pillow and a wide range of stylish products for baby, visit Spinkie. Be prepared to drool at all the designer prints!
Special Treat: 20% STOREWIDE discount
Discount Code: 20MUMMYBP
Validity Period: Until 15 March 2011
—
Disclosure: I received one The Butterfly Pillow for review and Spinkie is a banner ad sponsor at the time of writing.
—
P.S. If you're a new reader, catch the entire Stylish Mum's Essentials series HERE.