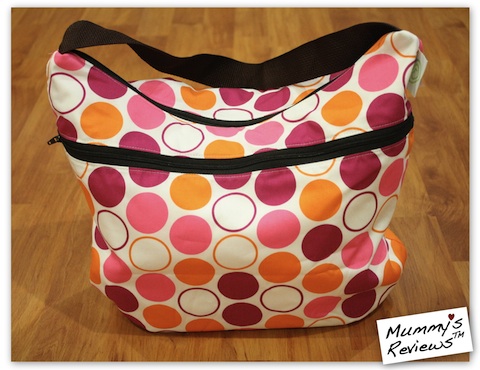 Stylish Mum's Essentials item #5 is weehuggers Wet Bag – Hobo Bag, retailed at one of my favourite stores, Whoopeekiddies (now known as Milagro Trading). Even before this article, I've been Whoopeekiddies' regular customer, buying cloth diapers and even personal care products from there.
The weehuggers Wet Bag is a smartly-designed bag with an integrated wet bag compartment to hold wet or soiled baby items. Certainly a dream bag for cloth diapering mums! Even if you aren't cloth diapering baby, this bag eliminates the need to bring plastic or ziploc bags to hold baby's dirty clothes, bibs, etc.
This multi-purpose bag in a cheerful designer print has become my grab-and-go diaper bag for more than 4 months. I'm so000 grateful that Yee Ling from Whoopeekiddies sent me one for a review.
What is a Wet Bag?
Just in case you're new to this, a wet bag is a cloth bag with a zip closure and waterproof inner lining. It was originally designed to hold wet or soiled cloth diapers when Mummy and baby are on the go. Since its invention by the cloth diapering industry, Mums have found a trillion uses for wet bags, limited only by your own imagination. Read some of the popular uses here.
About weehuggers™ Wet Bag
The brand, weehuggers, is owned by Blueberry diapers, which is famous for its minky cloth diapers. These are the main features of the wet bag:
Outer layer: Designer cotton fabric
Inner lining: Waterproof PUL (polyurethan laminate)
Handle: Yes
Dimensions: 16″ x 14″ x 3″
Capacity: Up to 10 wet diapers
Country of origin: Made in the U.S.A.; wee-be-gone™ patches made in Japan.
There's a larger version called weehuggers™ Laundry Bag. Both are available in 8 designer prints.
First Impressions
The bag is very pretty and does not look like wet bag at all. Who'd have guessed that it's one?!?
There are 2 zippered compartments — the larger one is for wet stuff, the smaller one for dry stuff. Within the wet bag compartment is a unique wee-be-gone™ patch, which is supposed to "absorb the organic compound Trimethylamine – an ammonia-like gas present in soiled diapers".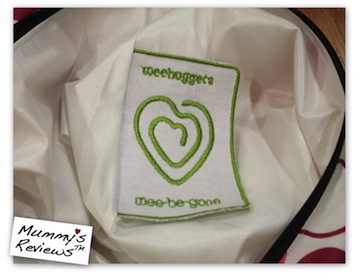 The bag is generally well-made, except for some loose threads inside 1 of the zips. Such threads risk jamming the zip, so I promptly trimmed them off.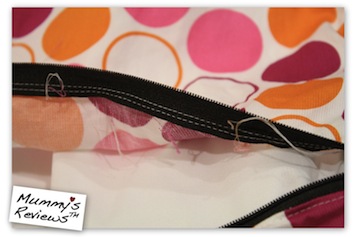 How We Tested It
(a) Laundry: I handwashed it in cold before first use. After that, I flip the wet compartment inside out and throw it into the washing machine with Vee's usual laundry, whenever needed. Ever since this wet bag became my staple grab-and-go diaper bag, I minimise washings needed by putting a wet bag into the wet compartment. Crazy, right?
(b) Capacity: This wet bag was tested heavily during our 1-week trip in Perth. Instead of lugging my gigantic LeSportsac diaper bag around, I used the weehuggers wet bag as a compact diaper bag.
It contained a full day's travelling needs — 5 cloth diapers with extra disposable inserts, a few cloth wipes, a packet of wet wipes, an extra set of clothes, and a travel diaper mat clutch. Wet cloth diapers are bulkier and get squeezed into the wet compartment. At the end of the day, the wet diapers are empty into a large travelling wet bag or diaper pail.
Nowadays, I store 2 cloth diapers, several cloth wipes, a packet of wet wipes, an extra set of clothes and a travelling placemat in the bag. Anytime we've a short errand to run or to attend Vee's Shichida classes, I simply grab the hobo bag plus my small handbag, and we're ready to leave. With the wet compartment, it's perfectly ok to forget to bring a wet bag along. Oh… how I love this!
Stylish Mum's Tip: Carrying a diaper bag separate from your handbag makes it easier to change handbags to match your outfit for the day. It also means you can leave the heavier diaper bag lying around without the risk of losing your valuables. A small handbag also looks more elegant than a bigger one.
(c) Performance: So far, dampness is well-contained within the wet compartment. The wee-be-gone patch seems to do its job of absorbing odors, even after a day of travelling with wet diapers in it. I didn't have the chance to test it with poopy diapers because Vee has been pooing into the toilet / potty since 10 months old.
(d) Overall Value: The usual price of a weehuggers Wet Bag is S$46, and it's now at 15% off (S$39.10), which is a real steal, considering this dual-functions as a compact and stylish diaper bag. I've been using the weehuggers Wet Bag for more than 4 months and wish it'd never ever wear out…
—
What we like about it:
Very pretty — I love designer prints!
Doubles up as a compact diaper bag (or multi-purpose bag for gym or swimming)
Machine washable for easy maintenance
What can be improved:
Trim away loose threads after sewing the bag
Hide laundry instructions inside bag for a more elegant look
—
Get Your Own (with Discount!)
To get your own weehuggers™ Wet Bags and a WIDE range of products for babies, kids and Mummy, visit Whoopeekiddies (now known as Milagro Trading).
Special Treat: 10% discount on cloth diapering products and accessories (regular items only)
Discount Code: MUMMYREVIEWS11
Validity Period: Until 31 August 2011
Live outside Asia? You may check the price at Amazon.com here: Weehuggers Wet Bag – Hobo Bag
*
—
Disclosures: I received a weehuggers™ Wet Bag for review.
*: affiliate link to support the growth and maintenance of Mummy's Reviews™
—
P.S. Catch the entire Stylish Mum's Essentials series HERE.