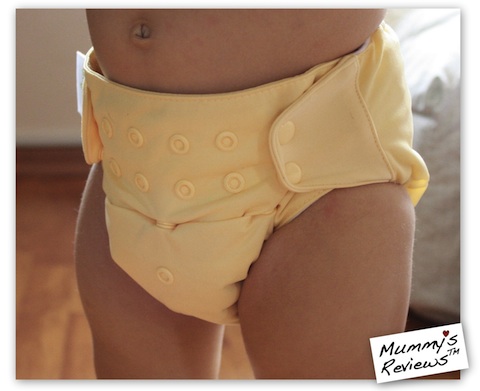 Finally, I'm reviewing bumGenius 4.0 One-Size Cloth Diaper, provided by Milagro Trading (previously known as Whoopeekiddies). bumGenius is a BIG cloth diapers brand, yet I've not tried it on Vee before, until this 4.0 snap version came along. Many mums starting out on cloth diapering would think about getting bumGenius, so I thought it's better to review it for your consideration.
After 4 months of use, I'm glad to report that bumGenius 4.0 has become a reliable diaper for Vee's outdoor trips, with zero leak experience.
About bumGenius 4.0 One-Size Cloth Diaper (Snap)
These are the main features of the pocket diaper:
Outer layer: Waterproof PUL fabric (100% polyester)
Inner lining: Suedecloth (100% polyester)
Inserts: Microfibre (80% polyester, 20% nylon)
Insert (One-Size, Microfibre): 3 layers of microfibre, 3 snaps
Insert (Newborn, Microfibre): 2 layers of microfibre
Closures: Vertical front snaps.

2 rows of 10 waist and thigh snaps. 5 possible settings.

Rise: 3 x 3 snaps for 3 settings
Country of origin: Pocket diaper made in the U.S.A. and Egypt; Microfibre inserts made in China
There's also a a hook/loop (or velcro tabs) version. Both are available in a range of light or pastel colours and prints.
First Impressions
Ordering bumGenius is a little challenging because of the way the colours are named as "Bubble", "Noodle", "Sweet", etc. without full pictures of the entire diaper. It's quite hard to imagine and choose. Finally, I got the Butternut, to match Vee's yellow clothes.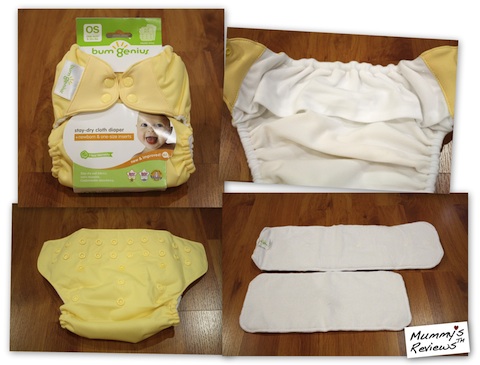 When Vee was a newborn, I loved using diapers with suedecloth on him because they're very stay-dry and keep him happier. After he started potty-training, I switched to microfleece, bamboo and cotton diapers to help him feel the wetness. Touching bumGenius 4.0's suedecloth layer brings back memories of Vee's early months. How fast 2 years fly by!
Being a one-size diaper, its rise is adjustable by 3 settings. I found this interesting as many major one-size brands such as Happy Heinys and Rumparooz use 4 rise settings instead. The "missing" row is the Newborn setting for thinner babies.
There's a cover at the pocket opening, which would help to keep the insert in while baby stays dry. The 2 inserts seem rather generic though.
One attractive point is the easily replaceable elastic in case it gets "shot" after many months of use. This feature is still uncommon among cloth diapers.
Our Detailed Review
Rating Guide: ★ Oh no!     ★★ Poor     ★★★ Fair     ★★★★ Good     ★★★★★ Excellent!
(a) Prewash & Laundry: ★★★★ I prewashed the diaper and inserts by hand in cold water. Even after 1 prewash, the inserts started absorbing, which was a pleasant surprise!
Then here's a strange observation: the laundry tabs says the diapers and inserts can be washed 60°C. But the website says to wash in hot at 40°C. From my understanding of laundry instructions, 40°C is warm, not hot wash. Then the warranty page says warranty is valid up to 60°C washes. Anyway, it's a load of conflicting laundry information.
Over the past 4 months, I've washed at 40°C (my usual routine) and 60°C, when Vee had yeast infection on his eczema patches. Until now, the diapers are still fine.
(b) Ease of Use: ★★★★ The diaper is easy to put on with only one column of 2 snaps to fasten per side. Since I'm familiar with rise settings on one-size diapers, it's easy to figure them out.
Tip: If you're new to cloth diapering, or another caregiver is changing baby, try out 1-2 hook/loop diapers first. They're easiest to use. When you're more confident, then move on to snaps, and decide which type you prefer.
(c) Fit / Trimness: ★★★★ Generally, it's harder to get a nice fit with snap diapers — if baby is in between snap sizes, the diaper becomes either too tight or too loose. With the unique stretchy tabs, the snap diaper fits Vee's chubby tummy (think 20″ waist for a 2-year old!) very well. I like the gentle encased elastics that leave no red marks on Vee's chubby thighs and back.
Vee has grown into the largest rise setting. Then, when he slimmed down a little due to the recent bout of diarrhoea, I adjusted the rise down to the medium setting for a better fit at the thighs. This adjustability is an advantage over sized diapers (with no rise settings). Overall, it fits him fine though he's in an awkward stage when I sometimes couldn't decide on his rise settings. Hmm… the paradox of having choices.
The one-size diaper insert comes with snaps, which I find unnecessary. I simply fold the insert to the desired length. When using the 2 microfibre inserts, the diaper still fits inside his pants.
Tip: To boost absorbency while maintaining trimness, use 1-2 thin hemp / bamboo boosters behind a regular insert. This combination is great for outdoor trips or even overnight.
Oh, have a look at Vee's sexy bums…
(d) Performance: ★★★★ For Vee's outdoor trips, I like to use this bumGenius 4.0 with both inserts because it has not leaked before! I didn't try it overnight on Vee because he sleeps on his tummy and needs fitted diapers or diapers with front elastics.
The suedecloth stays very dry indeed, good for babies fussy with wetness, though not recommended during potty training.
In the week we battled Vee's diarrhoea, bumGenius 4.0 did stand up to the test of keeping the mess in. (In fact, EVERY modern cloth diaper we used during that awful week kept the explosive mess in. That's the power of modern cloth diapers with high-quality elastics.)
(e) Quality: ★★★★ The sewing and workmanship is good. After many washings, the suedecloth has pilled just a little bit, yet more resilient than microfleece.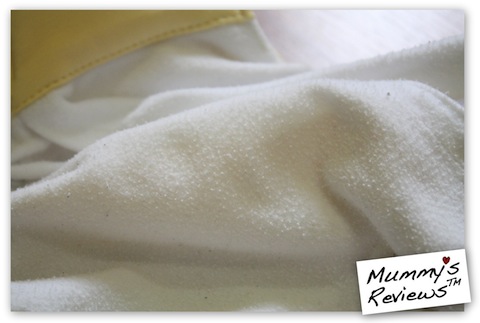 The laundry labels on the inserts have started rolling up and wearing out at the edges. This sounds very picky but I look for quality in every detail, especially if the price isn't low.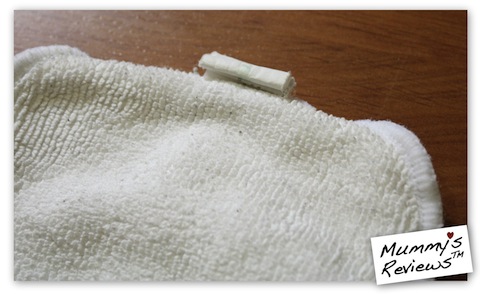 (f) Overall Value: Each bumGenius 4.0 with inserts retails at SGD35 each, which is in line with the current market rate of one-size cloth diapers from the U.S.A. Thanks to the snap version in the 4.0 range, I've finally taken the leap to try out bumGenius. Though it isn't the type of "wow" diapers I get all excited over, it's very reliable for outdoor use.
—
What we like about it:
Stretchy tabs that give a good fit at the waist
Gentle leg and back elastics that leave no red marks on chubby toddler
No leaks experienced so far — a diaper I'd use for outdoors
1 year warranty to give quality assurance
What can be improved:
Provide consistent laundry instructions — up to 40°C (on website) or 60°C (on label)?
Give clearer names for colours and show pictures of diapers in each colour
Use a better fabric for laundry labels on the inserts and sew them horizontally across instead (so that they don't roll up)
—
Get Your Own (with Discount!)
To get your own bumGenius 4.0 One-Size Cloth Diapers and a WIDE range of products for babies, kids and Mummy, visit Milagro Trading (previously known as Whoopeekiddies).
Special Treat: 10% discount on cloth diapering products and accessories (regular items only)
Discount Code: MUMMYREVIEWS11
Validity Period: Until 31 August 2011
Live outside Asia? You may check the price at Amazon.com here: bumGenius One-Size Cloth Diaper 4.0
*
With the arrival of bumGenius 4.0 in Singapore and Malaysia, version 3.0 (hook/loop only) is also on clearance sale. I haven't tried the 3.0s before though, due to mixed reviews on the hook/loop closures and smaller cutting. If you're interested, check out:
—
Disclosures: I received a bumGenius 4.0 One-Size Cloth Diaper for review.
*: affiliate link to support the growth and maintenance of Mummy's Reviews™
—
P.S. Catch all my Cloth Diapering Tips HERE. There'd be more tips coming up soon, so stay tuned!