Today, I'm reviewing Kissaluvs v2.0 Cotton Fleece Fitted Cloth Diaper, provided by Milagro Trading (previously known as Whoopeekiddies). Kissaluvs has been a highly popular choice for cloth diapering newborns. Before Vee was born, I wanted to buy Size 0, but they were out of stock. This time, I'm excited to try it on 2-year old Vee.
After 4 months of testing, I like Kissaluvs v2.0 for its ease of use, breathability and durability; it's very good for aiding potty training too.
What's a Fitted Cloth Diaper?

In case you were wondering, a fitted cloth diaper is a one-piece diaper that has all-round absorbency, not just in the middle. Some fitted diapers allow you to increase absorbency with snap-on or lay-in soakers. This makes it a good diaper for tummy and side sleepers, or babies who roll all over the bed when asleep. It prevents leakage at the waist area.
It's breathable and doesn't have a waterproof outer layer. So when waterproofness is needed (for e.g. during sleep), you'd have to add a cover over the diaper.
A popular night-time cloth diapering solution is to use breathable fleece or wool cover over a fitted diaper with stay-dry layer and extra soakers. This provides high absorbency and breathability all-night long — fantastic for heavy wetters and babies with sensitive skin. More information on night-time diapering would be covered in future.
About Kissaluvs v2.0 Fitted Cloth Diapers
These are the main features of the fitted diaper:
Outer fabric: Cotton fleece (90% cotton, 10% recycled polyester)
Soaker: Microfibre (hidden)
Closures: 4 front snaps. 1 

row of 8 waist snaps. Overlapping wing flaps.

Country of origin: Pocket diaper made in the U.S.A. and Egypt; Microfibre inserts made in China
They're available in 3 sizes, differentiated by the colour of the stitching. It comes in unbleached and colours.
First Impressions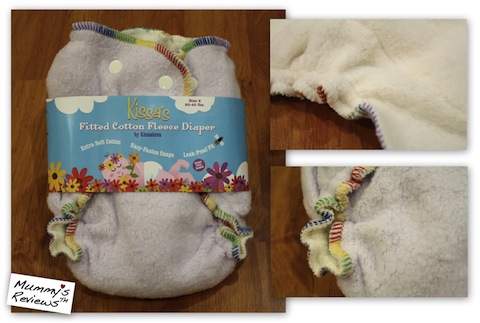 I've heard so much rave about Kissaluvs' softness and it was indeed very soft when I received it! However, there's a good chance that it'd stiffen up after line-drying.
I adore the side ruffles and rainbow stitching. It's a very girlish-looking diaper in pastel purple. Oh whatever… I've enough boyish-looking diapers and welcome the change. I dress Vee up in pink and purple sometimes; his fair skin looks great in these colours.
It has a lifetime snap guarantee, which speaks volumes about how confident Kissaluvs is about its product.
Our Detailed Review
Rating Guide: ★ Oh no!     ★★ Poor     ★★★ Fair     ★★★★ Good     ★★★★★ Excellent!
(a) Prewash & Laundry: ★★★★★ I prewashed the Kissaluvs fitted diaper by hand in cold water, and it started absorbing. For normal laundry, its one-piece design means ultimate convenience — no need to handle separate inserts or soakers. It takes about 1+ days to dry when it's cloudy.
After line drying under the hot sun, it stiffens up a little, yet still considered soft.
Tip: To soften stiff diapers and inserts, throw them into the dryer (if you've one) for a few minutes occasionally.
(b) Ease of Use: ★★★★ When waterproofness is not a priority (for e.g. potty training at home), then Kissaluvs is very easy to use, with only 4 snaps in front, and no rise settings to handle. Even hubby finds it easy.
It's a good alternative to cloth training pants, minus the ease of pulling up and down. We like to use it without a cover for breathability and convenience, so I'm giving it 4 stars.
If you need waterproofness, then this diaper needs a cover, which means baby has to stay still for a few more seconds. This would be easy for a newborn, but more challenging for an actively-moving baby or toddler.
(c) Fit / Trimness: ★★★★★ Kissaluvs v2.0 is Vee's first fitted diaper, though we've long been using semi-fitted or pocket fitted diapers for night-time. I like its trimness and Vee's fluffy bums with ruffles are soooo pretty to look at. Another reason not to put a cover over it!
There's also no wing droop problem, which can happen in diapers with only a single row of snaps.
Size 2 (Large) is wide and isn't easily covered by most one-size and medium diaper covers. The collage below shows Kissaluvs v2.0 used with a Weehuggers Diaper Cover (review to be posted very soon).
The elastics at the back and thighs are sturdy yet gentle without leaving red marks. Vee has a big belly, so it's good that the diaper rests nicely under his tummy.
Here're his sexy bums…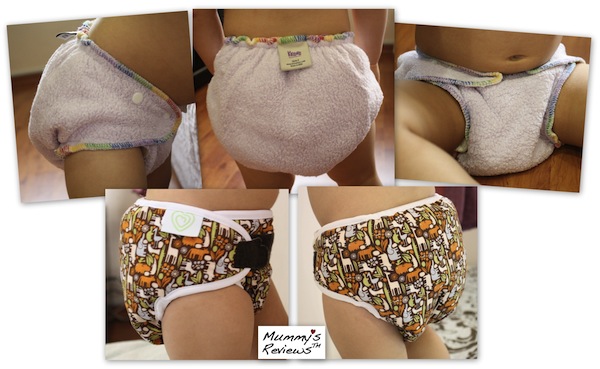 (d) Performance: ★★★ As mentioned, I used this Kissaluvs fitted diaper during the potty training stage, without a cover. With 1 hidden microfleece soaker, this diaper can work for a newborn but isn't very absorbent for a toddler. Most of the time, it can absorb one of Vee's pees.
On 2 incidents, Vee did a "forceful" and voluminous pee, which overflowed onto the floor. Vee got a little shock because he hates wet floors. I took the chance to make a small deal out of the pee puddle, reminding him to tell me before pee-ing in future. Ever since that couple of accidents, he became day-time potty trained! Woo hoo! This is THE type of cloth diapers that help in potty training success:
No stay-dry suedecloth / microfleece inner layer means child can feel the wetness immediately
No waterproof PUL outer layer means the caregiver knows immediately when the child pees, to remind him to use the toilet / potty in future
Absorbent enough for only 1 pee
I tested it for a nap by laying a stay-dry fleece liner on top, adding a soaker behind and wrapping it up with a PUL diaper cover. It worked but the 4-piece system is too troublesome.
We didn't get to test the diaper with poo. From my observation, if the Kissaluvs fitted is used with a sturdy diaper cover, there'd be 2 elastics — hardly any room for the most explosive poo to escape.
(e) Quality: ★★★★★ The sewing and workmanship is excellent. After many washings, the diaper still looks and performs as good as new.
(f) Overall Value: ★★★★ Each Kissaluvs v2.0 retails at SGD21 each. In Singapore, I can't really compare because hardly any store retails fitted diapers. In the U.S., the suggested retail price is USD13.95, which is at the lower end of fitted diapers, probably because of its low absorbency. It's a good choice for light wetting newborns or during potty training.
—
What we like about it:
Gentle leg and back elastics that leave no red marks on chubby toddler
Very cute design — loves the ruffled hems in rainbow stitching and fluffy bums
Easy to use — Daddy-approved
Lifetime snap guarantee
What can be improved:
I like it as it is for potty training. For heavy wetters, I'd suggest taking a look at Kissaluvs Organic Cotton / Hemp Fitted Diapers.
—
Get Your Own (with Discount!)
To get your own Kissaluvs v2.0 Cloth Diapers and a WIDE range of products for babies, kids and Mummy, visit Milagro Trading (previously known as Whoopeekiddies). Currently, it seems that only Size 1 in unbleached is available. If you'd like other sizes and colours, just drop Yee Ling an email for information on the next shipment.
Special Treat: 10% discount on cloth diapering products and accessories (regular items only)
Discount Code: MUMMYREVIEWS11
Validity Period: Until 31 August 2011
Live outside Asia? You may check the price at Amazon here: Kissaluvs v2.0 Cotton Fleece Fitted Diaper
*
—
Disclosures: I received a Kissaluvs v2.0 Cloth Diapers for review.
*: affiliate link to support the growth and maintenance of Mummy's Reviews™
—
P.S. Catch all my Cloth Diapering Tips HERE. There'd be more tips coming up soon, so stay tuned!