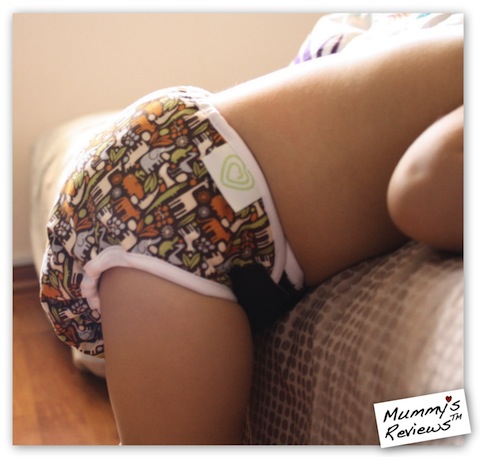 As promised, this is the review for weehuggers Diaper Cover, provided by Milagro Trading (previously known as Whoopeekiddies). It's a rare diaper cover with leg gussets, rise adjustments AND gorgeous prints, which fully accentuates the 5th reason on Why I Love Cloth Diapering.
About weehuggers™ Diaper Covers
These are the main features of the diaper cover:
Fabric: PUL (polyurethane-laminated) polyester solids or designer cotton prints
Closures: Hook & loop or snap
Rise settings: 3 x 3 snaps
Additional: Built-in laundry tabs, leg gussets & stay-put laminated bamboo/organic cotton flaps to hold inserts in place
Country of origin: Made in the U.S.A.
They're available in 2 sizes:
| | Size 1 | Size 2 |
| --- | --- | --- |
| Waist | 11″-19″ | 15″-23″ |
| Thighs | 3.5″-10″ | 6″-13.5″ |
| Rise | 12.5″-15″ | 15″-19″ |
First Impressions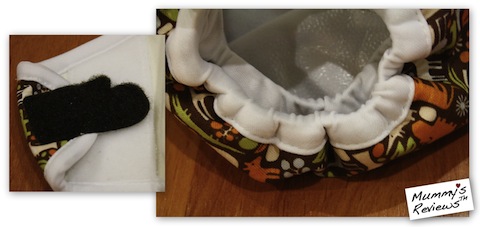 When I first touched the diaper cover, I love the cotton printed outer, which is so comfy compared to polyester ones. My only concern was whether they'd leak more easily, as cotton printed fabrics typically do.
The glove-shaped aplix tabs up the cute factor by a notch and they feel very strong.
I like to use diaper covers with leg gussets on newborns, so I'm glad these covers match my preferences.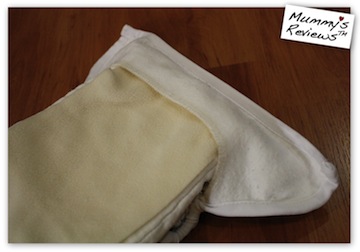 The laminated bamboo/organic cotton flaps are unique as this is the first time I've seen them in a diaper cover. The laminate is hidden inside, so only cottony soft fabric would touch baby's skin.
Our Detailed Review
Rating Guide: ★ Oh no!     ★★ Poor     ★★★ Fair     ★★★★ Good     ★★★★★ Excellent!
(a) Style: ★★★★★ The entire diaper design is very clean and well thought out. The prints and unique tab certainly make it outstanding.
(b) Prewash & Laundry: ★★★ I first handwashed it in cold and then on warm after use. I like the built-in laundry tabs with large surface area that means no "aiming" is needed when closing the tabs.
The bamboo/cotton flaps tend to catch some lint from other washes. These flaps also lengthen the drying time compared to diaper covers without them.
(c) Ease of Use: ★★★ Vee uses the weehuggers Diaper Cover with prefolds, Kissaluvs fitted, and Flip disposable inserts. A two-piece system coupled with the need to choose the correct rise setting means some practice is needed.
The most important use for us is with Flip disposable inserts during our Perth trip. The hook and loop closures makes diaper changes a breeze during flight.
(d) Fit & Trimness:★★★★★ The cover gives a very trim fit; the hook and loop closures ensure a perfect fit around the waist. Disposable inserts require a shorter rise setting than usual, so the rise settings provides a very snug fit too. That's why when we need to use disposable inserts during travel, this is my favourite diaper cover.
The gentle elastics and the back and thighs also leave no red marks on chubby Vee.
Here're his sexy bums…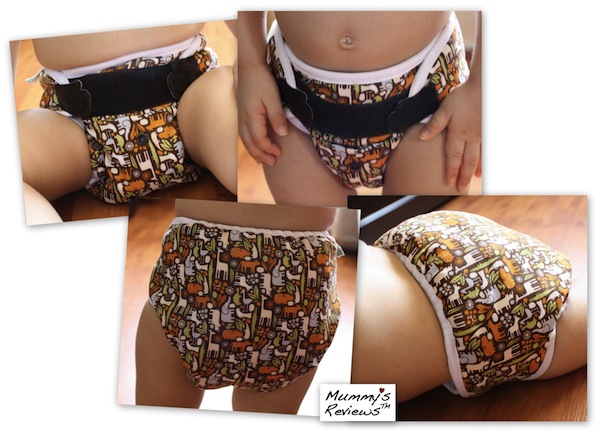 (e) Performance: ★★★★ Vee tried using the diaper cover with a prefold plus stay-dry liner for his nap. He rolls about during sleep and the bamboo/cotton flap kept the prefold in place. But part of it became damp, so I washed the cover instead of reusing it. To reuse the cover more frequently, I prefer not to use the flaps to hold the prefolds / soakers.
Most of the time, there weren't any leak, even through naps. There were twice when the diaper cover leaked at the thigh area when the prefold was saturated with pee. (Vee's a heavy wetter.) This is expected of a cotton printed fabric. Yet I love this cover enough to use it during plane rides, so I simply put fleece shorts instead of pants over them and change Vee every 2 to 3 hours.
Tip: If you're concerned about leaks when the diaper is saturated with pee, then choose solid colours instead of cotton prints. Otherwise, just change baby before the diaper is saturated.
We didn't get to test the diaper with poo, yet I'd expect the leg gussets to be rather foolproof. (Super looking forward to trying them on the next baby.)
(f) Quality: ★★★★ The sewing and workmanship is excellent. The hook & loop closures are very sturdy and hard for toddlers to undo. However, the edge of the tab started curling out a little and ould scratch me when carrying Vee, so I just got to be careful. Also, the aplix tabs don't stick very well to the laundry tabs anymore. Fortunately, there's a snap version for consideration.
(g) Overall Value: ★★★★ Each weehuggers Diaper Cover retails at SGD28.50 each, which is at the higher-end among diaper covers. With the gorgeous designer prints, leg gussets, great fit, and sturdy hook & loop closures, it's a premium diaper cover that I like to use when travelling. I wished the laundry tabs were stronger though. (At 20% discount now, it's a real steal!)
—
What we like about it:
Rare diaper cover with leg gussets and rise adjustment
Gorgeous prints for the style-conscious Mummy
Gentle leg and back elastics that leave no red marks on chubby toddler
Sturdy hook & loop closures
What can be improved:
Make the laundry tabs stronger
And if only someone could invent 100% leak-proof cotton prints!
—
Get Your Own (with Discount!)
To get your own weehuggers Diaper Covers and a WIDE range of products for babies, kids and Mummy, visit Milagro Trading (previously known as Whoopeekiddies). Currently, it seems that only the snap version is available, at 20% discount. If you'd like the hook and loop version, just drop Yee Ling an email for information on the next shipment.
Special Treat: 10% discount on cloth diapering products and accessories (regular items only)
Discount Code: MUMMYREVIEWS11
Validity Period: Until 31 August 2011
Live outside Asia? You may check the price at Amazon here: Weehuggers Diaper Covers
*
—
Disclosures: I received a weehuggers Diaper Cover for review.
*: affiliate link to support the growth and maintenance of Mummy's Reviews™
—
P.S. Catch all my Cloth Diapering Tips HERE. There'd be more tips coming up soon, so stay tuned!