It's 2a.m. and I've finally soothed fussy 3-month old Vee back to sleep. Then a mosquito parks itself comfortably onto his forehead. I panick, grab a piece of tissue paper and catch it. Oh no, the mosquito's gone but the baby's eyes open wide and I've got to soothe him all over again! Aren't mosquitoes plain irritating?
For several years, our house has been INFESTED with mosquitoes. Dengue fever is common in the region and we live in fear of getting it. Finally, we've controlled the mozzie problem and on lucky days, we get away with no bite at all. Here are 5 tried and tested ways to protect your baby from mosquitoes:
1. Wear Light-Coloured Clothings
I learnt this the hard way by wearing a black T-shirt at home and becoming a mosquitoes magnet all day long. Then my mother-in-law (MIL) advised me to wear light-coloured clothes, which helped a lot. So for baby, put light-coloured clothes on him, even if that particular dark blue top looks uber-cool.
2. Mosquito Netting
This is a simple, low cost method. Many play-pens come packaged with mosquito nets, that can be used on a small cot too. Otherwise, you can buy a mosquito net to wrap over the cot when baby is asleep. The downside is reduced air circulation which means baby might feel warmer. Not recommended on a hot day. And an older baby won't like the netting.
3. Mosquito Repellent

Many commercial mosquito repellents are for adults and unsuitable for baby's delicate skin and body. So you'd need to select a baby-safe repellent and read its list of ingredients carefully.
When Vee was younger, we tried Buds Mozzie Clear Lotion, which worked rather well. (Read the full review here.)
Then recently, we were given the opportunity to test out TGP Nature Mozz Mosquito Repellent Stick. We used it when visiting the Singapore Zoo and survived the trip with no bites. Over the months, we've been applying the repellent religiously before sleep every night. Vee loves the repellent, so after it ran out, we grabbed a new stick at Mothercare (KL). His very-sensitive skin is fine when using this repellent. I only wished a tube lasts longer since three of us are using it.
Update on 29 Feb 2012: Now our heart goes to Badger Company, Anti-Bug Balm*. The thick stick is easy-to-apply. And no mosquito bites at the areas applied. (Once, I rolled it over Baby Jae's left face, forehead and nose because he was sleeping on his right face. The next morning, he only got bitten on the right face!) 1.5oz (42g) at only USD10.35 from iHerb and I've just ordered a new stick. Superb value for money.
Update on 6 Oct 2015: Our latest choice is Mosi-Guard Insect Repellent*. In 2011, my hubby got dengue fever. Then in April 2015, I got it. My goodness, we're absolutely paranoid of mosquitoes now!
I sat through a presentation on Mosi-Guard products by Mr. Andrew Tan, VP of the Malaysian Pharmaceutical Society. Then I bought both the spray and roll-on from a pharmacy (Caring Pharmacy, I think) in Kuala Lumpur, Malaysia. I cover the kids and myself with these when we need to play outdoors. So far so good.
4. Solar Mosquito Repeller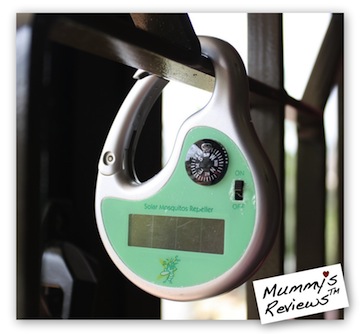 And about 2 years back, my MIL gave us a Solar Mosquito Repeller
*. It's solar-powered to give off a high-frequency sound and repel blood-sucking female mosquitoes. You can hear the "eeeee" sound by bringing the repeller close to your ears. For more mosquito-repelling action, we hook it by the window grille so that it gets powered up every day and drive the mozzies away.
5. Electric Mosquito Trap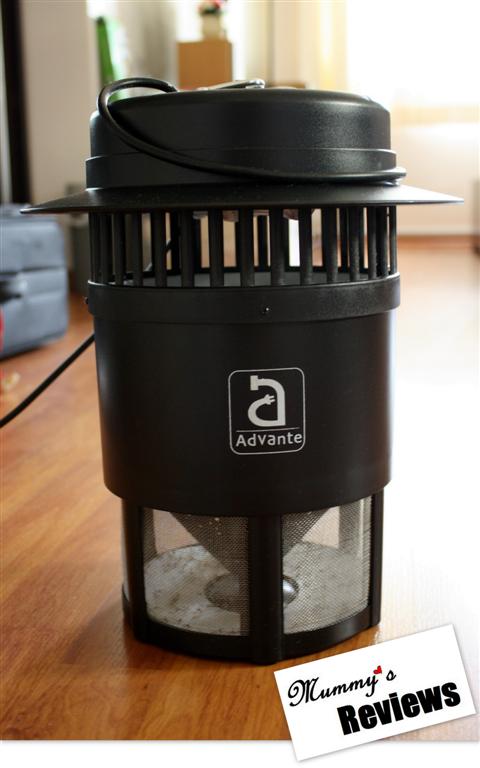 When all the above methods fail and your house is still infested with mosquitoes (like ours 3 years ago), here comes the mosquitoes' biggest enemy — Advante Blackhole. After comparing several mosquito traps at Home-Fix, we decided to get the Blackhole, which is like the BMW of mosquito traps.
It uses UV-light and heat to create carbon dioxide and moisture, mimicking the human body to lure mosquitoes into the trap. In the first week we placed the trap outside our room, the entire white sticker sheet was FILLED with mosquitoes, maybe a hundred of them. (If you look closely at the picture above, the black dots on the circular white sheet are mosquitoes stuck in the trap.)
When the sticker runs out of space to "stick" mosquitoes, simply replace it with a new piece. The people at Home-Fix helps with maintaining the Blackhole. So far, we've only had to change a spare part once.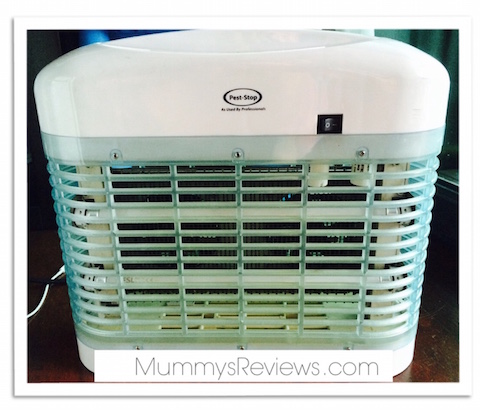 Update on 6 Oct 2015: We've phased out the Blackhole as the light / motor have stopped working after a few years, and replaced them with Pest-Stop 500 UMIK. This is a powerful mosquito trap that attracts the mozzies via UV-light and heat. Then zaps them dead in the unit. Every week or so, just pull out the drawer and dispose the barbecued pests.
Because of the zapping, we can literally count how many have been caught. However it can get a bit shocking in the middle of the night or when you don't expect the "PIAK!!!" sound. So we place it in the common living area instead of the bedroom.
By using the above methods, we've finally managed to keep the mosquitoes at bay. Hopefully, no more dengue fever — ever!
Sharing time: How do YOU protect yourself and baby from mosquitoes? Do share in the comments box.
—
Get Your Own
To get your:
—
Disclosure: I received 2 tubes of TGP Nature Mozz Mosquito Repellent Sticks for review.
Mummy's Reviews™ is a review site that receives compensation if readers make purchases from affiliate links (these are marked with an *). If we receive compensation from the companies whose products we review, this would be disclosed. These compensation help to maintain and grow Mummy's Reviews™. We test each product thoroughly and give ratings according to our experience with it. We are independently owned and the opinions expressed here are our own.