I'm excited to share this review on KidzGrow Online with you! Like many parents, since Vee was born, I've been tracking his developmental milestones. It isn't about reaching his milestones earlier than anyone else. Instead, it's about helping him reach the best of his potential while being amazed at how fast a baby grows.
Now, I'm using KidzGrow Online to achieve this easily at home. No need to read thick parenting books, scour the Internet for information and getting overloaded, or engage a home-visit nurse. What's more, I've got a GREAT deal to give this to you free of charge! Read on…
About KidzGrow Online
This site offers a comprehensive child development tracking programme designed by a team in Singapore. It aims to empower and equip parents in their personal involvement of their children's development from 3 months to 6 years old.
For a one-time fee, parents can access all 6 years of professional advice, suggestions and recommendations covering Gross Motor, Fine Motor, Cognition, Speech & Language and Social Skills development.
It's supported by a group of therapists and professionals in physiotherapy, occupational therapy, speech-language therapy, psychology, education and teaching, I.T. and Management. The programme has undergone a trial involving more than 800 parents, and has shown positive results mentioned here.
First Impressions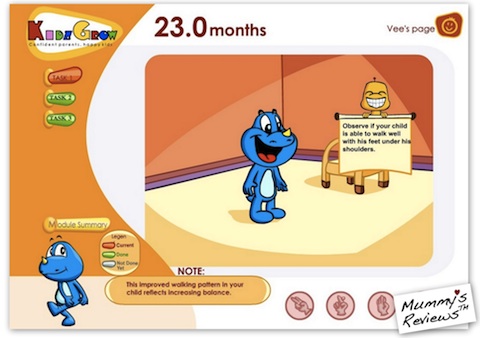 Until Vee was about 20 months old, I engaged a professional home-visit nurse to check his development every month. This service was very useful in the early months when I was grasping the ropes of motherhood. However, it reached a point where Vee has progressed very well and the nurse is unable to give us much value-added information anymore. That's when I decided to stop the RM100 monthly visits.
Shortly after, KidzGrow Online approached me for a review and I found it an interesting way to keep up with Vee's development. After some Googling, I realised that 60% of the project's funds were contributed by The Enterprise Challenge (Prime Minister's Office of Singapore). Read details here.
Registration: There were some initial hiccups while registering for the service. Perhaps because I was using an Apple MacBook, I received an error message when keying in Vee's birth date. After I tried using a Windows PC, there was no confirmation page and email after clicking "Check Out". The project manager promptly asked the developer to send me a confirmation manually.
Our Detailed Review
Rating Guide: ★ Oh no!     ★★ Poor     ★★★ Fair     ★★★★ Good     ★★★★★ Excellent!
(a) Design: ★★★★ There're slight design issues such as the ones I faced during registration. After successful registration, I could log in using an Apple MacBook, but the logout button doesn't work, so I'd to simply close the window.
Upon logging in, I was impressed by the colourful animation, clear instructions, and simple layout. The animation is very kids-friendly and attracted Vee's attention every time he sees me checking the programme for updates.
Only once, a task couldn't load, so I'd to exit the window then it worked when I logged in again.
(b) Ease of Use: ★★★★ The programme is easy to navigate, from 3 months to 6 years old. It clearly shows Vee's exact age and suggests the months that I should be reviewing. Updating particulars and password is a breeze.
Initially, I kept forgetting to log in to use the software. Then I set my electronic calendar to remind me to log in every 2 weeks.
(c) Effectiveness: ★★★★★ At every 2-week age group, there are several ideas on age-appropriate activities. This is very useful for any parent — either homeschooling or simply finding meaningful activities to do with your child after work. For each task, there're detailed steps, things you need, animation, choice of appropriate response, therapist's comments and suggested activities.
Besides Shichida classes 1 hour a week, Vee is homeschooled. The various areas on motor, cognitive, speech and language, and social skills give me ideas on new activities to try out with him. As an example, it took much practice before he could thread a lace through 3 consecutive beads.
Sometimes, it's easy to get used to mothering a child and some gentle reminders are useful for helping him instil independence. For instance, the programme prompted me when was a good age to let Vee start putting on his shoes and pulling down his pants.
Because I can view activities for all age groups, in areas where Vee is more advanced, I can move on to the activities for higher age group. Where Vee is behind, we can simply keep reviewing and practising the activities.
I like that the indication of a "normal window" for a child to achieve the task. This way, I'd know if Vee needs any special intervention by a therapist.
Here's the module introduction for a 28 months old: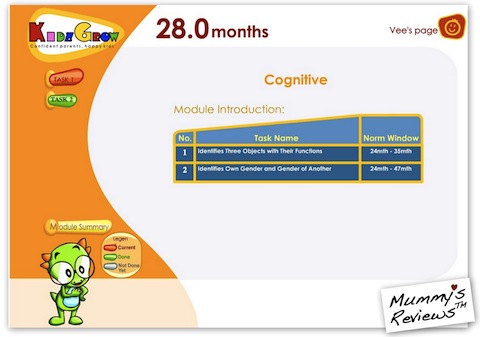 And a summary of tasks for a 29 months old:

(g) Overall Value: ★★★★★ The fee of the programme depends on the subscription length — from as low as USD72 for 72 months (average USD1/month) to USD22.50 for 6 months (USD3.75/month) for the first child. Subsequent children can be enrolled at a discounted fee. Considering I'm getting so much ongoing information from KidzGrow Online and was paying RM100 per month for nurse visits, this is superb value for money!
With a big range of suggested activities, easy navigation and an attractive fee, I'd highly recommend using KidzGrow Online through a child's first 6 years.
—
What we like about it:
Big collection of age-appropriate activities, with therapist's detailed comments
Easy to navigate
Excellent value for money
What can be improved:
Slight design hiccups — ensure the programme functions well with Apple computers
—
Get Your Own (FREE for Parents Club members!)
To get your own account to track your kid's development, visit KidzGrow Online.
EXCLUSIVE privilege if you're a Parents Club member:
You'd receive an email on 21 June 2011 (Tuesday) 0700hr (KL/Singapore time) giving you an exclusive discount code. The code would be valid until 30 June 2011. You may choose to get a free 6-month membership worth USD22.50 or 35% discount off USD72 (worth USD25.20) for a 72-month membership.
If you're receiving this article with a Parents Club logo right on top, then you're already in the club and simply need to wait for your special email.
If you're reading this article with no Parents Club logo on top, then join in the club now before the email is sent out. Submit the simple form below or visit here.

—
Disclosures: I received a 72-month KidzGrow Online membership for review. I found it of great potential to help parents, so also provided marketing consulting service to KidzGrow Online.