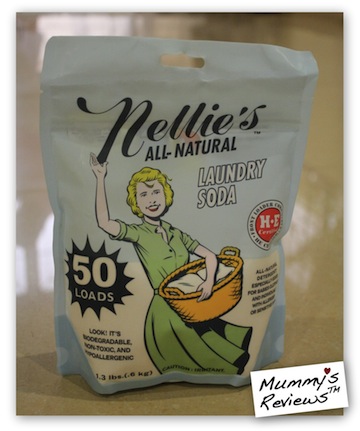 Here's my review on Nellie's All-Natural Laundry Soda, distributed by Moo Moo Kow. I know some of you have been waiting for this, after the article on How to Wash Cloth Diapers: Everything You Need to Know. Having used the entire packet meant for 50 loads, I like that Nellie's is cloth diapers-friendly and suitable for sensitive skin (like mine and Vee's). And there's a discount code at the end for the detergent and Moo Moo Kow cloth diapers!
About Nellie's All-Natural Laundry Soda
These are the main features of the detergent:
Ingredients stated on package: Sodium Silicate, Coconut oil based surfactants (Find details of ingredients here)
Country of origin: Made in Canada
They're available in 2 sizes — 50 loads packet and 100 loads tin.
First Impressions
Over the past year, many cloth diapering mums (especially in Singapore) have found it difficult to get the popular Pureen H-A-D Liquid Detergent. So when Abby from Moo Moo Kow approached me for a review, I gladly accepted, hoping to give mums an alternative option.
Cloth diapers users have very specific requirements for a suitable detergent. Generally, no fabric softeners, enzymes, chlorine bleach, essential oils, laundry soap, and artificial fragrance. For green reasons, I also prefer one without phosphate and is biodegradable. The simple ingredients in Nellie's All-Natural Laundry Soda seem to be up to the challenge.
Moreover, it's also front loader and high-efficiency (HE) friendly, exactly what my washing machine needs.
Packaging: The 50 loads pack comes in a resealable plastic zipper bag, which is unique for powdered detergent.
Scoop: Initially, I couldn't find the scoop and thought there wasn't any. So I recycled a plastic medicine spoon to scoop the powder.
Our Detailed Review
Rating Guide: ★ Oh no!     ★★ Poor     ★★★ Fair     ★★★★ Good     ★★★★★ Excellent!
(a) Packaging: ★★★★ I like the zippered package, which keeps the powder neatly inside. The super-duper concentrated powder also takes up little space.
Powdered detergent is convenient during travels —  I simply need to scoop some into an airtight container. In the past, I've brought liquid detergent around and faced a major leakage once. (Leaking detergent within the luggage is seriously no fun!)
However, I found the scoop only after many washes. Perhaps the scoop should be taped to the upper end of the package to prevent it from being buried deep down.
(b) Effectiveness: ★★★★★ I've tried Nellie's with cold, warm and hot water; where it dissolves easily. When handwashing a few items, I used 1/2 a 5ml medicine spoonful. There was little suds and took about 4 rinses (in a small pail) to remove all the suds. This is similar to my experience with Pureen H-A-D. The laundry smells clean and of nothing artificial, which I like.
For several weeks, I used Nellie's to machine wash full loads of clothes and cloth diapers. Initially, I experimented with a reduced amount of 1 x 5ml medicine spoonful. This was too little and the diapers didn't smell clean. An extra rinse was needed to clean them.
Then I increased the amount to 2 x 5ml medicine spoonfuls. The clothes and diapers turned out clean and were residue-free. Even after using the entire pack, there was no need to strip wash the cloth diapers.
Both Vee and I have eczema and we'd no flare ups due to using Nellie's. Great that it's gentle to our sensitive skin.
(c) Overall Value: ★★ Each 50 loads pack (0.6kg) retails at SGD23 while the 100 loads tin (1.5kg) retails at SGD49. (In Canada, the retail price is much lower at USD9.99 and USD18.99 respectively.) I managed to use the pack over about 50 loads, which means SGD0.46 per load.
I did a price comparison with other cloth diaper detergents sold in Singapore. Of the below, I've only tried Nellie's and have a box of GroVia Tiny Bubbles waiting to be tried.
Nellie's All-Natural
Laundry Soda
BumGenius
Diaper Detergent
GroVia
Tiny Bubbles
Weight
0.6kg
1.7kg
1.7kg
Loads
50
66
60
Price
SGD23
SGD25
SGD30
Price per load
SGD0.46
SGD0.38
SGD0.50
Tried?
Yes
No
Not yet
Seller (Singapore)
Moo Moo Kow
Milagro Trading
Mummy Knows Best
From the table above, I note that Nellie's is most concentrated among the three, which means saving on delivery costs for online purchases.
Tip: For more savings on delivery costs, I'd buy heavy detergent at a retail store or fair.
Overall, Nellie's All-Natural Laundry Soda is a suitable detergent for washing cloth diapers and for a family with sensitive skin. Before getting it though, I'd wait for a good discount, perhaps 20% to make it more price competitive.

(Good news: limited time 20% discount code below!)
—
What we like about it:
Washes well with minimal and natural ingredients
Suitable for washing cloth diapers (residue-free) and for sensitive skin
In powdered form — convenient for travelling
More concentrated than competitive brands (refer to table above) — save on delivery costs
What can be improved:
Tape the scoop so that it's easier to find
—
Get Your Own (with Discount!)
To get your own Nellie's All-Natural Laundry Soda and Moo Moo Kow cloth diapers, visit Moo Moo Kow.
Special Treat: 20% discount on Nellie's detergent products; 10% on Moo Moo Kow cloth diapers (read review here)
Discount Code: MR20110623
Validity Period: Until 22 July 2011
How to Buy: Please email your order using Moo Moo Kow's contact form and indicate the discount code above. Or visit its booth at Baby Expo 2011 (1-3 July 2011), Singapore Expo Hall 6B, Booth D3.
Live outside Singapore? You may also check the price at Amazon here: Nellie's All Natural Laundry Soda, 50 Loads Bag
*
—
Disclosure: I received a Nellie's All-Natural Laundry Soda 50 Loads pack for review and Moo Moo Kow is a banner ad sponsor at the time of writing.
*: affiliate link to support the growth and maintenance of Mummy's Reviews™
—
P.S. Catch up on all my cloth diapering tips here.