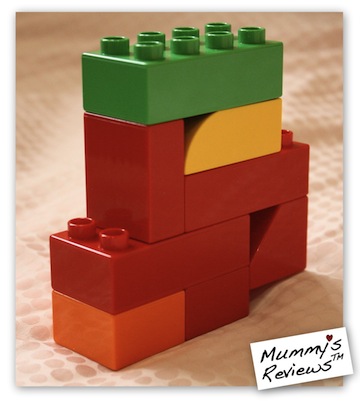 Note to new readers: This article is part of Vee's developmental milestones update series. It summarises my parenting approach, Vee's progress, challenges we face and how we overcome them.
Inspiration this month:
Within four months, I need to learn how to handle a toddler and a newborn baby, all by myself at home.
Vee turned 28 months old last week and here's his progess update:
Learning & Communication
Our homeschooling have been progressing well since my energy level is about back to normal. Time is catching up because Vee would be reaching 3 years old in 7+ months, when the peak of his right brain's learning ability starts to taper off and the less efficient left brain starts to kick in.
To reinforce my understanding of The Shichida Method, I've read these 2 books:
1. 七田真天才胎教法 (Shichida Pre-Natal Education): This guides pregnant mums how to show love effectively to baby during pregnancy. I like that it aims to raise a calm, healthy and happy baby. Bought at www.ibaby.my at RM15.80.
2. 七田真0-6岁育儿法 (The Shichida Method for 0-6 Years Old): This helps mothers with young children learn more about The Shichida Method. Even after attending Shichida classes for more than a year, I still discovered new information and ways to apply the method.
Most importantly, it emphasises that parents must first focus on building a strong relationship with the child, before being able to educate him effectively. And education is way beyond giving him knowledge — it also encompasses building a strong and ethical character. Bought at www.ibaby.my at RM15.80.
Creativity: Recently, Vee has started to build structures independently with his LEGO Duplo* blocks. He plays with them almost daily and enjoys making vehicles. Ha, typical boy!
Since he has finally stopped mouthing things, we started playing with his Play-Doh Meal Makin Kitchen* once every 1-2 weeks. He can play with this for 1+ hours, making lots of noodles and other food!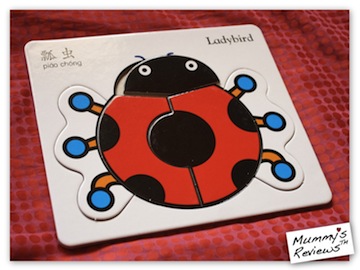 Puzzles: This is another favourite activity, and he once did 15 jigsaw puzzles at one sitting. It trains his hand-eye co-ordination, photo-memory, patience and determination. Now, he can do the simple 4-8 pieces puzzles ones with no or minimal help. We're working on 12 and more pieces.
Flashcards: He likes flashcards but has very short attention span for them, so we run through only 100+ a day, within 1-2 minutes, rotating new cards every 3-4 days. I've almost exhausted our current stash, so am diligently making more. I flash physical cards, not via the computer screen. Now when he picks up a set of cards, he also tries to flash them and sing to me at the same time. 🙂
Though physical flashcards are more expensive and time consuming to make, the advantage is no glare on delicate eyes and I believe it's more personal (showing the child more love) and effective. This philosophy follows The Shichida Method closely.
Math: Several months ago, he started counting down from big numbers to 0, and sings "Ten Little Indian Boys" from 10 to 1 boys. Initially, I was surprised how he mastered it. Then I realised he picked it up after I've been counting down to end his activity (e.g. bath or play time).
Sometimes, he blurts out the Addition +1 to +4 and Multiplication x1 songs. I continue to play the song tracks daily.
After doing Shichida worksheets for a few months, he can independently match answers by drawing lines and trace numbers. One step closer to real writing.
Favourite book for the past few months is Nursery Rhymes published by Brown Watson, beautifully illustrated by Gill Guile. Before nap, we go through the book and sing together. This activity has helped him learn to sing many songs. Bought it at Popular Bookstore at only RM15+ after discount.
I've also gotten a pair of wooden toddler chopsticks from Shichida centre and letting him learn at the end of every meal. (These are mini adult chopsticks, not the Edison chopsticks.) Using chopsticks can supposedly stimulate the brain development and develop fine motor skills. It's tough to learn yet he's very excited over this!
Motor Skills
He's getting better at swimming. Now, he can waddle by himself with his floating vest to and fro the small pool many times, until he exclaims in exhaustion, "Daddy, last time, then orh orh (sleep)." Ha! The next step is to gradually remove foam inserts in the vest and let him improve his floating skills.
He can also go down the pool's slide by himself while staying upright. Several months back, he'd be slanted or even flip halfway down the slide.
At this age, he's climbing up furniture in the house whenever in the mood, jumping down from a side sofa onto the mattress, jumping on the mattress, etc. As long as the action isn't vastly dangerous, I let him explore while keeping a close watch.
During a resort trip, he even ran on the bed (thinking it's only a mattress like home) and fell flat down onto his nose, and escaped with no injury. Ever since, he has learnt his lesson.
Letting him learn through little bumps is way better than me trying to nag a million times.
Behaviour & Social Skills
Thankfully, he no longer throws his food or bib onto the floor. It's a stage that's passed.
When he's bored or frustrated nowadays, he presses my pregnant belly and says "按宝宝" (press baby). I've been trying very hard to remind him to be gentle and give him as much attention as possible.
Diet & Feeding
During weekdays, he eats mainly homecooked vegetarian food. I've introduced a rotation of his current favourites: Mon – soupy multigrains, Tue – wholemeal pasta, Wed – soupy multigrains, Thur – wholemeal noodles, Fri – soupy multigrains, Sat – fried rice. The pasta and noodles are lightly fried with olive or sunflower oil, with loads of vegetables and beans. He also gets a hard boiled egg for lunch, oily fish (salmon or mackerel) for dinner, plus soup and fruit for every meal.
During weekends when we dine out, it's tough to get vegetarian options for him because his eczema flares up with soy and mushrooms, so I'd offer him some chicken. Though he has only started trying meat (except fish) after 2 years old, he doesn't reject them, but doesn't eat a lot either. Fortunately, no allergic reaction.
Potty Training
He continues to use the potty or toilet consistently at home and outdoors. Daddy has taught him to pee into the toilet while standing.
For nap and night-time, there seems to be some regression, with no dry diapers. This might be linked to his huge intake of soup during meals. I've already limited his bedtime milk intake to only 2-3 oz. (He eats bread or oats until full.)
On the bright side, he wakes up in the early morning (5-7a.m.) to request for a diaper change once wet and may continue to pee in the potty.
Sleep
For many weeks during pregnancy, I slept with him during nap and bedtime, so he regressed and required me to be really close to him. Now that I'm more energetic, I've switched back to letting him sleep without close body contact (that is, I'm further away while he sleeps). Or simply let hubby sleep with him. He's taking time to adjust and could sometimes fuss and wail up to 1 hour. On best nights, he sleeps through 11 hours if he doesn't wake up for a diaper change.
As we learn along the way, I'd be sharing more with you. Catch up again!
P.S. View more developmental milestones (from 8 months old onwards).
P.P.S. Our latest homeschooling updates are posted at MummysHomeschool.com HERE,
—
*: affiliate link to support the growth and maintenance of Mummy's Reviews™