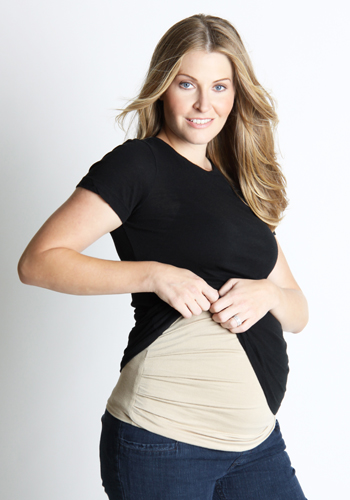 Here's the review of The Belly Band, the latest innovation by Belly Armor just for pregnant Mummies. In August 2010, I raved about The Belly Blanket, which I'm still happy to use every day to protect baby #2 from radiation. With The Belly Band, I can continue to protect him when outdoors and carrying gadgets that emit radioactive waves near my belly. I like its absolute comfort and convenience.
About The Belly Band
Nowadays, modern mums are highly connected to the world through gadgets such as mobile phones, computers, and iPads, even on the go. Working mums may be using the gadgets throughout the day. Even as a Stay-At-Home-Mum, I read and write articles using my laptop or iPad several hours a day, while Vee is asleep.
To protect our precious babies from everyday radiation during pregnancy, The Belly Band that includes RadiaShield® protection is designed to be worn under or over clothes.
These are the main features:
Efficacy: Shields 99.9% shielding effectiveness (~60dB)
Material: 95% rayon, 5% spandex, and RadiaShield® lining
Country of origin: Made in Indonesia
It's available in 4 sizes and 4 colours — black, white, nude and hot pink.
Styling Tip: I chose "nude" so that it would look "invisible" under white tops.
First Impressions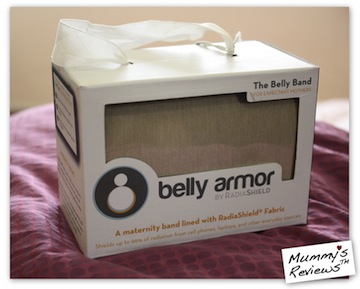 I'm always impressed by Belly Armor's chic packaging design. This would make a wonderful gift for another Mummy. What's more, the box is made of recycled paper.
The picture above shows the reverse side of The Belly Band. The RadiaShield® lining is exposed, just as The Belly Blanket. Since this is to be worn with clothes, I won't suggest adding a layer of fabric to conceal the lining, to prevent it from getting too warm.
Our Detailed Review
Rating Guide: ★ Oh no!     ★★ Poor     ★★★ Fair     ★★★★ Good     ★★★★★ Excellent!
(a) Prewash & Laundry: ★★★★★ I prewashed The Belly Band with cold water by hand once. There was no colour-run.
Subsequently, it's easy to wash in the washing machine, with a laundry net.
(b) Ease of Use & Comfort:★★★★★ I tested The Belly Band very regularly during the first trimester of this pregnancy. At home, I prefer to wear it over my T-shirt, then remove it when I'm done with the computer.
When outdoors, I'd wear it under loose clothes. It feels very cooling even in our hot weather.
One concern: when my backache starts and I've to wear my maternity support belt outdoors, I may not wear The Belly Band over it. That seems too many layers under clothes.
(c) Fit: ★★★★ I'm petite and am wearing the XS/S. During the early weeks, it fitted quite loose over the top of the belly and tended to slide down a little.
Now in my second trimester, it fits just nice and has room for growth. My previous pregnancy with Vee ended up with a humongous tummy, so I hope The Belly Band would be able to give that much stretch later on.
(d) Performance (Cell Phone Test): ★★★★★ The Belly Blanket passed the test several times:
Mobile phone reception decreased from 5 to 3 bars after 30 seconds
iPod Touch WIFI reception decreased from 3 to 1 bar after 60 seconds
iPad2 WIFI reception decreased from 3 to 1 bar after 15 seconds
When I was being checked by the Singapore Embassy in Kuala Lumpur, the security beep went off. This is likely due to the RadiaShield® lining made of silver. After this incident, I won't suggest wearing it to go through airport customs check. Perhaps, it'd be better to put in a hand-carry luggage and wear it over clothes when needed.
Belly Armor's reply: "Regarding the security check alarm going off at the Singapore Embassy – they must have had their detector calibrated at very high sensitivity. Based on our tests through many airport scanners in North America and several Asian countries, we have not had an issue where the products set off the alarms. However, some detectors do beep at jewelry born by travelers, for example, while others would not. So it's possible this could happen."
(e) Quality: ★★★★ The sewing and workmanship is excellent. After a few washings, there's a little bit of pilling. In comparison, The Belly Blanket hardly pilled.
(f) Overall Value: ★★★★★ Each Belly Band retails at USD59. It's very well-designed and especially suitable for pregnant mums who work long hours with computers and have a mobile phone near their bellies through the day.
—
What we like about it:
Consistently passed the "Cell Phone Test"
Material is very soft and smooth even after washes
Material stretches well to fit growing belly
Remains cool even when worn with clothes
Machine-washable — convenient during laundry
Packaging made with recycled paper
What can be improved:
The fabric pilled a little after a few washings. Perhaps because I washed it in warm instead of cold water?
—
Get Your Own (with Discount!)
To get your own Belly Band, Belly Blanket or Belly Armor Tee, visit Belly Armor.
Special Treat: 10% discount
Discount Code: MUMREV
Validity Period: Until 15 August 2011
You may check the list of international retailers here.
In Singapore, Belly Armor is also retailed at Kiddy Palace outlets.
You may also check the price at Amazon here: Belly Armor Belly Band
*
—
Disclosure: I received one The Belly Band for review.
*: affiliate link to support the growth and maintenance of Mummy's Reviews™
—
P.S. Catch the previous review on The Belly Blanket here.