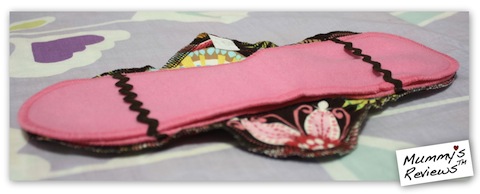 So you've heard of cloth diapers, how about cloth pads? Welcome to the new Mum's Special series covering mums-only solutions, starting with THAT time of the month. (And let's all have a break from baby stuff for a week.)
Two years ago, after a yeast infection, I switched from disposable to cloth pantiliners. When my cycle finally returned after 9 months of pregnancy and 18 months of breastfeeding Vee, I switched to cloth pads and a menstrual cup. These are soooo comfortable that I'm ditching disposables for good.
Why Cloth Pads?
Great for sensitive skin – say bye bye to itchiness down there
Extremely comfortable – you'd even forget you're having a period (They confirmed my decision to use cloth diapers on kids.)
Very absorbent – the options available are crazy (I've found a super-duper-long overnight pad!)
Smell clean and fresh – did you know that the nasty odour actually came from disposable pads?
Convenient – with a sufficient stash, you'd never run out of pads again
No meddling with sticky tapes – discreetly remove pad in public toilet without anyone hearing the "biaaaak" sound
Save money – I spent about SGD200 on my stash, while saving about SGD150 per year
Reduce landfill waste – if I use 25 disposable pads a month, I'd be adding 9,000 pads to the landfill over 30 years!
For me, the main downside about cloth pads is handwashing them. We live with extended family, so using the washing machine to wash them is erm… prohibited.
So here're my current preferences:
#1: Menstrual cup (shall share about this next week)
#2: Cloth pads – when I can't use my beloved cup post-partum
#3: Disposable pads – uncomfortable but convenient when I'm too weak to wash cloth pads
#4: Tampons – too drying and I'm paranoid of the Toxic Shock Syndrome
Let's start off with a review of my first cloth pad — Lunapads!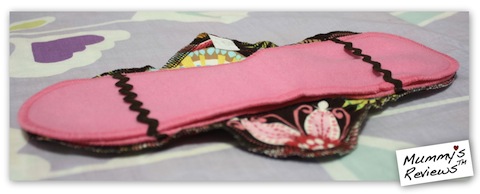 About Lunapads Maxi Pad & Liner
These are the main features of the pad:
Dimensions: 

10" (25.5cm) long and approximately 2.5" (6.5cm) wide when fastened



Pad: 2 Layer, 100% cotton flannel base topped with an absorbent panel made of 2 layers of 100% cotton fleece, and 1 layer of ultra-thin nylon to minimize soaking through.
Liner: 2 layers of 100% cotton fleece
Absorbency: Average flow
Closure:

 1 nickel-free, silver-plated brass snap



Country of origin: Made in Vancouver, Canada at a small family-owned factory
They're available in a variety of prints or organic cotton. There are 3 other sizes — Mini (8″ or 20.3cm), Long (12″ 30.5cm) and Heavy (14″ 35.5cm).
First Impressions
Oh… the Cocoa Kaleidoscope print is lovely and brightens up my day. It actually made me look forward to my first cycle after so long!
The pad and liner combo feels very trim. Usage instructions are included to help new users.
My Detailed Review
Rating Guide: ★ Oh no!     ★★ Poor     ★★★ Fair     ★★★★ Good     ★★★★★ Excellent!
I've used the pad and liner set over two normal and one 3 weeks post-miscarriage cycles.
(a) Prewash & Laundry: ★★★★ After only one prewash in cold water, the pad and liner started absorbing fine.
After use, I'd rinse them with cold water and soak with a little bit of cloth diaper-friendly detergent. Then at the end of the day. I'd handwash them during shower time. Followed by a short spin and line dry. The 2-piece structure dries very quickly and can be reused by the next day even though I only dry them by the window.
A pink fabric surface means no stains is visible — great for ladies who dislike seeing stains.
The cotton fleece surface turned a little fluffy after several washes. And one thing I didn't like is the ric rac bands that twist about and trap lint easily.
(b) Ease of Use: ★★★★ When the liner is soaked, simply replace with a new piece. Or remove it and use the pad base. Quite a no-brainer. I certainly prefer snapping the wings underneath panty than sticky tapes on disposables.
(c) Fit / Trimness / Comfort: ★★★★★ The pad contours nicely to my body and is very trim, comparable to the ultra-thin disposable pads that I'm used to. It feels clean and dry, doesn't scrunch up and feels very comfortable. And certainly no odour. It's easy to forget that I'm having my period.
(d) Performance: ★★★★ On one occasion, the liner lasted for 2 hours. I removed it and continued using the pad base for 2 hours until my panty was very slightly stained. So 4 hours is about the maximum for me, good for average flow days.
I don't have extra liners. Otherwise, I'd probably need only 1 to 2 pad bases with a bunch of liners per day. For heavy flow and overnight, you'd need to look at the Long or Heavy version.
(e) Quality: ★★★★ The pad and liner are very well made. I'd need to use them over more cycles to see if the quality lasts. As a reference, my Lunapads Pantiliners have been used and washed daily for 2+ years (that's 200+ washes each!) and still going strong. So I estimate this Maxi Pad & Liner would last at least 4 years of regular use.
(f) Overall Value: ★★★★ Each Lunapads Maxi Pad & Liner set retails at USD16.99 or USD19.99 in organic cotton. (In Singapore, the set is available at SGD32.90.) Additional liner retails at USD5.99 each. It's economical to get several liners to go with one pad base.
Overall, I love Lunapads' pretty prints, trimness and comfort. Very suitable for outdoors.
—
What I like about it:
Dries fast in a day for quick reuse
Very trim — good for outdoors
Can add liner to boost absorbency when needed
Pretty prints — brightens up that time of the month
What can be improved:
Ric-rac bands get twisted and trap lint easily
—
Get Your Own
I bought my Lunapads at MummyKnowsBestShop.com (Singapore). They're available at Lunapads.com. Limited choices available at MiaBambina.com (Malaysia).
You may also check the price at Amazon here: Lunapads Maxi Pad & Liner – Organic Cotton
*
*: affiliate link to support the growth and maintenance of Mummy's Reviews™
—
P.S. Catch the entire Mum's Special series here.
Sharing time: Any cloth mamas here? Feel free to share your experiences and reviews in the comment box.