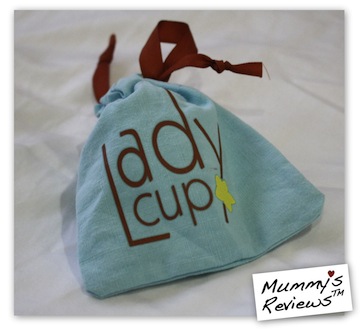 Finally, Part 4 of Mum's Special series covers a review of the LadyCup menstrual cup!
Yes, cloth pads are very comfortable, yet my beloved menstrual cup still beats them flat because washing is a breeze and it lasts up to 12 hours.
Why a Menstrual Cup?
Great for sensitive skin (if made of silicone)
Extremely comfortable – can hardly feel a thing
Very convenient for outdoors & travels — no need to bring disposable pads, wash cloth pads, and won't run out
Lasts up to 12 hours (if the size is right)
Smells clean and fresh like cloth pads
Saves money – I spent RM145 (about SGD59) on 1 cup, while saving about SGD150 per year
Reduce landfill waste
Previously, I've tried tampons for a few days but found it too drying and was always paranoid of Toxic Shock Syndrome.
For me, moving on to the menstrual cup had only thing to overcome: the psychological barrier of inserting and removing the cup. Then I thought, "I'm married and even managed to delivery a jumbo baby naturally. What's a cup?!?" Heck, I'm all game to try it!
About LadyCup Menstrual Cup
These are the main features of the menstrual cup:
Material:

Medical grade silicone

Country of origin: Made in the European Union
The LadyCup comes in 2 sizes:
| | Small | Large |
| --- | --- | --- |
| For | Not given birth & Below 25 years old | Given birth or Above 25 years old |
| Diameter | 40mm | 46mm |
| Volume | 15.5ml | 26ml |
Guarantee information quoted from LadyCup's FAQ's page: "Guarantee for the material is 2 years. The lifetime of the product is up to 15 years, given its regular and proper maintenance. In case you choose the wrong size, we will replace your LadyCup® free of charge."
I'm not sure how the guarantee works when buying the cup at other stores.
And the LadyCup is now available in a wide range of beautiful colours.
First Impressions
Since I've given birth before, I bought the Large cup after viewing it at Tiny Tapir's physical store. At first sight, it looked quite big compared to a tampon. But I was determined to stuff it in.
The design is very simple and it comes with a small cotton bag and clear usage instructions. At Tiny Tapir, the LadyCup is only available in plain colour, which I'm totally fine with.
How to Use a Menstrual Cup
Washing and sterilising a menstrual cup is much easier than cloth pads. This is how I do it before and after a cycle:
Wash it with a natural non-perfumed soap. I use Dr. Bronner's Magic Soap.
Disinfect it with a sterilisation solution for 30 minutes. I use 1/4 of a Pureen Sterilising Tablet in a glass cup. (Each tablet contains 500mg Sodium Dichloroisocyanurate (NaCC) meant to be dissolved in 2 litres of water. Each pack of 56 tablets costs RM16.90 and can last a long time. Easily available at baby section of departmental store since these are tablets used for sterilising milk bottles.)
During the cycle, I simply rinse it with water or wash with soap (as in Step 1 above), then re-insert.
After the cycle, I wash and disinfect it, air dry completely, place in the cotton bag, and keep in a cupboard. The instructions says not to keep it in an airtight container.
Steps to inserting the cup:
Clean hands thoroughly
Moisten the cup with water
Fold it across the length
Fold again
Sit / squat / kneel / stand and relax (breathe… like managing a contraction?)
Glide it in aiming towards the back, let go, then allow it to "pop" open
Twist it a little to ensure a good suction
Clean hands thoroughly
Sit / squat / kneel / stand and relax
Grip the stem or lower part of the cup, press it to break the suction
Pull it out gently, using own vaginal muscles to help push it (like giving birth?)
Empty contents into the toilet. Wash or wipe clean, then re-insert.
You can find more details, including the instructions booklet at LadyCup's website here.
My Detailed Review
Rating Guide: ★ Oh no!     ★★ Poor     ★★★ Fair     ★★★★ Good     ★★★★★ Excellent!
I've used the LadyCup over one complete cycle.
(a) Washing: ★★★★★ I use the steps mentioned above and it's much easier than cloth pads. As mums, we're experts at washing and sterilising milk bottles, pumps, etc, so are definitely able to clean the menstrual cup well.
(b) Ease of Use: ★★★★ I took a few minutes to insert the cup correctly the first time. Managed to remove it quite easily the first time too. Subsequent times are much faster. The key is to relax…
Since it can last up to 12 hours and my flow wasn't too heavy, I only had to remove and re-insert it about 3 times a day. This is absolutely a time-saver when handling an active toddler — visiting the toilet can be a luxury on certain days!
I also prefer containing the flow inside the cup over letting it flow out onto a pad — this keeps down there much cleaner and cleaning up is a breeze.
Doing either the big or small business with the LadyCup inside was fine. When needed, simply remove, rinse and re-insert.
I haven't tried removing it when outdoors though because it can last so long.
(c) Fit / Comfort: ★★★★ The cup feels invisible when I'm standing or lying down. The stem is a little too long for me, so I could feel it at times when sitting down. I'd be trimming it shorter in future.
I'm very petite and probably too small down there for the 46mm-diameter Large cup, so I feel a little pain just as the cup is being removed completely. That's just for a split second.
(d) Performance: ★★★★★ The LadyCup holds up very well during the day with no leak; I only have to empty it about 2 to 3 times.
I went on a road trip, where there was no modern toilet access, and was sooooo glad I was using the cup instead of having to handle a pad.
As a backup, I wear a Lunapads pantiliner when using the LadyCup. On a few occasions, there was a very slight stain on the pantiliner, but I won't consider that a leak.
Overnight, the LadyCup held up very well over 9.5 hours, with no leak in the morning. I love having clean panties and bedsheets during a cycle! I could literally roll about and sleep in any position without worrying about any mess in the morning. This is freedom…
Tip: In case of any leak during a cycle or even potty-training your child, lay a folded piece of fleece towel on the bed. Fleece is marvellously water-resistant, breathable and machine-washable. I got my fleece towels from Aussino.
(e) Quality: ★★★★ The medical grade silicone is supposed to last up to 15 years with proper care. Of course, I can only conclude after many more cycles. So far, the quality is rather good.
(f) Overall Value: ★★★★★ Each LadyCup retails at USD35.65. In South East Asia, only Tiny Tapir carries it at RM145 each or RM230 for two. You'd only need 1 menstrual cup. So if you've a good friend to buy it together, that's great savings.
Overall, I love LadyCup's ease of use, comfort and long-hour performance. Absolutely value-for-money.
—
What I like about it:
Lasts overnight with no leak and mess
Easy to clean and maintain
Feels comfortable all day (may trim the stem until it's short enough)
Very convenient for long hours outdoors and travelling
Some considerations:
Feels a little painful upon exit for petite me
—
Get Your Own
I bought my LadyCup at Tiny Tapir (Malaysia). They're also available at LadyCup.eu.
To explore other cups, you may also check out Live Love Luna, which ships from Singapore to Asia.
—
P.S. Catch the entire Mum's Special series here.
Thank you for reading this series and do join in Giveaway #18: Wet bags for baby & Mummy.
Sharing time: Any menstrual cup mamas here? Feel free to share your experiences and reviews in the comment box.