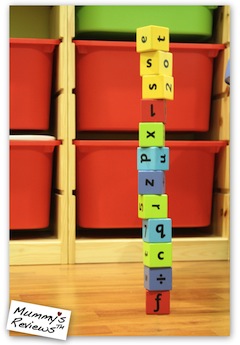 My reviews of three more educational building blocks for toddlers are finally here after two HECTIC weeks. (We made a rushed trip to Singapore and then I spent most of last week keeping the family finances in order.) This is a follow-up of the previous comparison between LEGO DUPLO and Mega Bloks.
Read on for reviews of ELC Alphabet Blocks for little hands, HEROS Blocks from Germany, and unique Playskool Clipos.
Our Detailed Review
Rating Guide: ★ Oh no!     ★★ Poor     ★★★ Fair     ★★★★ Good     ★★★★★ Excellent!
1. ELC Alphabet Blocks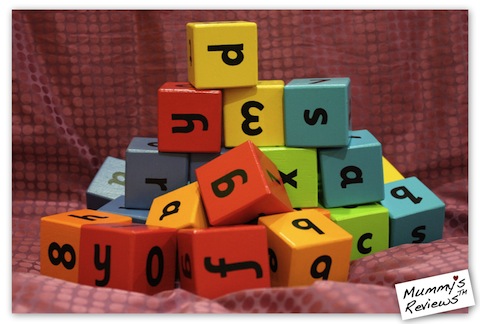 These are the main features of the blocks:
Suitable age group: from 12 months old
Material: Forest-friendly wood
Country of origin: Made in China
(a) Packaging: ★★★ The 24 blocks come in a simple cardboard box. I don't expect anything fanciful for these simple blocks. To store them, I simply place them in an Ikea TROFAST toy tray and slot it into our storage shelf system. Vee can easily pull out the tray of blocks when he wants to play with them. (I'd share more about our homeschooling organisation system when time permits.)
(b) Effectiveness: ★★★★★ The blocks are colourful with clearly-printed alphabets in small caps and numbers. I like small letters because these form the bulk of the words we read and should be introduced to toddlers early on.
The size is just right for a toddler's hands. Vee surprised me by stacking 4 blocks at 15 months old — a sudden change from knocking down towers previously. Since then, he went on to build higher towers until we finally built a mega one with all 24 blocks, even taller than him!
He enjoys turning the blocks to find familiar alphabets and numbers. His first obsession was alphabetical "o".
We also sort the blocks according to colours, and he bugs me to build staircases with them.
(c) Quality: ★★★★★ I like the rounded corners and clear, bright colours. The wood and paint have been resilient to tumbling down onto the floor possibly hundreds of times.
Personally, I prefer wooden to plastic toys because they're heavier, closer to nature and have a natural beauty appeal. Oh, and more recyclable.
(d) Overall Value: ★★★★ These blocks retail at RM69 in Malaysia (or £10.00 at ELC's website). For the quality and frequent play we get, this is indeed good value for money.
2. HEROS Blocks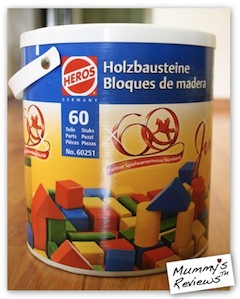 These are the main features of the blocks:
Suitable age group:

 

Stated from 12 months old (With small pieces, I think from 2 years old is more appropriate.)

Material: Forest-friendly hardwood. Paints and dyes are water-soluble (water based) and is harmless if ingested. (Source)
Country of origin: Made in Germany
(a) Packaging: ★★★★ This is the special 60th anniversary bucket of 60 wooden blocks. The bucket is made of thick cardboard, with plastic rims and handle. So far, it's still in good condition after Vee's handling over 1+ year and makes tidying up after play very convenient.
(b) Effectiveness: ★★★★ I bought these blocks around Vee's first birthday and found the pieces (especially the flat rectangular ones) too small. Vee mouthed things till 1+ year old, so these MUST be played under close supervision. Or kept till the child is older, about 2-3 years old.
It's tough for a young toddler to handle the small pieces for stacking. Vee started playing with them closer to his second birthday. He loves to use them as pretend food by pouring all the blocks into his all-time favourite ELC Sand and Water Play Table
*, then cooking and serving them.
Currently, he's more interested in playing with individual pieces than building meaningful structures. Of course, I encourage him by leading with some simple models. And lining up the pieces and knocking them down as dominoes.
These blocks are highly popular with his older cousins (above 4 years old) who immediately started building towers and structures with them. So I expect the playing lifespan to be rather long.
(c) Quality: ★★★★ I like the bright basic colours that are suitable for sorting exercises, permutation games and building attractive structures. The paint doesn't go completely well over the wooden surface though.
Good thing is that the wood has withstood months of pouring, scooping and other rough handling by a toddler.
(d) Overall Value: ★★★ The bucket of 60 blocks retails at RM89.90, so initially I did an "inventory count" regularly to make sure all 60 pieces were kept after playing. (Of course, I've given up doing that.) Generally, HEROS toys come at a premium price in Malaysia.
Compared to the lower-priced PlanToys 50 Construction Set
*, this HEROS set has all its pieces painted and comes with a bucket, perhaps explaining the price difference.
3. Playskool Clipo Figure Bucket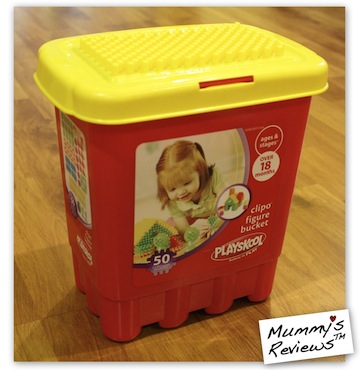 These are the main features of the toy:
Suitable age group:

 

from 18 months old

Material: Made of plastic
Country of origin: Made in China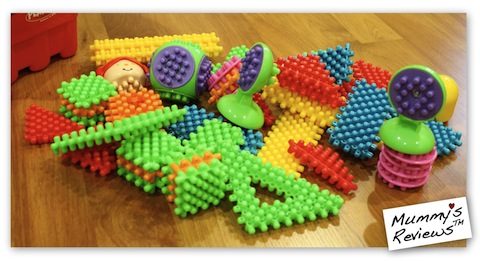 (a) Packaging: ★★★ The 50 pieces of Clipo pieces come in a plastic bucket with a clip-on cover and no handle. I like the convenience of a bucket to hold everything in after play.
However, the capacity is JUST NICE, so it's often tough to close the cover after filling the bucket. Then I've to empty the pieces, place them in neatly and try closing it again. Duh… there should be at least 10-20% allowance so that a toddler can keep the pieces easily by himself.
(b) Effectiveness: ★★★★ This is a special toy with pieces that clip to one another for creative combinations. There's a good mix of different pieces in the set.
Initially, Vee used individual pieces for pretend play — such as the rectangular piece as a remote control, and the cube as an apple. He loves the boy and girl figures.
Then later on, he started making simple structures like a mobile phone or hairdryer by stacking the pieces up. His older cousins like this toy too and can make more fanciful things with them.
This is a good toy for building fine motor skills because the pieces are challenging to manipulate, definitely tougher than LEGO DUPLO and Mega Bloks.
Below, we've made a simple laptop, a burger and a bus…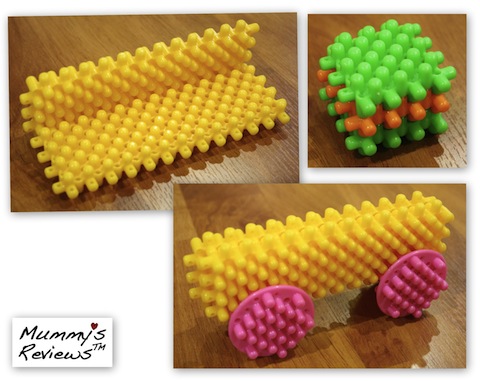 (c) Quality: ★★★★★ I like the cheerful colours and unique texture that makes it stand out from Vee's other blocks. The pieces are still in great condition after 1+ year.
(d) Overall Value: ★★★ The bucket of 50 Clipo pieces retails at RM89.90 (comparatively pricier than LEGO DUPLO!), so it's better to wait for a sale before getting it. There's a smaller bucket of 30 pieces, but I think blocks are more fun when there're lots of pieces to play with.
—
Toddler Activities
These are some of the activities we do with the blocks:
Create different sounds by banging different blocks together
Build a vertical tower with as many blocks as possible. Try with left then right hand (or vice versa).
Use 3 or more blocks to make a train. Encourage toddler to try doing the same.
Pretend play using blocks as cooking ingredients
Play guessing games: hide 1 block under a cloth. Then show toddler 2 blocks (1 which is identical to the hidden block). Ask toddler to guess the answer.
Play memory games: show 3 blocks in a particular sequence to toddler for 5-10 seconds. Cover up the pattern with a cloth. Give toddler 3 of the same blocks and ask him to try repeating the same pattern.
And let toddler lead by playing freely and creatively with the blocks
—
Get Your Own
ELC Alphabet Blocks are available at ELC outlets and some Mothercare stores.
HEROS Blocks are available at Robinsons (Kuala Lumpur) and a toy store at Coronation Plaza (Singapore). They're quite a rare find.
Playskool Clipo Figure Bucket is available at major departmental and toy stores.
You may also check the prices at Amazon here:
—
P.S. Coming up soon: Review and giveaway of cloth diapers is back! Stay tuned.
Sharing time: Do you have creative play ideas using blocks? Feel free to share in the comments box.
—
Disclosure: Mummy's Reviews™ is a review site that receives compensation if readers make purchases from affiliate links (these are marked with an *). If we receive compensation from the companies whose products we review, this would be disclosed. These compensation help to maintain and grow Mummy's Reviews™. We test each product thoroughly and give marks according to our experience with it. We are independently owned and the opinions expressed here are our own.