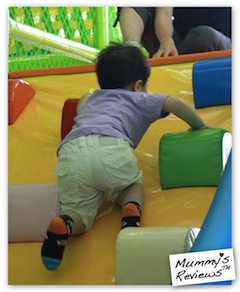 Note to new readers: This article is part of Vee's developmental milestones update series. It summarises my parenting approach, Vee's progress, challenges we face and how we overcome them.
Inspiration this month:

A child can grow up so much within a few months. I'm glad to have jotted down our journey through this blog.
Vee and I just recovered from high fever due to some viral infection after a relaxing Penang trip. This time, Vee had 2 episodes of febrile fits and we'd to sponge him diligently to keep his temperature down. Thankfully, hubby was around to help. Vee threw 2 weeks of mega tantrums due to the illness and I'm relieved he's back to his chirpy self again.
Anyway, the boy turned 2.5 years and here's his progess update:
Learning & Communication
In case you're new to reading this series, Vee is homeschooled using mainly The Shichida Method. Other than 1-hour a week Shichida class, we don't follow a specific curriculum. I've a set of broad learning goals for his preschool years and I let him guide me in what to cover.
On a typical weekday, we spend 1/2 to 1+ hour on guided activities — play games to develop senses, memory, speed reading and logic skills, do puzzles, practise writing, do simple art & craft, sing and go through a few minutes of flashcards. The flashcards cover a wide range of topics.
Before nap and bed-time, he chooses English and Chinese books for reading time. It can range from 3 to 10+ books at one sitting, depending on how much time and enthusiasm we have.
During his free play time, he gets to… PLAY, of course! While he's playing, I often play different forms of music or audio recordings in the background. This lets him appreciate music and subconsciously absorb information, which is very powerful in strengthening his audio learning skills.
Speech: Over the past months, his speech blossomed and he talks like a mini-adult. He has started adding "Why"s before and after almost every little thing, including, "Why is Daddy home? Why?" Instead of answering his every question, I sometimes ask, "What do you think?"
It's heartwarming when he blurted out, "I want to grow up, go to work with Daddy, and be a useful person." I've been instilling this idea to him (according to Shichida's teachings) since he was a young toddler and I'm amazed that he gets it at this age.
Singing: One of his favourite activities now is to replace song lyrics to make them sound really funny. Then everyone gets a good laugh. He showed a keen interest on the piano when a sales person demonstrated it to us. We'd see if he's really that interested in a few years.
Drawing: Vee can control the pencil quite well and has started to draw simple pictures instead of random doodling. He loves to draw Daddy — in a very abstract form though (see below)!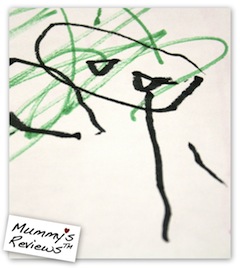 Puzzles: He can manage 12-piece puzzles with no or minimal help. I just bought more challenging ones to keep up with his pace.
Math: After 1+ year, we've completed the 4th and final round of Shichida's 63-Day Lightning Rapid Calculation Programme. Now, we've progressed to doing dots practice with recycled bottle caps and Shichida workbooks (1 page of 5 questions a day). He's able to recognise quantity by sight.
Based on the right brain education method, I don't teach him to count items 1-2-3-4-5, etc. For example, I show him 23 bottle caps and say "23". I'm the one who has to do the counting first.
Favourite books over the past few months:
Motor Skills
He's very proficient at climbing up and down the stairs, with alternating feet on the way up. But the stairs is a highly hazardous zone, so I watch him closely.
On his second visit to the beach, he still dislikes the sand. Once on the beach, he becomes rooted and says he can't move. Then he refuses to sit on the sand and insists on sitting on Daddy's lap instead!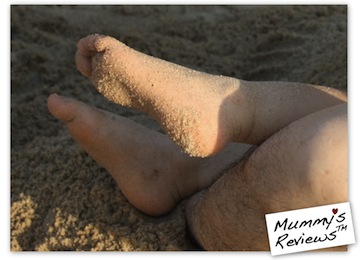 Finally, he got interested in a balance bike, so we bought him one to learn balancing and eventually cycling.
Behaviour & Social Skills
With his speech development, he shows his emotional sensitivity. Often, he'd ask, "Mummy, are you angry / happy?" Or "Mummy, can you smile?" I'm glad to see this progress because having a high EQ is very important for a person's success.
He's probably modelling my behaviour because I often acknowledge his emotions by asking questions like, "Are you upset because you can't get what you want?" We also play games to recognise various facial expressions to raise his awareness of others' feelings.
During Shichida classes and a recent music trial class, I realised that Vee is more of an observer than active participant. He hardly moves when the teacher starts singing and dancing, even with my encouragement.
Diet & Feeding
He has begun to recognise the foods that he can't eat due to allergy — soy, mushrooms and strawberries being top of the list. Because of his eczema, I need to be very vigilant in screening his diet and teach him to politely reject food offered by relatives and strangers. In a way, homeschooling helps to keep this in check until he's old enough to really know what he can't eat. Of course, I hope he'd outgrow these allergies in future.
Potty Training
Surprisingly, he started having dry diapers quite consistently during nap and night over the past week. We didn't do anything special. He's still on the same cloth diaper when sleeping. Then I ensure he pees before sleeping and remind him to keep his diaper dry when asleep.
Sleep
Well… he refuses to let Daddy put him to bed nowadays and only wants me before bedtime. The best I can do is slip away after he's asleep. During the night, he's fine to snuggle with Daddy. I wonder what'd happen when baby #2 arrives in November!
As we learn along the way, I'd be sharing more with you. Catch up again!
Help Needed: I need to learn Bahasa Melayu with Vee. Can anyone recommend a good children's BM reading series with translation in English? Please drop your suggestion in the comments box. Thank you very much!
P.S. View more developmental milestones (from 8 months old onwards).
P.P.S. Our latest homeschooling updates are posted at MummysHomeschool.com HERE,
—
Disclosure: Mummy's Reviews™ is a review site that receives compensation if readers make purchases from affiliate links (these are marked with an *). If we receive compensation from the companies whose products we review, this would be disclosed. These compensation help to maintain and grow Mummy's Reviews™. We test each product thoroughly and give ratings according to our experience with it. We are independently owned and the opinions expressed here are our own.