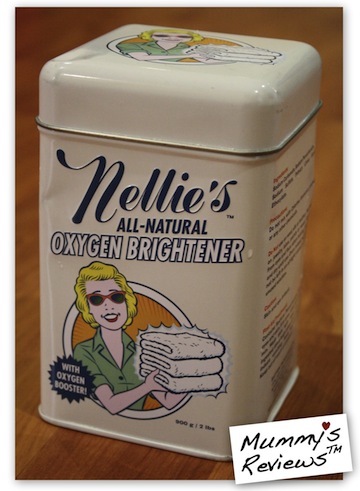 I'm ecstatic that the Nellie's All-Natural Oxygen Brightener has successfully removed stubborn food stains from Vee's shirt and banished odour from his cloth diaper inserts!
Trouble #1: Many months ago, Vee stained a branded polo T-shirt with probably pumpkin soup. I rubbed, soaked and washed it with Pureen H-A-D, didn't work. Did the same with Nellie's Laundry Soda, the stains remained. Urgh! The shirt had to be kept away for months.
Trouble #2: When Vee was day potty-trained and using only 2 to 3 cloth diapers a day, I changed my wash routine to once every 2 days (instead of daily). (That is, 1 day for clothes, 1 day for diapers.) Bad move! After several months, the inserts started to develop an odour. Help!
I looked for Abby of Moo Moo Kow to buy a tin of Nellie's Oxygen Brightener and she generously sponsored me one for review.
About Nellie's All-Natural Oxygen Brightener
These are the main features of the oxygen brightener:
Ingredients stated on package: Sodium Carbonate, Sodium Percarbonate, Sodium Sulfate, Primary Linear Alcohol Ethoxylate
Size: Approximately 32 x 1 tablespoon portions
Country of origin: Made in the U.S.A.
First Impressions
After travelling all the way from Singapore to Kuala Lumpur, the tin of Nellie's Oxygen Brightener reached in good condition. A little bit of powder escaped from the tin, so it'd better to seal the tin with tape before delivery by mail.
I like that the tin states it's colour safe, chlorine free, hypoallergenic and biodegradable. These meet the requirements for washing Vee's clothes and cloth diaper items.
Our Detailed Review
Rating Guide: ★ Oh no!     ★★ Poor     ★★★ Fair     ★★★★ Good     ★★★★★ Excellent!
(a) Packaging: ★★★★ The tin packaging is very sturdy. It's a little stiff to open, no big issue as long as I'm careful. Nellie chose metal packaging because "iron and steel are the world's most recycled materials, and among the easiest materials to reprocess".
(b) Effectiveness: ★★★★★
To tackle Trouble #1 (food stain): I added a little bit of the Oxygen Brightener to some water, rubbed the solution on the stains, and soaked the shirt for 1+ hour. (This is super kiasu instead of the recommended 1 to 5 minutes.) After soaking, I rubbed against the stains and washed the shirt. Tadaa… the stains were almost completely gone! See the pictures below: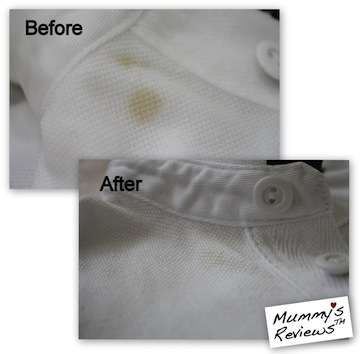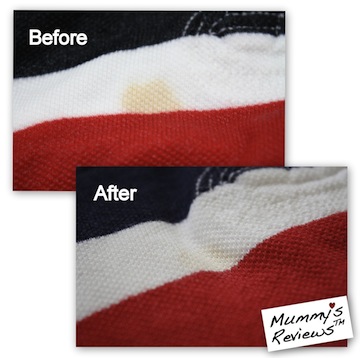 To tackle Trouble #2 (odour on cloth diaper inserts): I used 1 teaspoon of the Oxygen Brightener plus the usual amount of detergent and ran a load of stinky inserts on a hot machine wash. The odour was gone except a little bit lingered on one stubborn piece!
For a second batch of stinky inserts, I tried something different — used 2 teaspoons of Oxygen Brightener, soaked for a few hours, rinsed, then ran the load on a hot machine wash with extra rinse. The inserts smelled clean again!
Both Vee and I have eczema and we'd no flare ups due to using Nellie's Oxygen Brightener. Great that it's effective yet gentle on our sensitive skin.
I'm a very satisfied Mummy and have since returned to daily laundry — wash clothes, towels and diapers together. Leaving diapers 2 days in the pail is too long for the humid environment at my place.
(c) Overall Value: ★★★ Each pack (about 32 x 1 tablespoon portions) retails at SGD33. (In Canada, the retail price is much lower at USD9.99.) After successfully tackling troubles #1 and #2, there's still A LOT of the powder left. So 1 tin would last a long time.
Nellie's All-Natural Oxygen Brightener effectively tackled stubborn food stains and odour, while being cloth diaper- friendly and gentle on our skin. I like it!
—
What we like about it:
Effectively removed food stains and odour from cloth diaper inserts, without chlorine
Biodegradable and recyclable packaging
What can be improved:
Seal the tin with tape before delivery by mail
—
Get Your Own
To get your own Nellie's All-Natural detergent products and Moo Moo Kow cloth diapers, visit Moo Moo Kow. (Note: The discount code below doesn't apply to the Oxygen Brightener because stocks are very limited.)
Special Treat: 20% discount on Nellie's Laundry Soda (read review here); 10% on Moo Moo Kow cloth diapers (read review here)
Discount Code: MR20110922
Validity Period: Until 21 October 2011
How to Buy: Please email your order to info@moomookow.com and indicate the discount code above.
Live outside Singapore? You may also check the price at Amazon here: Nellie's All-Natural Oxygen Brightener
*
—
Disclosure: I received a tin of Nellie's All-Natural Oxygen Brightener for review and Moo Moo Kow is a banner ad sponsor at the time of writing.
Mummy's Reviews™ is a review site that receives compensation if readers make purchases from affiliate links (these are marked with an *). If we receive compensation from the companies whose products we review, this would be disclosed. These compensation help to maintain and grow Mummy's Reviews™. We test each product thoroughly and give ratings according to our experience with it. We are independently owned and the opinions expressed here are our own.
—
P.S. Catch up on all my articles on washing cloth diapers here.