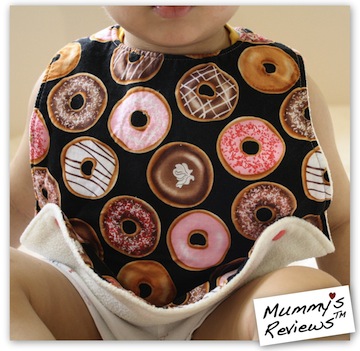 Finally, I've found the perfect bib to contain Vee's self-feeding mess. These are Loopy Loo's Snap & Scoop Bibs, lovingly handmade by an Australian mum, Rachel.
Since Vee started eating solids at 6+ months old, I've made wearing a bib a MUST. We encourage him to self-feed, so at least the bib helps to minimise badly-stained clothes, shirt drenched in soup, and pieces of food dropped everywhere. Less frustration at the dining table makes me a happier Mum.
We've tried a rubbery bib with scoop and several other plastic bibs.
Problem #1: The inside of the scoop turns mouldy after a few weeks because the bibs are neither machine washable nor sunned regularly.
Problem #2: If the plastic bib comes with velcro fastening, Vee would rip them apart once he's done eating, tearing the seams easily.
I'd enough of the conventional bibs and started searching for the perfect bib, if there's such a thing. Since we use cloth diapers full-time, I suddenly thought it'd be wonderful if some Mummy made a bib with beautiful fabrics, water-resistant fleece backing and snaps.
So imagine my excitement when I found Loopy Loo's through Google! (I bought 5 bibs and was given 1 to facilitate the publishing of this review.)
About Loopy Loo's Snap & Scoop Bibs
These are the main features of the bib:
Front: Printed cotton
Back: Fleece
Closures: 2 snaps behind neck, 2 snaps at lower part of bib to form a scoop
Country of origin: Handmade by a mum, Rachel, in Australia
Interesting, Rachel was a full-time cloth diaper user with her last baby. That's what inspired her to use printed cotton and stay-dry fleece on the bibs!
First Impressions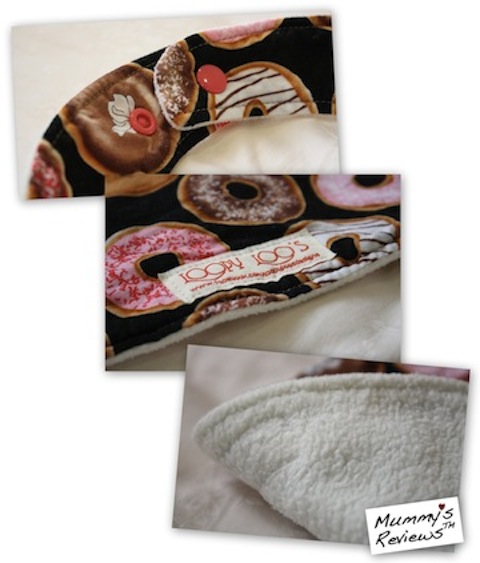 I was very excited when the mail arrived because I've chosen prints from Vee's favourite books such as The Very Hungry Caterpillar and The Cat in the Hat. The bibs look as good as they do online.
Here are all the 6 lovely designs: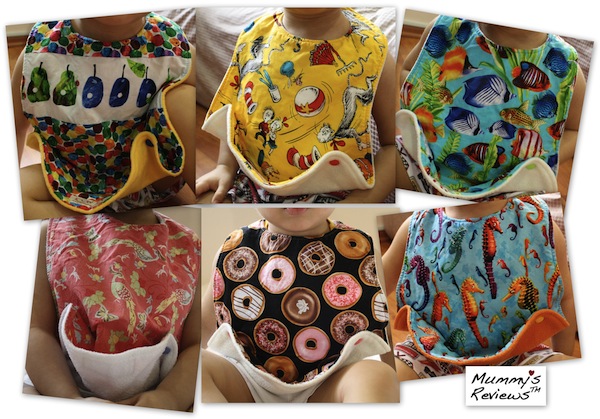 Our Detailed Review
Rating Guide: ★ Oh no!     ★★ Poor     ★★★ Fair     ★★★★ Good     ★★★★★ Excellent!
(a) Laundry: ★★★★ The bibs are easily washable by hand or machine. If Vee is eating something that would stain easily (e.g. pasta with tomato sauce), I grab a dark-coloured print. (The black doughnut print is virtually stain-proof!) If a light-coloured bib is stained, I'd rinse it after the meal, hang dry, then machine wash it the next morning.
Tip: There was a period when I did laundry every 2 days and sometimes left damp bibs in a wet bag. This led to mildew problem. To keep the bibs in tip-top condition, it's best to air-dry them after every meal and wash by the next day.
(c) Ease of Use & Fit: ★★★★★ It's easy to put the bib on — just snap the front buttons to form a scoop and snap the back buttons behind child's neck. I love the snap button behind the neck, which means Vee can't pull off the bib anymore.
Also, the soft fleece is very comfortable around Vee's neck and doesn't irritate his eczema spots like plastic does.
Once, I was eating cherries and didn't want to stain my shirt. I actually managed to snap the the bib around my neck. Vee got hilarious looking at me. Haha!
(d) Performance: ★★★★ Vee eats 5 times a day, so he uses about 1 to 3 bibs daily, depending on how messy he gets.
The bib provides a wide coverage and the scoop manages to catch most messes. The fleece is indeed water-resistant and keeps Vee dry even when he's dripping soup or milk.
The front snap buttons allow me to "open" up the bib to knock off solid food. For stickier mess, it's quite easy to pick them up by hand or rub them off using a cloth wipe. No more food trapped in corners of a bib scoop.
The downside is Vee has learnt to unsnap the front buttons when he's bored after a meal! So I've to remove the bib quickly before he does that.
(e) Quality: ★★★★★ The sewing and workmanship is excellent. We've used the bibs for more than 4 months and they still hold up well. Of course, the beautiful bibs attract quite a bit of attention from other mums!
(f) Overall Value: ★★★★ Each Loopy Loo's Snap & Scoop Bib retails at AUD13. So far, these are the only such bibs I found. They're made of good-quality cloth and reusable over many uses, so I concluded having a stash is worth the investment, just like cloth diapers.
We're still loving the Loopy Loo's Snap & Scoop bibs every day — our must-have during each meal for a sane Mum.
—
What we like about it:
Snap closure behind child's neck, which he can't remove
Wide range of attractive printed fabrics
Machine washable for easy cleaning
Comfortable fleece against child's body, instead of plastic
What can be improved:
Make it a little longer for an older and taller toddler
—
Get Your Own (with Discount!)
To get your own Loopy Loo's Snap & Scoop Bibs, visit Loopy Loo's.
Special Treat: 20% discount on any order
Discount Code: LOOPY20
Validity Period: Until 25 December 2011
—
P.S. Read more on baby feeding items here.
Sharing time: Does your baby have a bib or feeding item that you rave about? Feel free to share in the comments box.
—
Disclosure: I received 1 Loopy Loo's Snap & Scoop Bib for review and paid for the other 5 bibs. Postage was waived.
Mummy's Reviews™ is a review site that receives compensation if readers make purchases from affiliate links (these are marked with an *). If we receive compensation from the companies whose products we review, this would be disclosed. These compensation help to maintain and grow Mummy's Reviews™. We test each product thoroughly and give ratings according to our experience with it. We are independently owned and the opinions expressed here are our own.