As you may already know, Vee and I have eczema, so I'm always looking out for high quality natural / organic skincare products that would soothe our sensitive skin. And I'm thankful to review the luxurious Baby Wash and Calendula Remedy provided by Four Cow Farm.
About Four Cow Farm
At Four Cow Farm, a Mother, Grandmother and former Midwife began making creams and balms which were as good and natural as possible for her two little grandchildren. The family decided it was time that other parents had access to baby creams and balms made from only pure, genuine, natural, naturally derived and organic ingredients and nothing else. No artificial additives or chemical hazards whatsoever.
The natural and organic baby skincare line is made out of their farm in Australia.
Our Detailed Review
(a) Four Cow Farm Baby Wash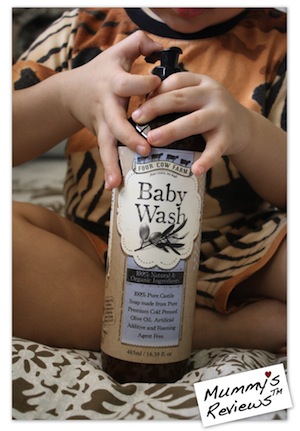 About the Baby Wash:
Purpose: For babies as an all-over body wash that's richly soothing and moisturising. Suitable for irritated skin, dry hair or scalp or those sensitive to chemicals. May be used on skin affected by hives or eczema.
Ingredients: Purified water, saponified 100% olea europaea (olive) oil, certified organic echinacea augustifolia extract, citric acid (from citrus fruit).
Rating Guide: ★ Oh no!     ★★ Poor     ★★★ Fair     ★★★★ Good     ★★★★★ Excellent!
(a) Packaging: ★★★★★ This largest size (485ml) comes in a squirt bottle, which is very convenient during bath time. One squirt is enough to clean my entire body. (Vee loves squirting the bottle so much that I've to stop him from wasting the precious baby wash!)
(b) Effectiveness: ★★★★★ I like that there are minimal ingredients in the baby wash — important for delicate baby skin and in ruling out skin allergies. Hubby and I are impressed by the super moisturising effect from the saponified 100% olive oil. The whole family has been using it as a body wash, and we feel absolutely pampered by it. Hard to swop back to our previous wash (a pure castile soap).
We also use it to wash Vee's hair, which leaves it very moisturised. I'd definitely use it on baby #2 as well.
(c) Overall Value: ★★★★ Each 485ml bottle of Baby Wash retails at SGD32.90. As a comparison, it's about the same price as Vee's previous organic baby wash and double the price of our pure castile soap. Since it's a lot more moisturising than what we've been using, the price is well justified.
A fabulous head-to-toe wash for babies and those with dry or sensitive skin.
—
What we like about it:
Very moisturising
Minimal ingredients, with only the bare essentials (less is more!)
Can be used from head to toe
What can be improved:
Offer the baby wash in large 1-litre bottles for bulk purchase savings
—
(b) Four Cow Farm Calendula Remedy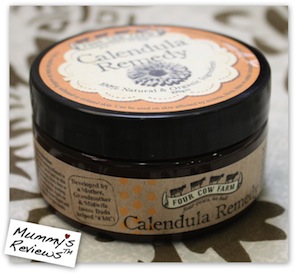 About the Calendula Remedy:
Purpose: For calming inflamed or irritated skin. Can be used on skin affected by eczema, hives, bites or contact dermatitis or for soothing minor cuts and scrapes.
Ingredients: Certified organic calendula officinalis (calendula) in olea europaea (olive) oil, beeswax, cetearyl alcohol (veg. fatty alcohol), d-alpha tocopheryl acetate (vitamin E non-GMO), certified organic simmondsia chinensis (jojoba) oil, certified organic chamaemelum anthemis nobile (roman chamomile) essential oil, parfum (natural preservative).
Note: As the Calendula Remedy is over 80% organic calendula-infused olive oil, it will turn a little liquid when it's hot. To add to its itch-soothing abilities, you can keep it in the fridge.
Did it say "parfum"? Where there is a reference to 'parfum' in our ingredients lists, that actually refers to a 100% natural essential oils-based preservative (one of the most expensive in the market!) which we use for its naturalness, safety and efficacy. (Source: Four Cow Farm – Our Ingredients)
Rating Guide: ★ Oh no!     ★★ Poor     ★★★ Fair     ★★★★ Good     ★★★★★ Excellent!
(a) Packaging: ★★★★★ The round jar is quite standard and suitable for such balms. I always wash my hands clean before scooping a little out. Or use a small spatula.
(b) Effectiveness: ★★★★★ I was hit by a persistently dry and ITCHY eczema patch on my shin recently, so it was a great time to test out the Calendula Remedy. Every evening, I'd rub some of the balm onto the dry patch and the itch does go away with the rich moisturising effect. If the itch is really bad, I'd apply some in the morning as well.
After 2 months of using the balm, I'm glad it keeps the itch under control without me relying on steroidal creams, especially during pregnancy.
Vee saw me use the new balm and he wanted to try too. I applied a little on an eczema patch behind his neck. No adverse reaction, good. Since he doesn't have dry, itchy skin, I didn't let him continue using it.
(c) Overall Value: ★★★★ Each 100gm jar of Calendula Remedy retails at SGD28.90. In Singapore, it's about 10-20% cheaper than a popular brand of calendula cream we've tried (but which contains methyparaben).
Great for soothing dry and itchy eczema-prone skin.
—
What we like about it:
Very moisturising, suitable for soothing dry and itchy skin
What can be improved:
Beeswax is added to make it a balm and to add to its emollient properties. If possible, use a non-animal related substitute?
—
Win Your Own
To thank supporters of Mummy's Reviews™ Parents Club, this Giveaway is EXCLUSIVE to Parents Club members. TEN (10) lucky members (5 from Singapore and 5 from Malaysia) will win one Four Cow Farm Baby Kit worth SGD49.90 each!
(Note: Of the 4 items in the Baby Kit, we've only tried the Baby Wash.)
How to Participate
1. Join Mummy's Reviews™ Parents Club here or below (existing members counted)

2. Fill in the online form HERE
Other Information
This Giveaway is open to subscribers with a mailing address in Singapore or Malaysia.
It will run until 28 October 2011 (Friday) 2359hr (GMT +8).
The usual Giveaway Terms apply.
Submit your entry now and good luck!
—
Get Your Own (with Discount!)
To get your own Four Cow Farm natural baby products, visit Four Cow Farm.
If you're from Singapore:
Special Treat: 10% discount AND free delivery for purchase over SGD35
Discount Code: MUMMYSFARM
Validity Period: Until 17 November 2011
How to Order: Visit Four Cow Farm Singapore Online Store (indicate discount code upon check-out)
If you're from Malaysia:
Special Treat: 10% discount AND free delivery (within KL and PJ) for purchase over RM80
Discount Code: MUMMYSFARM
Validity Period: Until 17 November 2011
How to Order: Visit Four Cow Farm Promotions and email waiquan@goodnessme.biz (indicate discount code in email subject)
—
P.S. Read more on 29 Tips to Fight Baby's Eczema here.
—
Disclosure: I received these items from Four Cow Farm for review — Baby Wash (485ml) and Calendula Remedy (100gm).
Mummy's Reviews™ is a review site that receives compensation if readers make purchases from affiliate links (these are marked with an *). If we receive compensation from the companies whose products we review, this would be disclosed. These compensation help to maintain and grow Mummy's Reviews™. We test each product thoroughly and give ratings according to our experience with it. We are independently owned and the opinions expressed here are our own.