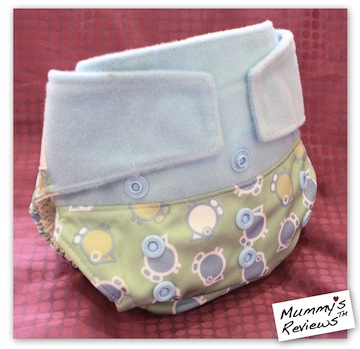 Many mums are interested in GroVia All-in-Two Hybrid Cloth Diapers. Finally, I get to review the Hook and Loop version, with a sample provided by Mummy Knows Best Shop.
After 3 months of testing, I like that the GroVia AI2 diaper is trim and absorbent. The soaker pad is especially well-designed.
What's an All-in-Two Hybrid Cloth Diaper?
Well… "All-in-Two Hybrid" can sound overwhelming. Let's break the terms down…
All-in-Two (AI2): This is a 2-part diapering system, with an absorbent soaker (usually snapped onto) a waterproof diaper shell.
AI2 is a modernised version of the traditional prefold / flats + diaper cover system. The soaker typically doesn't need folding and is kept in place by being snapped onto the diaper shell. If the soaker has a stay-dry layer, then no liner is needed.
To add absorbency, you may lay extra soakers or boosters on top.
When the soaker is wet, you can reuse the diaper shell by snapping or laying on a clean soaker. Change the diaper shell when it's soiled or after reusing it several times.
This means a more economical system than pocket diapers, where the entire diaper pocket and inserts are replaced during each diaper change. You may cloth diaper full-time with several diaper shells and a large stash of soakers and boosters.
Hybrid: The option to use a cloth or disposable soaker with the diaper cover or shell.
GroVia offers disposable one-size BioSoakers that can be used with the AI2 diaper shell.
In fact, you may use a disposable soaker with most one-size diaper covers and pocket diapers. I've done this regularly during our travels when doing laundry isn't convenient.
About GroVia AI2 Hybrid Cloth Diaper
These are the main features of the diaper:
Diaper shell: TPU (Thermoplastic polyurethane) outer, mesh inner (100% polyester)
Closures: Hook and Loop, or Snap (Overlapping wing flaps)

Rise: 3 x 3 snaps
Soaker: Main body: Certified organic cotton (5 layers); Leg gussets: 88% polyester, 12% cotton; 100% polyester TPU waterproof backing
Country of origin: Made in China
These are the shell measurements:
| Rise Setting | Rise | Waist | Thighs |
| --- | --- | --- | --- |
| Small | 11″ – 15″ | 13″ – 22″ | 7″ – 10″ |
| Middle | 12″ – 17″ | 13″ – 22″ | 8″ – 12″ |
| Unsnapped | 13″ – 19″ | 13″ – 22″ | 10″ – 15″ |
.
The diaper is available in a range of colours and prints.
There's one year warranty on snaps, lining, elastic and waterproofing. But this is void if the diaper shell has been washed in hot (above 54.4°C). Read more at GroVia's warranty page here.
First Impressions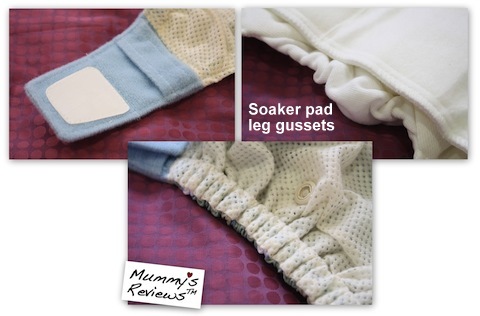 The Hook and Loop closures are the STIFFEST I've handled. I was so paranoid of ripping the diaper apart!
The design of the soaker pad is well thought out — unique waterproof backing and leg gussets to keep the diaper shell as clean and dry as possible, for further reuse.
Our Detailed Review
Rating Guide: ★ Oh no!     ★★ Poor     ★★★ Fair     ★★★★ Good     ★★★★★ Excellent!
(a) Prewash & Laundry: ★★★ I prewashed the GroVia AI2 diaper by hand in warm water, and the soaker pad started absorbing.
The laundry tabs are very sticky, which is good. But they're supposed to be tucked under the loops, which is quite tricky. I don't bother doing that and hubby certainly won't bother with such a detail. Anyway, I wash the diaper shell in a laundry net and it's been turning out fine.
The diaper shell dries very fast, within a few hours under the sun. The soaker pad has a loop design, yet it often takes up to 2 days to dry.
Washing the diaper shell in hot water voids the warranty. I don't like this because when Vee gets fungal outbreaks, I'd have to wash his diapers in hot. For a premium brand diaper, I'd expect it to withstand hot washes.
(b) Ease of Use: ★★★★ The Hook and Loop version is rather easy to use. Just snap on the soaker, fix the Aplix tabs and baby's free to move.
When reusing the diaper shell, you'd have to unsnap the soaker and snap on (or lay) a new one. In the meantime, baby would have to wait, so it's easier if she's patient.
Alternatively, grab another diaper shell with snapped on soaker pad during diaper change. Then deal with the wet/soiled one later.
The Hook and Loop closures are very strong, and difficult (yet still possible) for toddler Vee to undo. He's a strong bull!
Because I only have 1 GroVia soaker pad, I reuse the diaper shell with other soakers or prefolds without snaps. I need to ensure that the different brand soaker is long enough. If it's too short, the back snap button on the diaper shell may press against Vee's skin.
Note: Lay on only natural fibre fabrics such as cotton or bamboo, or soakers with a stay-dry layer (e.g. fleece or suedecloth). Don't lay on microfibre because this would dry out baby's skin.
The soaker pad has NO stay-dry layer. For day-time, this feel-wet feeling is good to aid potty-training. For nap or overnight, I need to add a stay-dry liner, which is an additional step.
(c) Fit / Trimness: ★★★★★ The GroVia AI2 with Hook and Loop closures has a very trim fit, which I like.
The elastics at the back and thighs are sturdy yet gentle without leaving red marks. Vee has a big belly, so it's good that the diaper rests nicely under his tummy.
The diaper fits Vee very well — the beauty of Hook and Loop closures. He's on the highest rise, with room for growth at the waist.
If you've a huge toddler, you may find the cutting too small though.
Here're his sexy bums…
(d) Performance: ★★★★ Vee is day-time potty-trained, so we tested this diaper during his nap and for overnight.
For nap, the diaper surprisingly holds up well. Vee's a heavy wetter plus tummy-sleeper, and we've faced only 1 minor leak (at the waist area) once. This is commendable because Vee usually leaks through various brands of pocket diapers during sleep-time. (Only pocket fitted diapers plus fleece shorts are bulletproof for him.)
Since Vee loves to sleep on his tummy, I prefer more absorbency in front. The fixed design of the soaker pad doesn't allow me to adjust.
The waterproof layer behind the soaker pad effectively keeps the diaper shell dry, so the shell can be easily reused. No need to wipe or air-dry it.
For night-time, I've tried using a different brand stay-dry soaker plus a hemp insert. Amazingly, the diaper shell had no leak through the night!
For more absorbency, GroVia offers a Stay-Dry Booster (SGD22.90 for 2 pieces).
We didn't get to test the diaper with poo. The soaker pad has leg gussets to help contain poo. Hopefully, this can prevent poo from getting onto the diaper shell. I'd only know if this is effective when baby #2 arrives.
(e) Quality: ★★★★ The sewing and workmanship is excellent. After many washings over 3 months, the diaper still looks and performs as good as new. I'm not sure how the Hook and Loop closures would hold up over a longer time though.
(f) Overall Value: ★★★★ Currently, the retail prices for GroVia products fall over a big range, depending on where you shop at.
At Mummy Knows Best Shop, each GroVia Diaper Shell Set retails at SGD45.90. Additional Organic Cotton Soaker Pads are at SGD32.90 for 2 pieces. Package discounts of up to 20% available. In the U.S., the retail price is much lower at USD16.95.
With an AI2 system, it's most economical to get a big stash of soakers and boosters to reuse with several shells.
Personally, I still prefer pocket diapers, because I like to adjust absorbency easily by mixing and matching different inserts. As always, there's no perfect cloth diaper, just what suits your family's preferences best.
GroVia AI2 Hybrid Cloth Diaper is a good choice for mums who like the AI2 system and want organic fabric next to baby's skin.
—
Updated Review (Tried on Newborn Baby)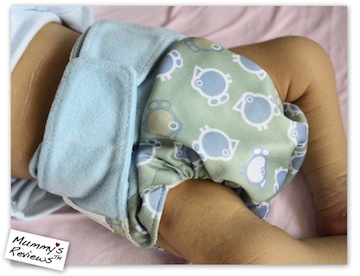 Baby Jae has been trying out GroVia AI2 over the past 1+ month.
The trim cutting fits him very well.
Aplix tabs give a good fit for newborns and are WAY easier than snaps to put on a screamy newborn.
The washable soaker is able to catch runny breastfed poo. Sometimes, the diaper shell may get dirty, which means it can't be reused. Overall, no leak for pee and poo.
The disposable GroBaby and GroVia Biosoakers only worked well for us in the first 3 to 4 weeks. Like his brother, Baby Jae's also a heavy wetter. When he reached 4 weeks old, the biosoakers leak after 2 hours (about 2 pees). Once saturated, the sides tear and gel escaped.
—
What we like about it:
Trim yet absorbent design
Very strong Hook and Loop closures
Waterproof backing and leg gussets on soaker pads keep diaper shell clean and dry for reusing
Gentle leg and back elastics that leave no red marks on chubby toddler
Wide range of choices: Hook and Loop, snap, colours and prints
What can be improved:
Use fabric that can be washed on hot, without voiding warranty
Is the loop on the laundry tab really necessary?
—
Other GroVia products we've tried but not reviewed yet:
GroBaby BioSoakers (Size 2): This is the previous version of GroVia BioSoakers. Vee used them during a few trips and leaked through them after 1 to 2 hours. Worse, the thin seams tore when the diaper was saturated, and SAP gel beads leaked onto the diaper cover. Not for heavy wetters! Still, I've bought 2 boxes of Size 1 and 1 pack of the newer GroVia BioSoakers One-Size , for baby #2. Reasons: (1) newborn should be a light wetter (2) these are gentler on the skin and greener than regular disposable diapers (3) there was a good promotion.

GroVia BioLiners: Vee uses these at night to protect his diapers from diaper cream buildup. Each liner is wide enough to be folded and has stay-dry effect. I like them and have bought more for baby #2 as well.
GroVia All-in-One (AIO): Easily pulled up and down, great for day-time and outdoors potty-training. But 1 leg elastic has shot only after being gently used for a few months.
GroVia Cloth Wipes: I use these to wipe Vee's face. Very soft and economical in a pack of 12. The first pack I bought in Year 2010 were made of 100% cotton, which is what I like for Vee's sensitive face. But the recent 2 packs I bought says "88% polyester, 12% cotton" instead. I got a shock. Duh, please bring back 100% cotton!
GroVia Tiny Bubbles Detergent: I've started testing this for handwashed items, including cloth pantiliners. So far so good, gentle on our sensitive skin and no buildup. Would be testing it for regular laundry and cloth diapers.
—
Win Your Own
To thank supporters of Mummy's Reviews™ Parents Club, this Giveaway is EXCLUSIVE to Parents Club members. THREE (3) lucky members will win one GroVia Diaper Shell Set worth SGD45.90 each!
How to Participate
1. Join Mummy's Reviews™ Parents Club here or below (existing members counted)

2. Fill in the online form HERE
Other Information
This Giveaway is open to members with a mailing address in Singapore.
If you're a winner, the colour / design of your prize depends on the stock available.
It will run until 11 November 2011 (Friday) 2359hr (GMT +8).
The usual Giveaway Terms apply.
Submit your entry now and good luck!
—
Get Your Own (with Discount!)
To get your own GroVia and other Mummy and baby products, visit Mummy Knows Best Shop.
Special Treat: 20% discount on all GroVia regular-priced items
Discount Code: GRO112011
Validity Period: Until 30 November 2011
Live outside Asia? You may also check the prices at Amazon here:
GroVia Diaper Shell Set (Hook & Loop)
*
GroVia Diaper Shell Set (Snap)
*
—
P.S. Read more on cloth diapering here.
—
Disclosure: I received a GroVia Diaper Shell Set from Mummy Knows Best Shop for review.
Mummy's Reviews™ is a review site that receives compensation if readers make purchases from affiliate links (these are marked with an *). If we receive compensation from the companies whose products we review, this would be disclosed. These compensation help to maintain and grow Mummy's Reviews™. We test each product thoroughly and give ratings according to our experience with it. We are independently owned and the opinions expressed here are our own.