Today, I'm reviewing Love to Swaddle UP, provided by SMT Distributors (based in Singapore). It's a very innovative swaddle that we love and are excited to share with you.
My older boy, Vee, was a very fussy sleeper who had to be swaddled until 6.5 months old! So I was thrilled to review this swaddle on baby Jae, hoping that he'd sleep much better than his brother.
About Love to Swaddle UP Lite
These are the main features of the swaddle:
Fabric: 97% cotton, 3% elastane
Closure: Twin zipper
Country of origin: Made in China (Designed in Australia)
The Lite version is made of material 30% lighter than the Original version. I chose this because of our hot weather all year round. It comes in 3 sizes.
First Impressions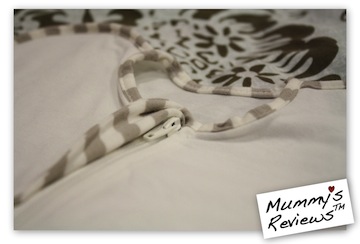 The fabric is very thin and smooth, absolutely suitable for delicate baby skin.
I like the twin zipper design, which makes wearing and diaper changes very easy. The zip is also neatly covered up, so it doesn't rub against baby.
Our Detailed Review
Rating Guide: ★ Oh no!     ★★ Poor     ★★★ Fair     ★★★★ Good     ★★★★★ Excellent!
(a) Laundry: ★★★★ Jae has been using the swaddle every night since 2 weeks old. It can't be tumble-dried, so I handwash it (in a mad rush) every morning. By evening, it's usually dry for reusing.
(b) Ease of Use: ★★★★★ It's probably the easiest swaddle around. Simply lay baby on it, slip his hands into the corners of the wings, and zip up.  Super duper easy. And best of all, baby can't undo it!
(c) Fit: ★★★★ Size Small is recommended for 3 to 6kg. It has fit well since Jae was 3+ kg. He loves to put his hands to his face, so this swaddle's design is perfect for him.
When Jae was about 4kg, the swaddle started to fit snugly. He's now about 4,5kg. Hope it'd really last him till 6kg.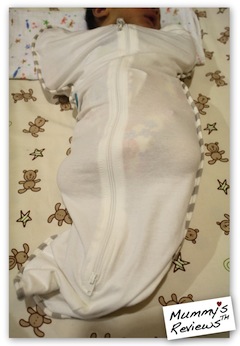 (d) Performance: ★★★★★ At first, Jae would wake up for milk after about 2 hours. The first night he tried the swaddle (at 2 weeks old), we'd to wake him up for feed at 1a.m. and 4a.m.! This miracle didn't last though. (I wished it did!) Generally, he sleeps very well in this swaddle because it keeps his arms from "flying around" too much.
During breastfeeding, he prefers to cover his face with his hands, so he can feed in a natural position in the swaddle.
It also keeps his hands from scratching me. There's no need for mittens that tend to drop off easily from his tiny hands.
Diaper changes are easy. Just pull the lower zip upwards. There's no need to remove the swaddle even when washing baby's bums.
After 1 month old, Jae started regurgitating milk often, so I bought another swaddle to rotate.
(e) Quality: ★★★★★ The sewing and workmanship is excellent. After daily washings for 1+ month, the swaddle still looks and performs as good as new.
(f) Overall Value: ★★★★ Each Love to Swaddle UP Lite retails at SGD55.90. The Original version is at SGD49.90. It seems pricey for something that's used for a few months. Yet I'm all in for investing in baby stuff that facilitates a good night's sleep, so this is still a good buy. (If you've read ALL my reviews on baby sleep products, you'd certainly understand where I'm coming from. Ha!)
A great choice for easy swaddling and for babies who love sleeping with hands up.
—
What we like about it:
Allows baby to be swaddled with arms up in a natural position
Baby stays swaddled all night long
Twin zipper design for easy wearing and diaper changes
(Lite version) Very light single-layer fabric — prevents overheating in hot weather
Facilitates breastfeeding even when swaddled up
What can be improved:
We're very happy with the swaddle!
2 swaddles are usually needed for rotation, so do offer package deals
—
Get Your Own (with Discount!)

To get your own Love to Swaddle UP, visit SMT Distributors (Singapore).
Special Treat: 15% discount
Discount Code: MUM-IVJ9L-99195
Validity Period: Until 31 Mar 2012
—
Sharing time: Does your baby love or hate to be swaddled? Feel free to share your experiences and reviews in the comments box.
—
Disclosure: I received a Love to Swaddle UP Lite from SMT Distributors for review, and bought another one.
Mummy's Reviews™ is a review site that receives compensation if readers make purchases from affiliate links (these are marked with an *). If we receive compensation from the companies whose products we review, this would be disclosed. These compensation help to maintain and grow Mummy's Reviews™. We test each product thoroughly and give ratings according to our experience with it. We are independently owned and the opinions expressed here are our own.