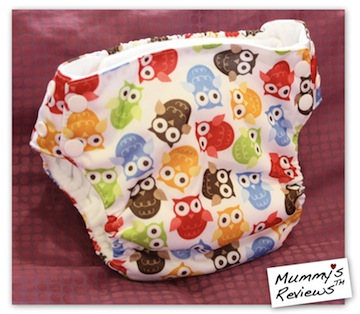 Happy 2012 to you! For the first post this year, I'm reviewing Blueberry Basix AIO Cloth Diaper, provided by Milagro Trading (previously known as Whoopeekiddies).
Vee has been day potty-trained since 23+ months old, and we're still working on getting him dry when he's asleep. He's using this diaper as training pants for night-time potty training.
After 4 months of testing, I like the Blueberry Basix for its comfortable fit and versatile absorbency. It's among our favourite cloth diapers that dual-functions as training pants.
About Blueberry Basix AIO Cloth Diaper
These are the main features of the AIO (All in One) cloth diaper:
Outer fabric: PUL
Inner fabric: Microfleece
Soaker:  Microfiber terry (3 sewn in layers)
Closures: 4 side snaps. 3 snap settings per side.
Country of origin: Made in the U.S.A.
They're available in 3 sizes; and a variety of colours and prints.
First Impressions
The colourful owl print is super-cute! Being a side snapping diaper, it's trim and suitable for pulling up and down during potty training.
Though the diaper's an AIO, there's a back pocket opening for stuffing more inserts to boost absorbency.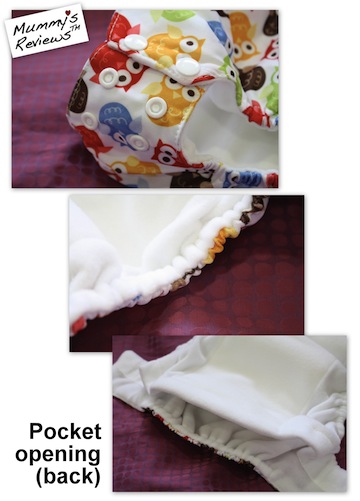 It comes with a soaker that's sewn in yet can agitate out during wash for quick drying. There's a front pocket opening for the soaker to escape.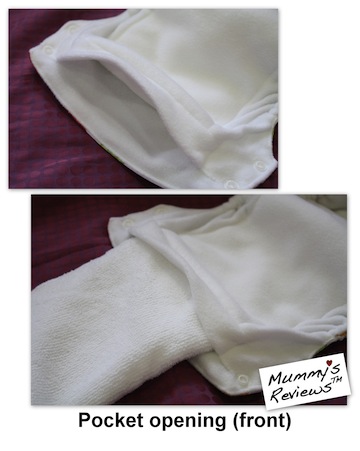 Our Detailed Review
Rating Guide: ★ Oh no!     ★★ Poor     ★★★ Fair     ★★★★ Good     ★★★★★ Excellent!
(a) Prewash & Laundry: ★★★★ I prewashed the Blueberry Basix by hand in warm water, and it started absorbing. Unfortunately, the diaper cannot be washed with hot water.
Yes, the sewn in soaker does agitate out during washing. I'm still fascinated by the convenience. It takes about 1+ days to dry when it's cloudy.
(b) Ease of Use: ★★★★ There're only 4 side snaps to handle. For short hours, no insert is needed for the AIO — very easy to use. We add in a hemp insert to use it overnight, so that's like a pocket diaper.
Vee's rather chubby, so it's ok (not super easy) to pull up and down.
(c) Fit / Trimness: ★★★★★ Vee wears size Large and is on the largest waist setting. The rise is just nice for him, not too long, unlike some Large cloth diapers.
Side snaps provide a very good fit on him. I love this.
The elastics at the back and thighs are sturdy yet gentle without leaving red marks. Vee has a big belly, so it's good that the diaper rests nicely under his tummy.
Here're his sexy bums…
(d) Performance: ★★★★ Vee likes the owl design so much that he's wearing them to bed every alternate night, once they're dry.
The microfleece inner layer feels damp when pee-ed on, which is fine to aid in potty training.
The sewn-in soaker is only 3 layers of microfiber terry, so it isn't for heavy wetters during sleeping time.
The size of the pocket opening size is generous. We add in a hemp insert to use it overnight. We'd no leak for a few months until Vee's pee volume increased during a recent period. Now, he has improved and the diaper is able to hold overnight again. (Our night-time potty training journey is like a yo-yo.)
On some mornings, he'd "apologise" to the owls for wetting them, and that he'd try to keep them dry the next time!
We didn't get to test the diaper with poo.
(e) Quality: ★★★★★ The sewing and workmanship is excellent. After many washings, the diaper still looks and performs as good as new.
(f) Overall Value: ★★★★ Each Blueberry Basix retails at SGD30. In the U.S., the suggested retail price is USD16.95.
Over the entire diapering period, sized diapers usually requires a larger investment than one size diapers. Yet I've always loved sized diapers (especially side snapping ones) for the great fit and ease of use. The Blueberry Basix is a good choice for potty training toddlers, even overnight.
—
What we like about it:
Cloth diapers that double up as training pants
Large pocket opening to add inserts for overnight use
Sewn-in insert agitates out in the wash for shorter drying time
Gentle leg and back elastics that leave no red marks on chubby toddler
Lovely prints
What can be improved:
Use fabric that can withstand occasional hot washes
—
Get Your Own (with Discount!)
To get your own Blueberry Basix AIO Cloth Diapers and other cloth diapering products, visit Milagro Trading.
Special Treat: 10% discount off regular priced cloth diapers products
Discount Code: MUMMYREVIEWS12
Validity Period: Until 30 June 2012
Live outside Asia? You may also check the price at Amazon here: Blueberry Basix AIO Cloth Diaper
*
—
P.S. Coming up next is a review on Kissaluvs Pocket Trainers, for day-time and outdoor potty training.
Also, read more on 18 Sure-Fire Tips for Early Potty Training Success.
—
Disclosure: I received 1 pair of Blueberry Basix AIO Cloth Diapers from Milagro Trading for review.
Mummy's Reviews™ is a review site that receives compensation if readers make purchases from affiliate links (these are marked with an *). If we receive compensation from the companies whose products we review, this would be disclosed. These compensation help to maintain and grow Mummy's Reviews™. We test each product thoroughly and give ratings according to our experience with it. We are independently owned and the opinions expressed here are our own.