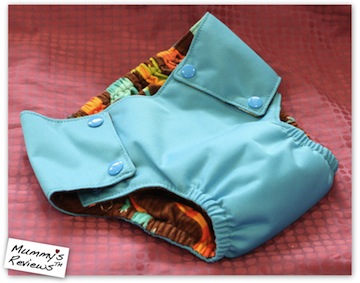 More on training pants options — this is a review of Kissaluvs Pocket Trainers, provided by Milagro Trading.
Potty training is a long journey, and it's great when hubby chips in to help, especially with boys. When outdoors, hubby's in charge of bringing Vee to the toilet and teaching him how to relieve himself "men's style".
Kissaluvs Pocket Trainers are certainly Daddy-approved, with their trim fit and ease of pulling up and down. If you're looking for training pants for day-time and outdoors, read on.
About Kissaluvs Pocket Trainers
These are the main features of the pocket trainers:
Outer fabric: 100% custom milled PUL
Inner fabric: 100% cotton flannel
Soaker:  Microfiber (2 sewn in layers)
Closures: 4 side snaps. 2 snap settings per side.
Country of origin: Made in the U.S.A.
They're available in 2 sizes; and 4 colours with printed cotton flannel inside.
First Impressions
These are unique training pants with prints on the inside instead of outside. Haha… my mum thought that it's a reversible underwear. And the dinosaur prints would be a hit with boys!
They're very trim and side snaps make them suitable for pulling up and down during potty training.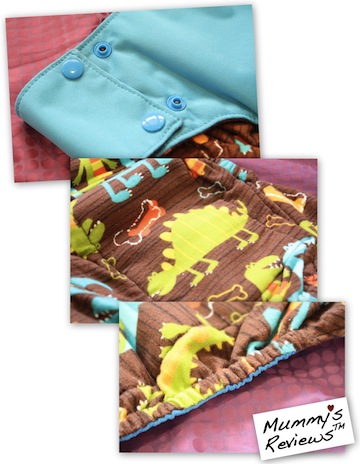 There's 2 layers of sewn-in microfibre, and a back pocket opening for stuffing more inserts to boost absorbency.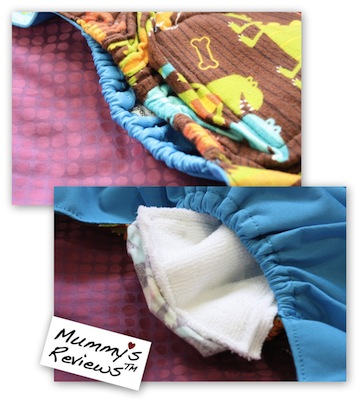 Our Detailed Review
Rating Guide: ★ Oh no!     ★★ Poor     ★★★ Fair     ★★★★ Good     ★★★★★ Excellent!
(a) Prewash & Laundry: ★★★ I prewashed the Kissaluvs Pocket Trainers by hand in warm water. There was slight colour run by the dark brown fabric, which cleared up after 3 rinses.
Unfortunately, the training pants can't be washed with hot water.
Subsequent laundry is very easy because of the 1-piece design. They dry quite fast too, within a sunny day.
(b) Ease of Use: ★★★ There're only 4 side snaps to handle. For short hours, no insert is needed — very easy to use.
Even though Vee's rather chubby, they're easy to pull up and down, almost like a regular underwear. This is why Daddy loves using this outdoors when bringing Vee to the toilet.
But the pocket is very narrow and feels stiff inside; it's hard to stuff an insert in. So I'd use it as it is, without adding absorbency.
(c) Fit / Trimness: ★★★★ Vee wears size 3T and is on the smaller waist setting. They fit well at the waist and thighs, while the rise is slightly too long.
They're very trim (though look puffy in the photos) and fit well under pants for outdoor trips.
The elastics at the back and thighs are sturdy yet gentle without leaving red marks. Vee has a big belly, so it's good that the trainers rest nicely under his tummy.
Here're his sexy bums…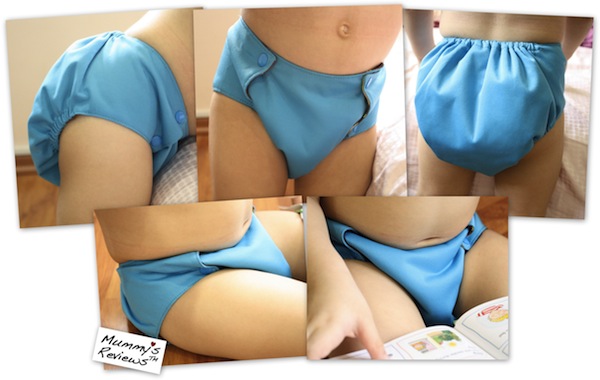 (d) Performance: ★★★ The trainers have 2 layers of microfibre and 1 layer of cotton flannel, that can hold 1 of Vee's pee. This is suitable for potty-training in the day and outdoors.
As mentioned, the pocket is too narrow. I managed to stuff in our narrowest insert (Knickernappies LoopyDo) plus a hemp booster, to last through Vee's nap. Generally held in well with an occasional leak.
Since these are training pants, I like the feel-wet inner cotton flannel layer.
Personally, I won't use these for overnight potty training yet until Vee's dry for more nights in a row.
We didn't get to test them with poo.
(e) Quality: ★★★★ The sewing and workmanship is excellent. We haven't used them rigorously enough to judge the long term quality.
(f) Overall Value: ★★★ Each pair of Kissaluvs Pocket Trainers retails at SGD21.50. In the U.S., the suggested retail price is USD14.95.
My main gripe about these trainers is the overly-narrow pocket. Otherwise, they're easy to pull up and down — great for potty training in the day and outdoors. Not for long naps and overnight, unless you want to catch just one pee, or you manage to stuff additional inserts in.
—
What we like about it:
Ideal fabrics for training pants — waterproof PUL to contain a pee accident and feel-wet inner fabric
Easy to pull up and down by adult and toddler (nearly 3 years old)
Gentle leg and back elastics that leave no red marks on chubby toddler
What can be improved:
Widen pocket for easy stuffing of inserts
Use fabric that can withstand occasional hot washes
Indicate waist, thigh and rise dimensions for easier choosing of size
—
Get Your Own (with Discount!)
To get your own Kissaluvs Pocket Trainers and other cloth diapering products, visit Milagro Trading.
Special Treat: 10% discount off regular priced cloth diapers products
Discount Code: MUMMYREVIEWS12
Validity Period: Until 30 June 2012
Live outside Asia? You may also check the price at Amazon here: Kissaluvs Pocket Trainers
*
—
P.S. Coming up next is an article on More Potty Training Tips, the sequel to 18 Sure-Fire Tips for Early Potty Training Success.
—
Disclosure: I received 1 pair of Kissaluvs Pocket Trainers from Milagro Trading for review.
Mummy's Reviews™ is a review site that receives compensation if readers make purchases from affiliate links (these are marked with an *). If we receive compensation from the companies whose products we review, this would be disclosed. These compensation help to maintain and grow Mummy's Reviews™. We test each product thoroughly and give ratings according to our experience with it. We are independently owned and the opinions expressed here are our own.