Exciting news! Today, I'm reviewing the fantastic Karen Tyler Montessori Teacher Training Program, and 1 lucky Mummy (or Daddy) stands to win a seat in her online class, worth USD150!
I've been attending the program since 1 December 2011. It complements The Shichida Method that we're using very well, provides a comprehensive homeschooling curriculum, saves me TONNES of time researching, and Vee's enjoying the activities every day.
If you're passionate about teaching your child at home, do check this program out…
What's the Montessori Method?
The Montessori Method is popular among many preschools and parents nowadays. The method is "characterised by an emphasis on independence, freedom within limits, and respect for a child's natural psychological development, as well as technological advancements in society."
Read more Montessori education at Wikipedia here.
About Karen Tyler Montessori Teacher Training Program
These are the main features of the program:
Instructor is Karen Tyler, who is AMS-certified and has been teaching for over 30 years
Suitable for homeschooling families and existing Montessori educators
Learn the Montessori Method to teach children aged 2 to 6 years old
Receive a 12-volume set of Montessori Albums covering Astronomy, Botany, Ecology, Geography, Geology, History, Language, Mathematics, Physical Science, Practical Life, Sensorial, and Zoology.
Entirely online, with no tests, assignments, and time limit
May make comments or ask questions by posting to the class Yahoo Group or contacting Karen
Choice of Standard Program (24 months) or Fast Track (12 months)
For more details, visit the course specifics here. You may download the Table of Contents for the albums here.
Our Detailed Review
Rating Guide: ★ Oh no!     ★★ Poor     ★★★ Fair     ★★★★ Good     ★★★★★ Excellent!
(a) Program Contents: ★★★★★ I signed up as a Fast Track student to complete the course within 12 months. Vee's almost 3 years old and learning like a sponge. I need to make full use of this "sensitive period". If your child is younger (say less than 1 year old), you may choose to complete the course over 24 months.
The 12 albums contain thousands of pages of activities, all in PDF files. I like that they're very comprehensive, even covering subjects such as Astronomy. This way, I can choose the activities based on Vee's interest at that point in time.
Even on the Fast Track route, I find the readings very manageable. I usually spend 15 to 30 minutes a week on the assigned readings (mainly presentations of activities in 1 to 2 albums). I prefer to read them using my iPad anytime, anywhere, instead of printing them. Once I identify suitable activities, I'd proceed to prepare or buy the needed materials.
I love the many FAQs that Karen has uploaded at the beginning of the course. These gave me a good idea on implementing the Montessori Method at home.
(b) Effectiveness: ★★★★★ These few months, Vee's very interested in imitating adult activities such as pouring, sweeping the floor, and using locks and keys. The ideas in the Practical Life album are perfect for us now.
I've effectively taught him how to cover his nose when he sneezes, stand up properly, walk in a straight line, etc. Before using the Montessori Method, it could be frustrating teaching him these seemingly simple things.
Our homeschool organisation system has been revamped using the Montessori way. Now, I lay many activities on the shelves using trays. Then when I need to attend to baby Jae, Vee would work independently. Very peaceful! (I'd be getting more shelves and materials, so stay tuned for updates.)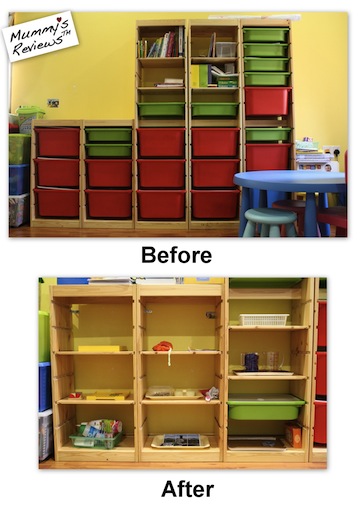 Karen's albums provide step-by-step instructions on how to present each activity. These are very easy to follow.
I like that our homeschool environment is now much more effective, and Vee has become a more independent learner.
(c) Service: ★★★★★ Karen's very responsive with questions asked in emails and the Yahoo Group forum. She usually replies within a day or two. And if she's on vacation, she'd inform everyone, and even clears emails during vacation!
(d) Overall Value: ★★★★★ The price of the program ranges from USD150 (paid upfront) to USD240 (paid monthly). The albums, which are packed with activities, are already worth the price. Moreover, it frees up my time researching, thus spending more time implementing the activities instead. At this price, I can't find any other comparable course.
The program is superb value for money and I highly recommend it.
—
What we like about it:
Comprehensive albums and notes for educating a child from 2 to 6 years old
For the busy mum — no tests and assignments
Quick email and forum response
Superb value for money
What can be improved:
Some typo errors in the albums
—
Win Your Own – CLOSED
To thank supporters of Mummy's Reviews™ Parents Club, this Giveaway is EXCLUSIVE to Parents Club members. ONE (1) lucky member will win a seat in Karen Tyler's Montessori Teacher Training Program that starts on 1 March 2012, worth USD150!
How to Participate
1. Join Mummy's Reviews™ Parents Club here or below (existing members counted)
2. Fill in the online form HERE
Other Information
This Giveaway is open to subscribers worldwide (except in countries that don't allow participation in lucky draws / sweepstakes).
I'd choose the entry with the best supporting reason to win the seat. If I really can't decide, then the winning entry will be chosen randomly.
It will run until 10 February 2012 (Friday) 2359hr (GMT +8).
The usual Giveaway Terms apply.
Submit your entry now and good luck!
Winner Announcement
Thank you to all Mummies and Daddies who have participated in this Giveaway. I really appreciate all of you who have spent time sharing with me why you'd love to attend this wonderful program. After choosing very carefully, the winner is…
Siti Khadijah who said "Dear Mie Vee,

I have a toddler (1.5 yo) and a preschooler (4 yo) whom I homeschool currently. We are implementing a very light montessori approach, whereby I will scour the net for resources and ideas, and just use everyday items at hand for the materials. It would be very beneficial and advantageous for me if I could win this program and like you mentioned may be able to help cut down my research time and put into practice more instead.

I am also a SAHM, so financially we have to stretch a bit here and there, and I do not think I would be able to add this to our monthly expenses. Therefore, it would be a very great help to me and my kids if I do get to win this. I promise I will take full advantage of it. :)"
Congratulations, Siti! You'd receive an email on how to attend your course on 1 Mar 2012.
To other Mummies and Daddies, you may contact Karen to enrol in the upcoming class. The course fee is as low as USD10 per month. I'm thankful that Karen has kept the program very affordable so that more parents and children can benefit from it.
Have fun learning and teaching!
—
Get Your Own
To join Karen Tyler's Montessori Teacher Training Program, visit World Wide Montessori Online.
For enquiries, you may email Karen at karen [at] amontessorimarketplace [dot] com.
—
P.S. Read more on homeschooling.
P.P.S. Our latest homeschooling updates are posted at MummysHomeschool.com HERE,
—
Disclosure: I paid for my own training course and did not receive anything from Karen Tyler for this review. I simply love it very much and wish to share this information with other parents.
Mummy's Reviews™ is a review site that receives compensation if readers make purchases from affiliate links (these are marked with an *). If we receive compensation from the companies whose products we review, this would be disclosed. These compensation help to maintain and grow Mummy's Reviews™. We test each product thoroughly and give ratings according to our experience with it. We are independently owned and the opinions expressed here are our own.