The arrival of baby Jae means ensuring my wardrobe of clothes is breastfeeding-friendly again, at least for 12 to 18 months. Below are my favourite nursing tops and bras.
1. Nursing Tank Top
This is my TOP must-have for breastfeeding. With a well-fitting strappy nursing tank, I can wear any loose fitting or flared top. This goes well under a polo T-shirt or and a top with empire line. No restriction to wearing only nursing tops, so the sky's the limit when shopping!
Pro: Complete coverage at the waist and tummy area, so I can breastfeed easily in public.
Con: It could be warm wearing a nursing tank top plus a top.
Where to buy: I bought my nursing tanks from Spring Maternity when nursing Vee 2+ years ago, and they still look as good as new after many washes. (Haven't tried other brands though.)
2. Nursing Top with Empire Line Nursing Access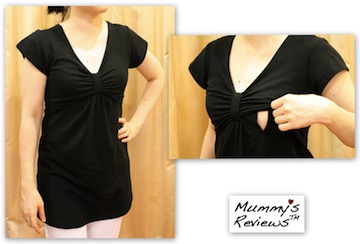 It's very convenient to breastfeed while wearing a top with nursing access at the empire line. Simply lift the small flap and feed baby.
You may also explore other types of nursing access, namely drop cup (similar to a nursing tank top), pull down, side seam and side slit.
Pro: Only need to lift the front flap; don't need to lift the entire top. Very discreet.
Con: Limited variety, only from nursing range of clothes
Where to buy: I received one top from Little Dreamer to review.
Featured above is the Pika Bubi Nursing Top available at LittleDreamer. It's very comfortable and a little thick, so is suitable for air-conditioned places. Because it's long, I pair it with pants instead of a skirt.
3. Cotton Sleep Bra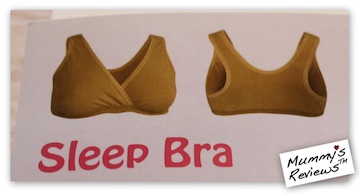 At home, I wear the above cotton sleep bra. It's thin and cool, very suitable for our hot and humid weather. Simply pull the front part sideways and latch baby on. Easy peasy!
Pro: Very convenient, especially for sleepy Mummy at night
Con: Little support, not for outdoors and the well-endowed
Where to buy: I've been buying these from FabulousMom. The seams frayed after many washings, so I bought new ones.
4. Nursing Bra with Removable Wires
When I found this, I thought it's a genius' invention! The best of both worlds, whether you want the wires or not. Erm… I'm not well-endowed, so I prefer to remove the wires.
If you can't decide between wired or wireless, then this nursing bra is the best bet.
Pro: Switch between wired or wireless bra
Con: Needs time to remove or insert the wires
Where to buy: I bought these from FabulousMom 3 years back. These are rare gems and I'm not sure if you can still find them easily.
With the above nursing tops and bras, I can breastfeed my baby easily on any occasion.
Sharing time: What are your favourite nursing clothes and bras? Feel free to share your experiences and reviews in the comments box.
—
Get Your Own (with Discount!)
To get your own Pika Bubi Nursing Top, visit LittleDreamer's Facebook page.
Special Treat: 10% off all in stock Pika Bubi Nursing Top in black (Size S, M, L) + Complimentary Postage within Singapore
Validity Period: 2 weeks, until 26 February 2012
How to order: Please email LittleDreamer.ld [at] gmail [dot] com to place your order, and indicate that you're referred by Mummy's Reviews
—
P.S. Read more on breastfeeding.
—
Disclosure: I received a Pika Bubi Nursing Top from LittleDreamer for review, and purchased all the other products mentioned.
Mummy's Reviews™ is a review site that receives compensation if readers make purchases from affiliate links (these are marked with an *). If we receive compensation from the companies whose products we review, this would be disclosed. These compensation help to maintain and grow Mummy's Reviews™. We test each product thoroughly and give ratings according to our experience with it. We are independently owned and the opinions expressed here are our own.
Giveaway #22 Winner Announcement: The winner of  the Karen Tyler Montessori Teacher Training Program has been selected. Check it out at the "Win Your Own" section here!