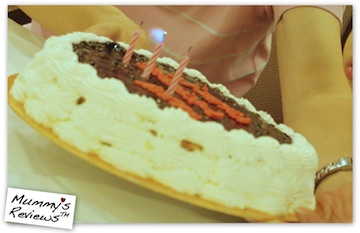 Note to new readers: This article is part of Vee's developmental milestones update series. It summarises my parenting approach, Vee's progress, challenges we face and how we overcome them.
Inspiration this month:

It's amazing how I'm managing better with two kids compared to only one baby in the past. All fussy babies do grow up one day. Indeed, this stage shall pass!
My dearest Vee just turned 3 years old. He was my inspiration for starting Mummy's Reviews, after I spent loads of time researching on cloth diapers and on baby sleeping issues. Because he was such a challenge to handle, the experience made me a well-equipped Mummy this second time round. I feel very blessed that this fussy baby has grown into a very lovable boy.
As usual, here's his progess update:
Learning & Communication
Our homeschooling curriculum has been enriched these few months. Besides The Shichida Method, we've added Montessori and Kindermusik home learning activities.
Montessori: We're mainly on Practical Life activities focusing on fine motor skills and taking care of oneself. I also present some existing puzzles and blocks in a Montessori-way and place selected items on the shelves. Vee is getting the idea of doing "meaningful work" at home. After he has completed our Shichida home practice session, and done some Montessori work (including helping out with tiny bits of housework), then he'd get his free play time. Both of us enjoy the daily routine, and it makes him feel important.
Music: Vee has been attending Kindermusik classes with Daddy, and they completely enjoy it. Only 45 minutes a week. I like that during every term, there's a new learning kit with CDs, books and a simple instrument for home practice. After listening to the songs at home, Vee is more participative in class. He seems to have good rhythmic sense.
Memory: He's still strong at recitation from audio memory. For instance, we discovered that he could recite verbatim a Chinese book with more than 200 words. And remember 20 animals in sequence from a simple reference book, Animals of the Sea. He also sings 4 sections of 三字经 (Three Character Classic), which is almost 400 words. This is an amazing ability of the right brain, which I believe every child can achieve with practice. How to practice? Simply play audio CDs and read to the child regularly. Cover a wide variety of topics, even if they may seem difficult for a child.
FAQ #1: What's so good about memorising? Young children are able to memorise and recite with ease when given the opportunity because their right brain is very active. This activity helps to boost their memory power, which sets the foundation for learning efficiently in future. It's like comparing a 50Gb to 1Gb hard disk drive. Think about professions such as medicine and law, having a powerful memory is very important.
FAQ #2: What about understanding? For instance, when Vee started reciting a story about animals, we brought him to the zoo to see the same animals, including an elephant ride, as described in the book. He was very thrilled to link the experiences back to the story.
Colouring: At last, he's willing to colour within boundaries. It may seem something very trivial, yet it's a milestone I've been looking forward to. Generally, he still prefers to sprawl his doodling across a piece of paper.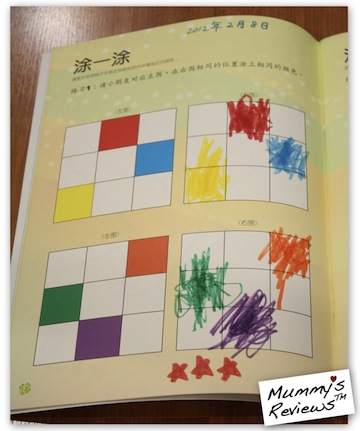 Reading: Finally, he's more interested in reading English words, without actually reading them. We've also started on a Bahasa Melayu (BM) reading series because we're living in Malaysia. It's easier to pick up a foreign language before 6 years old, so I'd rather start Vee on it now while he's interested in learning.
 Cookies!* by Claire Clark: This is part of the Kindermusik Our Time Milk & Cookies home learning materials. He's really into cookies now, especially after trying various goodies during the recent Lunar New Year celebrations. Following this, I made a set of flashcards on different types of cookies. You may get ideas from Wikipedia here.
Paul dan Mary by Kohwai & Young: This is the first book of the BM reading series mentioned above. You may view the entire collection here. The style is very similar to the popular English Key Words Reading Scheme with Peter and Jane*, which I read as a child.
Motor Skills
After a 3 months on his balance bike, he can confidently lift both legs up into the air! Now, I need to get the pedals.
Behaviour & Social Skills
He ignored warnings, moved about during shower, slipped into the drainage hole in the bathroom, and cut one toe quite badly. The GP said that we should have brought him for a tetanus jab within 24 hours. A few days later, he got a 40-degree C fever, but probably not due to the cut. And phew, no febrile fits this time!
He has learnt that if he behaves and let me put baby Jae down for nap or bed, then I can dedicate time for him. When I'm busy for a moment, he'd also try to "take care" of Jae by talking to or playing with him. My little helper. 🙂
Diet & Feeding
Vee's appetite is still very good, and his favourite restaurant is Din Tai Fung, for its noodles and fried rice. Oh, and he loves watching the chefs at work. Whenever a chef with a tall hat walks past our table, he'd exclaim, "Look, there's the chef, the chef, the chef!"
Potty Training
Some improvement here with dry diapers over several naps and overnight.
Sleep
Occasionally, if he's not tired enough or consumed something too sweet (e.g. barley beverage), he roll around on the bed for 2 hours WITHOUT falling asleep.
He's able to miss his nap for unexpected whole-day outings, then fall asleep in the car, and even transferred to a stroller. Quite a feat for the fussy sleeper!
Since baby Jae sleeps well by himself in the next room, we're trying to encourage Vee to sleep by himself too. It's ironical that the 3-year old clings to us in bed, while the 3-month old prefers not to be bothered.
Finally, happy 3rd birthday to my dearest Vee!
—
P.S. View more developmental milestones (from 8 months old onwards).
P.P.S. Our latest homeschooling updates are posted at MummysHomeschool.com HERE,
—
Disclosure: Mummy's Reviews™ is a review site that receives compensation if readers make purchases from affiliate links (these are marked with an *). If we receive compensation from the companies whose products we review, this would be disclosed. These compensation help to maintain and grow Mummy's Reviews™. We test each product thoroughly and give ratings according to our experience with it. We are independently owned and the opinions expressed here are our own.