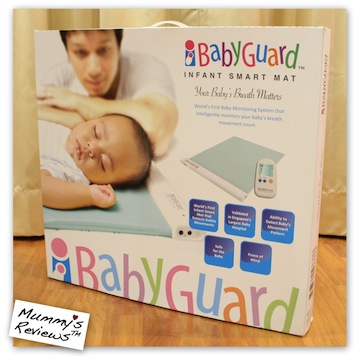 Here's my review for the innovative iBabyGuard Infant Smart Mat, provided by iBabyGuard. It's the world's first monitor that shows live updates of a baby's movement count.
Initially, I wasn't sure if I'd need such a monitor. Then my sixth sense nudged me to accept the review. And I'm so glad I did, because Baby Jae stopped breathing for THREE freaking episodes before he turned 1 month old.
About iBabyGuard Infant Smart Mat
These are the main features of the baby breath monitor:
Monitors baby's breath movement count during sleep
Uses non-invasive fibre optics technology, does not emit any electrical energy
Wireless and portable
Mat surface is made of baby-friendly, waterproof, stain-proof and skin-friendly material
Suitable for babies from 2kg to 12kg
Country of origin: Invented in Singapore. Subassembled in China and fully assembled & Quality Control in Singapore
First Impressions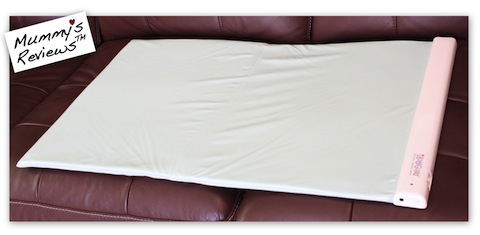 The mat is large enough to cover a big area of our baby cot mattress. The surface material is very smooth. The mat should only be bent in the middle fold. Simple design with 1 on/off switch at the top.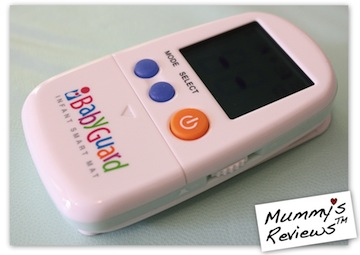 The Parent Control Unit (PCU) fits into my palm nicely. Very light and portable, with a clip behind. 3 buttons — 1 for mode, 1 to make selection, 1 on/off switch. 1 switch at the side to choose between vibration or vibration + beep alert.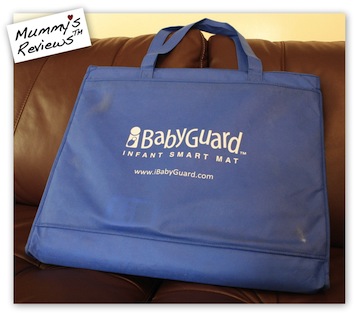 A fabric bag is included for bringing the mat around.
It's covered by a 12 months warranty. (Details of the warranty can be found here.)
Our Detailed Review
Rating Guide: ★ Oh no!     ★★ Poor     ★★★ Fair     ★★★★ Good     ★★★★★ Excellent!
(a) Ease of Use: ★★★★ I took a short while to read through the instructions manual. The mat is easy to operate — simply turn on the switch.
Instead of letting baby Jae sleep directly on the mat, I prefer to lay a thin bedsheet over it. The mat will still work well with less than 3mm of fabric on it.
The Parent Control Unit has a few options — sensitivity, choice of alert, and choice of tracking individual movement or only continuous movement. I prefer tracking only continuous movement, that is, after baby has moved about for at least 20 seconds. Then I'd know that he may need my attention.
(b) Effectiveness: ★★★★★ We started using the mat when baby Jae was 2 weeks old.
During my confinement, each time the confinement lady carried baby Jae up, the PCU would alert me that he's missing from the mat, so I'd go over to feed him. This "missing" function is also useful when baby starts rolling around, and may move away from the mat to a corner of the cot.
Then the freaking part. There were 3 occasions when the monitor alerted me of "00", which means no breath count for 15 seconds. This made me rush to baby Jae's rescue.
The first time it happened was at 1a.m. He regurgitated a mouthful of milk the moment I touched him. It was the first time he regurgitated milk. Then his breath count increased to 16 and more. (Usually, it's in the 30s to 50s.)
The "00" incidents occurred twice in the same week. Again, I gently touched Jae and his breath count started increasing. No regurgitation of  milk for these incidents.
Apparently, babies younger than 6 months may experience periodic breathing with pauses up to 15 seconds, up to 5 percent of the time they're asleep. Read up on Sleep Apnea in Babies from BabyCenter. I'm very relieved to be alerted and could check on Jae.
After the confinement lady left, Jae began sleeping in the next room by himself because he likes it warm. When the PCU shows "M" (movement for at least 20 seconds), I'd check on him, and he usually is fussing, needing to be burped or fed.
I set the alert on vibration only mode, so I'd hold on to the PCU when sleeping.
The batteries for the mat lasted 3 weeks of regular use, throughout nights and naps for about 16 hours a day. The batteries for the PCU last a much longer time.
(c) Quality: I can't comment sufficiently on this yet, so no stars mentioned here. After a few weeks of use, the PCU showed an error message "E1", which indicate that the optical fibre could be broken. I'm not sure what happened and would be bringing the mat to the service center in Singapore for a check during my next trip. I've been told that mine is the first case of "E1", other than another case which was resolved from changing the batteries.
(d) Overall Value: ★★★ Each iBabyGuard Infant Smart Mat retails at SGD595 plus GST (or RM1699 in Malaysia). At the moment, this is the world's first monitor that shows live updates of a baby's movement count, for home use. Thankfully, it alerted me when baby Jae was in his most vulnerable initial weeks.
When it couldn't be used after the E1 message, I immediately bought a simple sound monitor so that baby Jae could continue sleeping in the next room. But there is no way to know whether he's well when he doesn't make any sound.
Now, he loves to roll over and sleep on his tummy, so I keep having to check and roll him back. I hope my mat can be repaired or replaced under the warranty.
In my opinion, the iBabyGuard Infant Smart Mat is especially suitable for:
premature babies
babies with breathing issues
paranoid parents who check on baby's breathing regularly
babies who sleep in a separate room
babies who love sleeping on tummy / sleep soundly for long hours.
On the other hand, it isn't suitable for fussy light sleepers who don't sleep on cot mattress, preferring the hammock or c0-sleep on parents' bed. (That's my fussy Vee!) And for families with an active older child or caregiver who may be rough with mat, be really careful as they may unknowingly damage it.
—
What we like about it:
Unique monitor for tracking specific breath count. Alerted us to check on baby Jae when he stopped breathing.
No wire at all
Easy to set-up and use
What can be improved:
Add choice of no movement tracking, needed when baby is near caregiver at night. Track only breath count and missing baby from mat.
Add choice of alert for beeping sound only, without vibration
Should always have serious beeping alert for "00" (no breath count), to ensure caregiver doesn't miss it when asleep and vibration only mode is turned on
Add screw on battery covers to prevent older babies and toddlers from accessing batteries
—
Win Your Own
To thank supporters of Mummy's Reviews™ Parents Club, this Giveaway is EXCLUSIVE to Parents Club members. TWO (2) lucky members will win one iBabyGuard Infant Smart Mat worth RM1699 each!
How to Participate
1. Join Mummy's Reviews™ Parents Club here or below (existing members counted)

2. Fill in the online form HERE
Other Information
This Giveaway is open to subscribers with a mailing address in West / East Malaysia.
It will run until 16 March 2012 (Friday) 2359hr (GMT +8).
The usual Giveaway Terms apply.
Winners Announcement
Thank you to all Mummies and Daddies who have participated in this Giveaway. The winners are …
wing who said "My baby is just 3 months old and is afraid that he could also have such issues. I really hope to get this as would save us alot of worries!"
Wendy Goh who said "…i have my 2nd baby in Jan 2012, I hope this iBabyGuard Infant Smart Mat can help me to monitor my baby."
Congratulations to you! You'd receive an email on how to claim your prize.
To other Mummies and Daddies, you may still take part in the giveaway below, which is open until 30 June 2012.
And Another Giveaway!
If you don't have a Malaysian address, here's ANOTHER Giveaway for you, running from 1 March to 30 June 2012. Simply follow the instructions stated in this PDF file: iBabyGuard Facebook Program 2012.
Submit your entry now and good luck!
—
Get Your Own (with Discount!)
To get your own iBabyGuard Infant Smart Mat, visit iBabyGuard main website.
Special Treat: SGD100 discount  (i.e. SGD495 instead of SGD595 per unit + GST)
Validity Period: 1 March to 30 June 2012
How to order: Send iBabyGuard a Facebook message (via iBabyGuard International Facebook Page) with your contact number & delivery address
If you're in Malaysia:
Special Treat: RM300 discount (i.e. RM1399 instead of RM1699 per unit)
Validity Period: 1 to 31 March 2012
How to order: Email your order to Troy at troylow@tclworldwide.com and indicate "MUMMYSREVIEWS"
More contact details:
TCL Worldwide Sdn Bhd
Level 15.01, 1 First Avenue,
2A, Dataran Bandar Utama,
Bandar Utama Damansara,
47800 Petaling Jaya,
Selangor, Malaysia
Telephone Number: + 60 (3) 7651 7947
Fax No. : + 60 (3) 7651 7701
Mobile : + 6012 671 9994
Website:  http://www.ibabyguard.com.my/
—
P.S. Coming up on Monday is my review on the excellent sound baby monitor we bought (out of desperation). Stay tuned!
—
Disclosure: I received 1 iBabyGuard Infant Smart Mat for review. Because of the high value of the review sample, the sponsor was given free advertising space for a limited period of time.
Mummy's Reviews™ is a review site that receives compensation if readers make purchases from affiliate links (these are marked with an *). If we receive compensation from the companies whose products we review, this would be disclosed. These compensation help to maintain and grow Mummy's Reviews™. We test each product thoroughly and give ratings according to our experience with it. We are independently owned and the opinions expressed here are our own.
Disclaimer: All articles are written to share my personal child-raising experiences, and are not a replacement for seeking medical advice. My views and opinions may change over time, for instance, due to new experiences. Please exercise your own discretion when applying any idea from the website. When unsure, always seek professional medical advice.