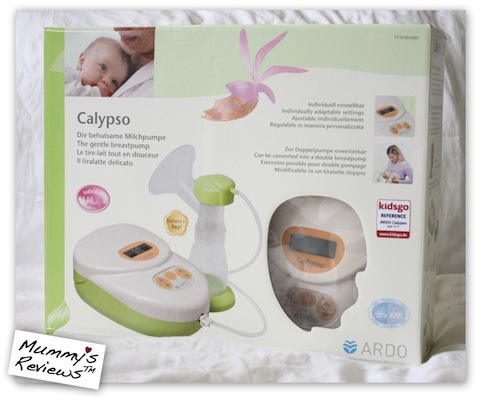 Just for breastfeeding Mummies, here's my review of ARDO Breastpumps, launched in 2010 by ARDO Medical AG (a Swiss company), and bound to set new standards among breastpumps.
Questo Pte. Ltd., the distributor in Singapore and Malaysia, invited me for the review while I was pregnant with Baby Jae. It was the perfect timing because my previous breastpump is non BPA-free and I was just about to get a new one.
If you're looking for a high quality breastpump developed by a team that supports breastfeeding, then read more below…
About ARDO Breastpumps
ARDO produces a complete range of breastpumps to suit different mum's needs. I'd the opportunity to review Calypso (the single electric pump), Amaryll Kombikit (to convert it into a manual breastpump), and Calypso UpgradeSet (to convert it into a double pump).
The main picture above is the Calypso.
This is the UpgradeSet: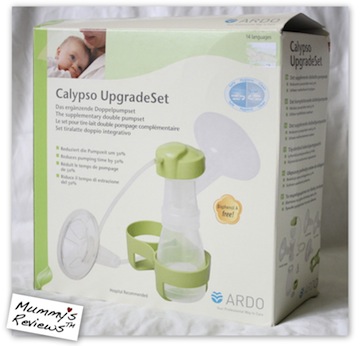 And this is the Amaryll KombiKit: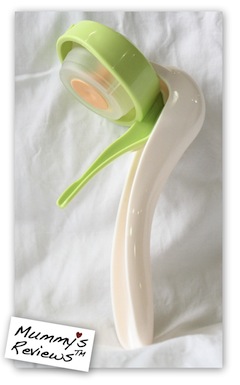 These are the main features of the breastpumps & accessories:
Calypso
Calypso UpgradeSet
Amaryll KombiKit
What it is
Single electric breastpump
To convert Calypso into the Calypso double breastpump
To convert Calypso into the Amaryll manual breastpump
What's included
– Breastpump with battery compartment
– Mains plug
– PumpSet
– 3 different breast shell sizes
– OptiFlow massage insert
– Bottle stand
– Additional PumpSet
– 3 different breast shell sizes
– OptiFlow massage insert
– Twin bottle stand
– Conversion kit
Material
Premium quality BPA-free polypropylene, silicone
Premium quality BPA-free polypropylene, silicone
Premium quality BPA-free polypropylene, silicone
Country of origin
Made in Switzerland
Made in Switzerland
Made in Switzerland
.
For working mums, there's Calypso-to-go, which is a package complete with a Calypso doublepump, supplementary accessories and a bag.
First Impressions
The ARDO breastpump comes with 3 different breast shell sizes — 26mm, 28mm and 31mm. As a really petite Asian, I'm glad to have a smaller breast shell.
The OptiFlow massage insert fits into the 31mm breast shell. Mummies of the 26mm and 28mm sizes can use it. This also means a 31mm-Mummy can't use it. The insert is designed to hook over the breast shell, without the need to seal it completely.
The breastpump has a narrow neck. It can be used with ARDO or other standard narrow neck bottles. To use it with wide neck bottles, you'd may buy a narrow-to-wide-neck converter.
It comes with silicone membrane pots that ensure milk doesn't get into the tubes. This means the tubes don't have to be sterilised before use.
The double pump comes with a twin bottle stand that can be hooked onto the electrical unit, so the bottles won't topple over. Very clever design!
I was surprised that ARDO doesn't sell bottle teats. It's the company's commitment to promote breastfeeding. For expressed milk, she encourages feeding through a mini cup, which is what we did with Vee 2+ years back. (You may choose to use a spoon or syringe too.) This is consistent with the advice by breastfeeding books and my home-visit nurse. Of course, there're caregivers who prefer to feed baby with a bottle teat.
The ARDO guarantee is unique. The brochure states that "The guarantee has been extended. It will now be independent of the time of purchase and will cover all functionality over the period during which at least two babies are breastfed."
In Singapore and Malaysia, the ARDO rep explained that the warranty is 2 years (from EDD) or 400 hours of use (tracked by an in-built timer for the electric pump), whichever is later. So it's fine to buy the breastpump during pregnancy without "eating into" the warranty. And for a light breastpump user like me, after weaning baby Jae from breastfeeding, I can use the pump for baby #3, and still be covered by the warranty until 400 hours of use.
Mummies who need help with using the ARDO pump may contact the company. In Singapore, home-visits can be arranged to help customers use the pump effectively.
The ARDO rep also sent me Powerpoint slides to highlight how to choose the correct breast shell and pump rhythm.
There's also more information at Youtube:
Our Detailed Review
Rating Guide: ★ Oh no!     ★★ Poor     ★★★ Fair     ★★★★ Good     ★★★★★ Excellent!
(a) Ease of Use: ★★★★ The manual pump is the easiest to assemble. Even the double pump is relatively easy too.
The instruction booklet states clearly (in a table format) the parts can be sterilised versus those that should only be washed or cleaned.
There are few parts that need washing and sterilising. Namely the breast shells, massage inserts, valves, and flexible membrane pots. To minimise washing, I use the smallest 26mm breast shell without the massage insert. That's 2 fewer parts to wash when double pumping.
I love the easy-to-use IndividualPhases. It allows me to independently adjust the vacuum strength and pump rhythm to my personal requirements as well as to the individual sucking pattern of my baby. There're 8 choices each for vacuum strength and pump rhythm.
Both Vee and Jae suck very strongly, so I'm used to that. For stimulating the let-down reflex, I choose 4 bars for Vacuum and 8 bars for Cycles. After achieving let-down, I choose 5 bars for Vacuum and 6 bars for Cycles. Simply press the up or down buttons, very easy!
The first time I used the double pump, I fumbled quite a bit. I'd to hold the 2 pumpsets and press the button for the IndividualPhases. It seemed like I needed 3 hands instead! In the end, I used my right arm to hold both pumpsets, while freeing my left arm to press the buttons. Oh well… Unless absolutely necessary, I prefer to use only one pumpset.
Generally, ARDO is an easy-to-use breastpump, be it manual or electric.
(b) Comfort: ★★★★ The massage insert makes pumping very comfortable. Even without the insert, pumping is still comfortable.
Also, it's a very quiet pump. Usually I pump near baby Jae when he's sleeping, and the pumping doesn't bother him at all. Great for Mummies who need a discreet pump outdoors.
(c) Effectiveness: ★★★★★ I first tried the breastpump when Jae was 4 weeks old. About 1 hour after a 6pm feed, I expressed 2.5oz within 15 minutes with the double pump. Quite good!
Another example: When Jae was 3 months old, he drank from only 1 breast for a 2a.m. feed. (He usually drinks from both sides.) I whipped out my breastpump gadgets and expressed 1oz via single electric pumping, 0.5oz via manual pumping, and another o.5oz via hand expression. Woohoo, that's 2oz of extra milk!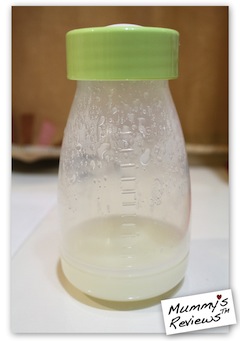 I find both the manual and electric ARDO breastpumps effective in emptying the breasts well.
 Tip to get more extra milk: At the end of the pumping session, try hand expression to completely empty the breasts. You may get a pleasant surprise!
At the moment, I'm really too busy (or lazy?) to express milk regularly. It's impossible to pump in front of an active 3-year who'd try to play with the pump parts. The only possible time is during midnight, AND IF baby Jae doesn't empty the breasts. When Jae starts sleeping through the night, I'd be able to express the "missed" feed for storing. My motivation for expressing is to keep the menses away!
The electric breastpump can be operated by batteries too: use 6 AA / 1.5V alkaline batteries. One night, the power socket I usually use was blocked by our new Montessori shelves. So I used the breastpump in battery-mode. I feel that the effectiveness is about the same.
(d) Quality: ★★★★ I haven't used the pump intensively enough to judge its long-term quality, so I'm staying conservative here. In the meantime, every part seems sturdy. Moreover, I'm pleased with the unique ARDO guarantee mentioned previously — that is, 2 years or 400 hours of use, whichever is later. I think this is a very fair guarantee that will make ARDO a highly-competitively breastpump in the market.
(e) Overall Value: ★★★★★
This is a summary of the approximate retail prices (as of Mar 2012):
Amaryll Manual Breastpump
Calypso Single Electric Breastpump
Calypso-to-go Double Electric Breastpump Package
Singapore
SGD66
SGD338
SGD533
Malaysia
RM162
RM828
RM1,288
– Add Amaryll KombiKit (for manual pumping):
SGD38 / RM93
– Add Calypso UpgradeSet (for double pumping):
SGD59.90 / RM148
.
In my opinion, the ARDO breastpumps are very competitively priced and yet they're raising the bar with new standards such as different breast shell sizes, membrane pots, and a unique guarantee.
I'm a Stay-At-Home-Mum who breastfeeds directly all the time, and only needs a breastpump occasionally. So if I were to pay out of my own pocket, I'd select the Amaryll Manual Breastpump for my very light usage.
For working mums, I think the Calypso-to-go Double Electric Breastpump Package seems very attractive. You'd love the discreet pumping!
—
What we like about it:
Very quiet electric pump
Choice of breast shell size for a good fit
Easy-to-use IndividualPhases (simply choose suitable Vacuum and Cycle options)
Silicone membrane pots keep the tubes clean
Unique ARDO guarantee — 2 years from EDD or 400 hours of use, whichever is later
What can be improved:
Bottle: dark-coloured calibrations (especially for Mummies pumping in the middle of the night. That's me!)
Instruction manual: include how to handle the double breastpump with both hands
—
Get Your Own (with Promotion!)
To get your own ARDO Breastpump, visit the list of ARDO distributors here.
If you're from Singapore, you may enjoy this promotion:
Free 1 week trial of Calypso Electric Breastpump by purchasing hygienic personal pumpset
There're 2 choices of pumpset:
Pumpset with 26mm breast shell, at SGD42.90
Calypso UpgradeKit: Pumpset with 3 sizes of breast shells (26mm, 28mm, 31mm) & OptiFlow Massage Insert,  at SGD59.90
—
ARDO Service Centre (Malaysia)
Questo Marketing
44A Jalan SS 20/10,Damansara Kim,
47400 Petaling Jaya,Selangor
Tel: +603 7725 8699
Contact person: Sylvia Puah (HP: +6016 212 8897)
—
P.S. Another Mummy (from Malaysia), Smelly Butt's Ama, has also reviewed the ARDO Calypso Double Breastpump and has tips on stimulating a second let-down reflex. She has loads of frozen EBM and generously donates them too. Check out her review at La La Land here.
—
Disclosure: I received 1 ARDO Calypso, 1 Calypso UpgradeSet and 1 Amaryll Kombikit for review. Because of the high value of the review sample, the sponsor was given free advertising space for a limited period of time.
Mummy's Reviews™ is a review site that receives compensation if readers make purchases from affiliate links (these are marked with an *). If we receive compensation from the companies whose products we review, this would be disclosed. These compensation help to maintain and grow Mummy's Reviews™. We test each product thoroughly and give ratings according to our experience with it. We are independently owned and the opinions expressed here are our own.