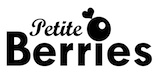 Wish to dress up your little prince or princess stylishly at amazing prices? Then take a look at Petite Berries based in Singapore, with delivery to Malaysia too!
Over the past 2+ months, Vee has been wearing 2 sets of clothes provided by Petite Berries. He looks good in them and I'd certainly look forward to shopping at Petite Berries in future.
About Petite Berries
Here's a little background about Petite Berries:
Started by a pair of parents who have lived in Europe for several years
Aims to provide great quality products at amazing economical prices
Sources for products that meet European standards
Items carried are ready stocks
Delivers to Singapore and Malaysia
A sneak peak at the loveable baby clothings:
Our Detailed Review
Rating Guide: ★ Oh no!     ★★ Poor     ★★★ Fair     ★★★★ Good     ★★★★★ Excellent!
1. The Store
(a) Selection: ★★★ Up till 2 weeks before Lunar New Year, I was still too busy (with Baby Jae, packing and travelling to Singapore) to buy any new clothes for Vee. Oops! Then I received an email from Petite Berries to review its online store.
After visiting the webstore, a red polo T-shirt caught my attention! I've been wanting to get one for Vee who LOVES red but has no red top. Since the owner sources for good quality items that meet European standards, I decided to give the clothes a try.
I chose 2 casual sets, which are from a French brand called Vertbaudet. Included is a pair of jeans, which would be Vee's first pair. So far, I've only dressed him up in pants, instead of jeans. Here are what I chose: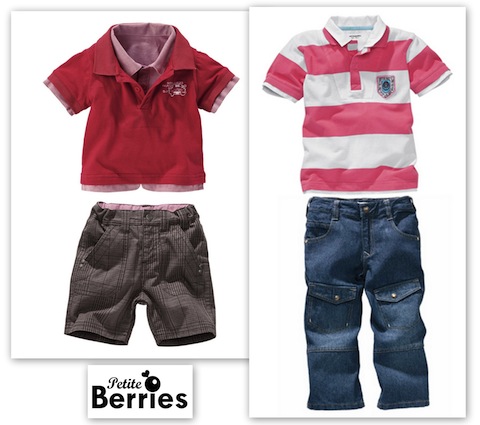 The selection isn't as wide as a departmental store — good enough for a new webstore. I like that the items are ready-stocks and need no pre-ordering. Hopefully, new items will be brought in regularly.
(b) Ease of shopping: ★★★★ This was my first time choosing clothes online. They were for New Year celebrations, so I was anxious whether they'd fit well and look good on Vee. I like the size charts with detailed measurements.
Navigating around the webstore is relatively easy, with clear product information and images. I found what I wanted rather quickly.
(c) Payment & Delivery: ★★★★ I confirmed my choices on Saturday, the mail was posted out the following day, and reached KL the following Friday. All done within 1 week. Just in time to wash and wear by New Year. Phew!
Delivery charges are very reasonable — free standard delivery within Singapore or via registered post at SGD3 / RM14.50 per order (regardless of number of items ordered!)
To test out the functions of Petite Berries' webstore, I became a mystery shopper too. Online payment can be made via eNets or Moneybookers (or now known as Skrill) to use your credit card. eNets is common in Singapore, but I am not familiar with Moneybookers. The Moneybookers plugin can't be loaded on an iPad. You'd also need to create a separate account to use it.
(d) Customer Service: ★★★ The Return Policy states that "products sold are not returnable and not refundable". I'd prefer if items are exchangeable. What if the clothes don't fit well?
Otherwise, the owner has been prompt in email correspondence, and even reminded me to wash the red top separately, in case of colour run.
2. The Clothes
(a) Laundry: ★★★ 3 out of the 4 Vertbaudet items wash very well using the washing machine. Even the red top had no colour run.
Caution on the jeans though: the colour still runs after several washes and many rinses.
(b) Design: ★★★★ I like the 100% cotton fabrics that are smooth and comfortable. The pink/white polo T-shirt is relatively thin and great for the hot weather here. The Vertbaudet labels don't mention where they're made in.
The Vertbaudet brand includes child-friendly design to help children put on their clothes easily. For instance, the pink/white poloshirt features unique Velcro tabs instead of buttons. Unfortunately, Vee doesn't like the Velcro tabs scratching him occasionally, so he wears the top with the tabs closed.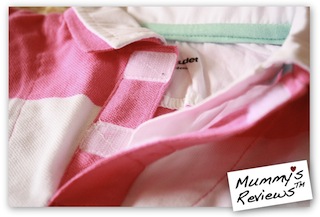 The pants and jeans feature snap buttons, which are easy to use and convenient for outdoor toilet-training — I like this!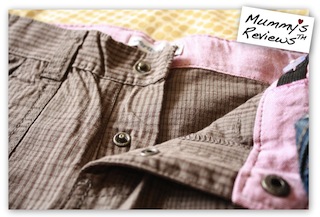 I also like the adjustable elastic band for the pants and jeans, to give the best fit.
(c) Fit: ★★★★ As mentioned earlier, the detailed sizing chart is very useful. I chose 3 years old size for Vee. Upon trying out the items, the red Polo T-shirt has a much smaller cutting than the pink/white top. He can wear both, but will outgrow the red top sooner.
The pants and jeans fit beautifully.
I asked him to pose with his new clothes and he did this:
Changed to another set and he did his new "stunts" again… Duh!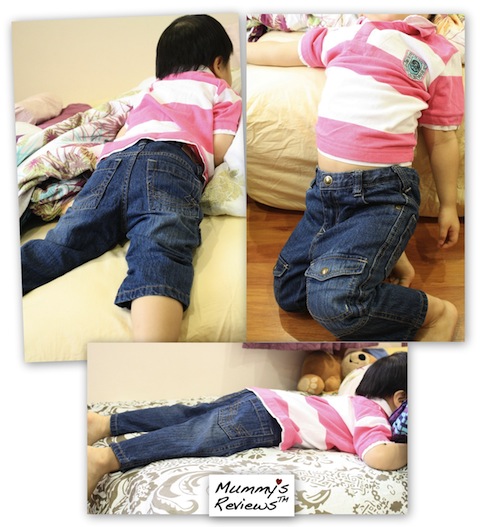 Oh well, I think he's better at posing with cloth diapers!
(d) Quality: ★★★★ Overall, these are good quality clothes that are well-sewn.
(e) Overall Value: ★★★★ The red poloshirt with bermuda set retails at SGD39.90. The pink poloshirt with 3/4 jeans set retails at SGD42.90. The price is very attractive for 1 set of well-designed and good quality clothes!
Yes, I'd shop at Petite Berries when Vee needs new clothes in future. For the quality, the price is a huge pull factor. I'd prefer to make payment via eNets instead of Moneybookers (or Skrill) though.
—
What we like about the store:
Offers clothes that meet European standards
Detailed size charts
Attractive price for the quality offered, and very reasonable delivery charges
What can be improved:
Include more details on clothes design. For example, velcro tabs for the pink/white top, and snap buttons on the pants
Indicate where the items are made in
Offer tops and bottoms separately instead of sets only
Offer a more familiar / easier credit card payment option for overseas customers
—
Get Your Own (with Discount!)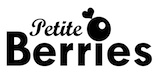 To get clothes for your precious little one, visit Petite Berries.
Special Treat: 20% discount with minimum purchase of SGD25 or MYR60
Discount Code (for Singapore Dollar): MuRe20sg
Discount Code (for Malaysian Ringgit): MuRe20my
Validity Period: Until 15 April 2012
How to Redeem your Discount Code:
To redeem your coupon, simply insert your personal code in the coupon code box during check out.
Once the coupon code is inserted, please click the UPDATE button found at the top or bottom of the page to show your total bill price AFTER discount.
Proceed to CHECK OUT once the discount has been credited to your bill.
Terms and Conditions*:
Minimum purchase of SGD25 or MYR60 is required to redeem the above coupon
The coupon code is valid till 15th of April 2012
The coupon is only valid for online redemptions from Petite Berries. Redemptions through Facebook is not allowed.
The coupon code is not valid with any other discounts, promotions and/or offers unless otherwise stated.
The coupon cannot be exchange for cash.
Petite Berries reserves the right to amend these terms and conditions without prior notice.
You may also visit and like Petite Berries Facebook page to receive updates on products and discounts.
—
Disclosure: I received 2 casual sets from Petite Berries for review.
Mummy's Reviews™ is a review site that receives compensation if readers make purchases from affiliate links (these are marked with an *). If we receive compensation from the companies whose products we review, this would be disclosed. These compensation help to maintain and grow Mummy's Reviews™. We test each product thoroughly and give ratings according to our experience with it. We are independently owned and the opinions expressed here are our own.