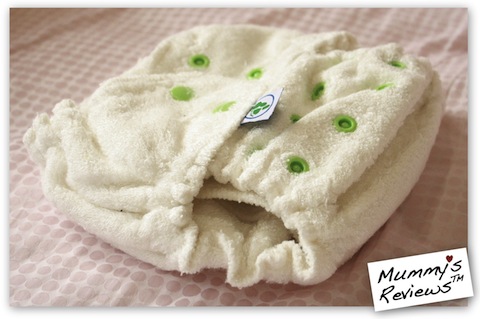 This is a review of Bumboo Fitted Cloth Diaper, provided by LittleDreamer. My 2 boys have tested it out for more than 2 months and we love how luxurious it feels!
What's a Fitted Cloth Diaper?
In case you were wondering, a fitted cloth diaper is a one-piece diaper that has all-round absorbency, not just in the middle. Some fitted diapers allow you to increase absorbency with snap-on or lay-in soakers. This makes it a good diaper for tummy and side sleepers, or babies who roll all over the bed when asleep. It prevents leakage at the waist area.
It's breathable and doesn't have a waterproof outer layer. So when waterproofness is needed (for e.g. during sleep), you'd have to add a cover over the diaper.
A popular night-time cloth diapering solution is to use breathable fleece or wool cover over a fitted diaper with stay-dry layer and extra soakers. This provides high absorbency and breathability all-night long — fantastic for heavy wetters and babies with sensitive skin.
About Bumboo Fitted Cloth Diaper
These are the main features of the fitted diaper (in Size 2):
Suggested weight range: 10lbs – 35lbs (4.5kg – 15.9kg)
Fabric: 98% bamboo from viscose, 2% silk
Soakers: Fitted diaper + 1 night-time insert
Closures: 2 rows of waist snaps, 

4 x 4 rise snaps (3 settings), overlapping wing flaps

Country of origin: Designed by Noreen Walker (a registered midwife in Alberta, Cananda) of earth, mom & baby. Made in China
It comes in a natural cream colour with choice of coloured snap buttons. Size 1 is available for babies weighing 3lbs to 10 lbs.
First Impressions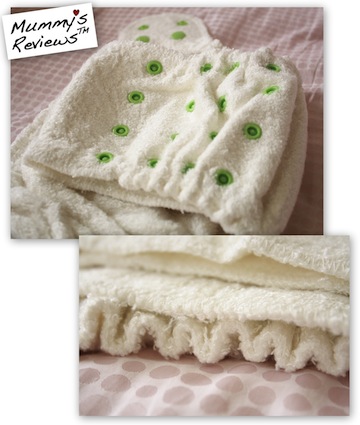 It's super-duper soft! I accepted this item for review because I was eager to find out how a bamboo plus SILK diaper feels. Sounds like pure luxury for any baby! I seriously wish that it won't stiffen up after line drying in our hot weather, which is common for bamboo and hemp fabrics.
I like the gentle ruffled hems in the back and thigh areas.
The design is unique — it opens up into one long piece, with an extra lay-in soaker. I took some time figuring out how to fold it to fit a baby and a toddler.
Here's the smallest rise setting for a baby: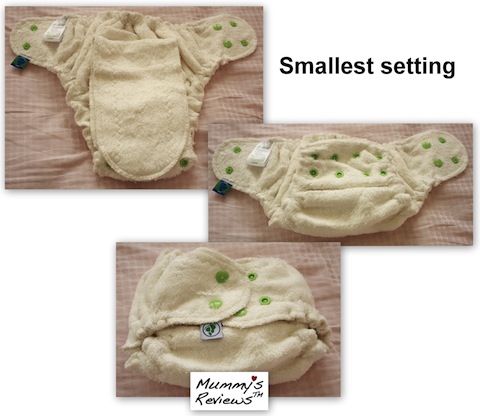 And here's the largest rise setting for a toddler: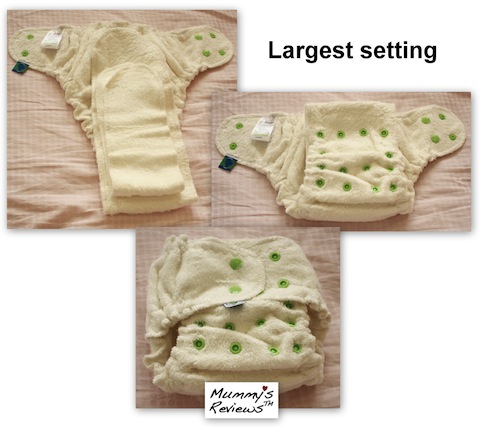 Now that I've got the diaper figured out, can't wait to try it on the boys!
Our Detailed Review
Rating Guide: ★ Oh no!     ★★ Poor     ★★★ Fair     ★★★★ Good     ★★★★★ Excellent!
(a) Prewash & Laundry: ★★★★ I prewashed the Bumboo fitted diaper by hand in warm water, and it started absorbing. The fabric looks delicate, so I use a laundry net during machine wash. It takes about 2 days to dry and remains relatively soft. The key is not to dry it for too long under very hot sun.
Warm wash is recommended to preserve the antibacterial properties of the bamboo fabric. I'm glad that manufacturer website mentions that the diaper can be washed in hot too.
(b) Ease of Use: ★★★★ When waterproofness is not a priority (for e.g. to maximise breathability at home), then simply use the Bumboo fitted diaper on its own. Once I've figured out how to fold the long diaper flap, it's easy during subsequent use.
I like to use it without a diaper cover, so it's quite convenient.
If you need waterproofness, then this diaper needs a cover, which means baby has to stay still for a few more seconds.
(c) Fit / Trimness: ★★★ The diaper has 3 to 5 layers of absorbent bamboo + silk fabrics, depending on how you fold it and whether you use the night-time insert. It looks puffy on Baby Jae, and fine on Vee.
It feels very comfortable and fits both Baby Jae and jumbo toddler Vee. I use it mainly for Jae because he needs more diapers.
The Size 2 diaper is wide, so the diaper cover needs to be wide enough to cover it completely. Of course, this isn't a concern when using it alone.
The ruffled hems at the back and thighs are very gentle, which I love!
Here's how the diaper looks on Baby Jae…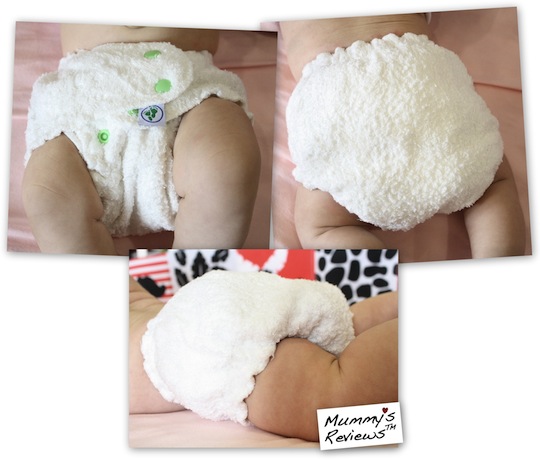 Here's the diaper on Vee (3 years old, 15+kg with a thick 20″ tummy)…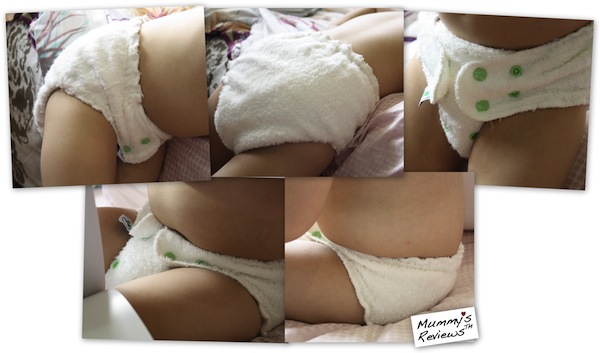 (d) Performance: ★★★★ When used with the night-time insert, this Bumboo fitted diaper is very absorbent. It's currently my favourite diaper after Baby Jae's morning bath, used with no diaper cover — to pamper his skin and to let his bums breathe.
After catching Jae's 1 to 2 pees, it still doesn't feel wet outside. I check by feeling the inside of the diaper after an hour, then change him if he has pee-ed.
I tested it on Vee (the super heavy wetter) during several long afternoon naps, by adding a stay-dry fleece liner and a pair of fleece shorts over the diaper. Great that the Bumboo has held in well!
The diaper has no stay-dry layer, so I prefer not to use it overnight on the boys' very sensitive skin.
Didn't manage to get Jae to do a big explosive poo in the diaper.
(e) Quality: ★★★★The sewing and workmanship is good. After many washings, the diaper isn't as silky soft as before, yet still relatively soft.
(f) Overall Value: ★★★★ Each Bumboo Fitted Cloth Diaper retails at SGD29, very close to the retail price in the U.S. (USD21.99). I think this is good value considering its luxurious feel and high absorbency.
—
What we like about it:
Unique bamboo + silk fabric, with no polyester
Still soft after many washes
Gentle ruffled hems at the back and thigh areas
Highly absorbent to last through super heavy wetter's long nap
What can be improved:
Indicate waist, thighs and rise dimensions (instead of weight only) for the different sizes
Clearer usage illustrations
—
Get Your Own (with Discount!)
To get your own Bumboo Fitted Cloth Diapers, visit LittleDreamer's Facebook page.
Special Treat: Buy 4 get 1 free (Retail price: SGD29) + Complimentary Registered Mail within Singapore
Validity Period: 2 weeks, until 19 April 2012
How to order: Please email LittleDreamer.ld [at] gmail [dot] com to place your order, and indicate that you're referred by Mummy's Reviews
—
P.S. Read more on cloth diapering.
—
Disclosure: I received 1 Bumboo Fitted Cloth Diaper for review.
Mummy's Reviews™ is a review site that receives compensation if readers make purchases from affiliate links (these are marked with an *). If we receive compensation from the companies whose products we review, this would be disclosed. These compensation help to maintain and grow Mummy's Reviews™. We test each product thoroughly and give ratings according to our experience with it. We are independently owned and the opinions expressed here are our own.