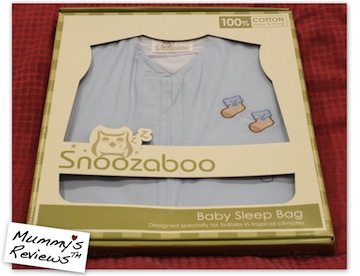 Here's our review on the Snoozaboo Baby Sleep Bag that Baby Jae uses, provided by Snoozaboo. It's specially designed for tropical climates such as Singapore and Malaysia, and meets the highest applicable standard for baby sleep bags.
About Snoozaboo Baby Sleep Bag
These are the main features of the sleep bag:
Fabric: 100% cotton
Conforms to the highest applicable standard for baby sleep bags – the British Standard BS 8510:2009
All fabrics and components are free from formaldehyde and toxic heavy metals such as lead and mercury
Country of origin: Designed and made in Malaysia
It's available in 3 sizes: 0-6 months, 6-18 months, and 18-36 months.
There're 2 tog ratings to choose from: 0.5 tog (24-27°C), and 1.0 tog (21-24°C).
First Impressions
I accepted the Snoozaboo Sleep Bag for review because it conforms to the highest applicable standard for baby sleep bags – the British Standard BS 8510:2009. This is very important to us.
Our room temperature in the day is usually a crazily-hot 30-32°C. When we turn on the air-conditioner, it's set to 25°C. So I chose a 0.5 tog Snoozaboo sleep bag in 0-6 months size, with a cute puppy embroidery.
The sleep bag looks super LONG!
There's a snap button to adjust the armhole smaller to fit younger babies.
The zip is also covered up with flaps so that it won't rub against baby's delicate skin.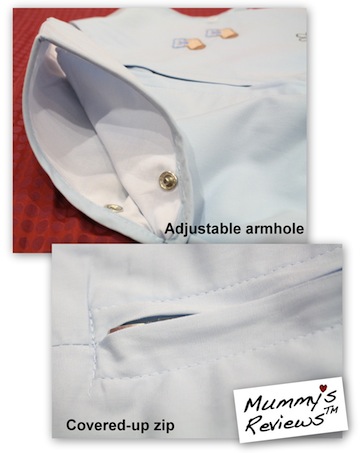 Our Detailed Review
Rating Guide: ★ Oh no!     ★★ Poor     ★★★ Fair     ★★★★ Good     ★★★★★ Excellent!
(a) Laundry: ★★★★ The sleep bag can be washed in warm at 40°C, which is what I normally do. I zip it up, turn it inside out, and place it in a laundry net before wash.
Usually, it takes 1+ day to dry, so Baby Jae can't reuse it within the same day. Having 2 sleep bags to rotate would be ideal.
(b) Ease of Use: ★★★ Generally, it's easy to put the sleep bag onto Baby Jae. However, the zip may catch the zip flaps if I'm not careful. The zip flaps should be smaller.
The jacket zip needs to be connected under the baby's neck, and then zipped down. When putting on the sleep bag in a dim room at night (and with ultra-sleepy eyes), it's hard to connect the zip.
When changing Jae's diapers, I simply unzip the sleep bag and leave it on. If he needs his bums washed after a poo, then I'd prefer to remove the sleep bag because it's very long and I don't wish to wet it.
(c) Fit: ★★★★★ The 0-6 months size is for babies weighing at least 4kg. Jae reached 4kg at 1 month old and the sleep bag fit him well. It's very roomy and allows him to move freely.
I like the snap button for adjusting the armhole smaller to fit younger babies.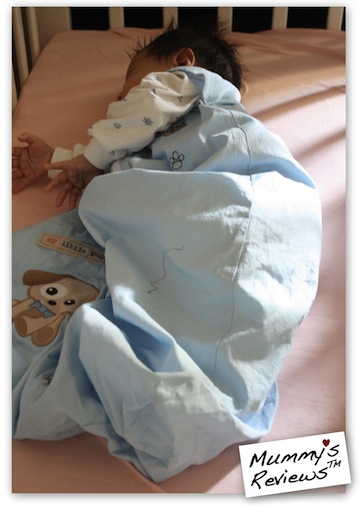 (d) Performance: ★★★★ Baby Jae loves to sleep in a WARM environment, completely opposite from Vee who loves it cold. When he sleeps in our room and the air-con is turned on, I'd let him wear the sleep bag.
This is safer than a blanket, which may cover him if he wriggles down. He started rolling over at 3 months 1 week old, so blankets are really not an option for him.
During naps, I prefer not to swaddle him up, so he wears a long-sleeved onesie plus the sleep bag (if the air-con is turned on). This 0.5 tog sleep bag is just nice for him.
Recently, we installed new ceiling fans and no longer need to turn on the air-con during afternoon naps, so Jae hasn't been using the sleep bag much. It'd be useful during travels when we sleep in air-conditioned hotel rooms.
For long hours at night, some newborns may sleep better with a snug swaddle instead of a sleep bag. There're 2 options that I can think of:
Use a swaddle with a suitable tog rating, or
Use a swaddle such as Love to Swaddle UP Lite plus a sleep bag (I've tried this. The swaddle allows Jae's arms to pass through the sleep bag. But it's a cumbersome combination.)
(e) Quality: ★★★★ The sewing and workmanship is excellent. After washing it over 2 months, it still looks as good as new. We haven't used it rigorously enough, so I'm giving it a conservative rating.
(f) Overall Value: ★★★★ Each Snoozaboo Baby Sleep Bag retails from SGD48.72 (or RM119), depending on the size and tog rating.
I think this is a reasonably-priced sleep bag that conforms to the British Standard BS 8510:2009. Suitable for babies and toddlers who don't need to be swaddled and need to be kept warm safely.
—
What we like about it:
Conform to the highest applicable standard for baby sleep bags – the British Standard BS 8510:2009
Choice of 0.5 tog, which is suitable for tropical climate
Made of comfortable and good quality 100% cotton fabric
Stays in shape after machine-wash and tumble-drying
Very roomy — allows baby to move freely
Snap button to adjust armhole to fit newborn
What can be improved:
Difficult to do up jacket zip at night. Try a 2-way zip? (Update: Snoozaboo replied that using a jacket zip prevents the zip slider from rubbing against baby's face. New side-zip styles will be introduced soon!)
Smaller zip flaps that won't be caught easily (Update: Newer batch of Snoozaboo Baby Sleep Bags has improved zip flaps design.)
—
Get Your Own (with Discount!)
To get your own Snoozaboo Sleep Bags, visit Snoozaboo.
Special Treat: 10% discount
Discount Code: MUMMYREV12
Validity Period: For 2 weeks, until 26 April 2012
—
Disclosure: I received a Snoozaboo Baby Sleep Bag for review.
Mummy's Reviews™ is a review site that receives compensation if readers make purchases from affiliate links (these are marked with an *). If we receive compensation from the companies whose products we review, this would be disclosed. These compensation help to maintain and grow Mummy's Reviews™. We test each product thoroughly and give ratings according to our experience with it. We are independently owned and the opinions expressed here are our own.