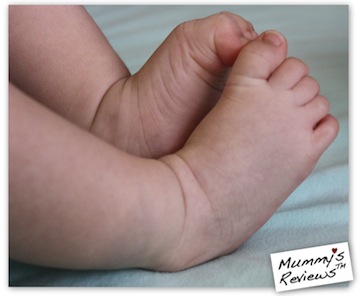 Hard to believe… My precious Baby Jae is already 6 months old! It seems only recently that I announced my pregnancy, and shared his birth story. In a flash, he's already crawling and chasing things round the room. Where did the tiny newborn baby go?!?
Here's what we've been up to over the months and his first developmental update:
Learning & Communication
Being a more well-informed second-time Mummy, I've involved Baby Jae in learning activities since he was a newborn.
Eye stimulation: From the early weeks, I offered him toys with black, white and red patterns, to develop his visual focus. These include toy mobile, rattles, fabric books, etc.
Flashcards: He'd be enrolled in Shichida class only next term, at about 8 months old. In the meantime, I've started him on home practice. When he was about 2 months old, I started showing him black / white flashcards (flashed slowly), to help him get used to seeing the cards and to lengthen his concentration span.
At about 3+ months old, he started sitting in the Bumbo seat for a few minutes of flashcards session with Vee daily. He loves it! At 4 months old, he started batting the cards excitedly during games to choose the answer. Now he starts to get bored if I repeat the cards too often, so I need to rotate the cards more frequently.
Note about flashcards: We follow the Shichida philosophy regarding flashcards. The main purpose of flashing here is to activate the right brain through showing lots of images, neither to impart knowledge nor to teach reading.
Senses play, eye training, etc.: For senses play, we play some guessing games. For eye training, I'd move a toy rattle in visual patterns to stimulate his eyes to follow quickly. It's quite amazing that his young eyes can zoom about that fast. And he listens in when I do speed reading exercises with Vee.
Baby sign language: After our successful experience using baby sign language with Vee, I've started to use basic signs with Baby Jae. First to introduce: Mummy, Daddy, baby, milk, more, sleep, and all done. It's great that Vee and hubby still remember the signs and are using them with Jae too.
He babbles with "Ah ah ahhh!" and other sounds through the day. When Daddy's back, he also stretches his hands out to be carried. And if he's feeling needy and sees me walk past, he'd cry!
Motor Skills
From the second month, I started giving him regular tummy time — usually in the mini-gym or cot with toys to grab and bite. In fact, he has tonnes of tummy time and independent play because I need to homeschool Vee and settle household stuff.
When he sleeps, he uses a stretchy swaddle that allows his hands to move, instead of swaddled tight with hands down. This probably helped in his motor development.
He's considered petite (7+kg) compared to his brother who was almost 10kg at 6 months old! Yet his motor skills are more advanced. He started rolling over by himself at 3 months 1 week old, and panicked me when he kept rolling over to sleep on his tummy.
At 4+ months old, he started sitting up with some support.
Then he started moving about in the cot to turn on the cot mobile whenever he wants to. I was bewildered at first when the cot mobile music turns on all of a sudden. Took me a while to realise that Jae could switch it on.
He's pushing himself into sitting position, but often falls and bangs his head. Ouch!
A few days before turning 6 months old, he started crawling to get what he wants. And EVERYTHING goes into his mouth. Oh gosh, I'm in a paronia state clearing the floor of small items left around by Vee. Time to set up the big VeeBee play yard asap to create a baby-safe crawling zone.
Behaviour & Social Skills
From the early days, I could feel a strong connection with Jae and understand what he needs. He also understands my cues very well. For instance, as a 1+ month old baby, once my hands are on his tummy to begin tummy massage, he'd start "squeezing" out the gas! And when I say "Shh!", he'd lay his head on the bed and try to sleep. I believe this is the wonder of doing Shichida pre-natal education with him — our connection has been built for many months way before he was born.
Jae is a very happy baby who smiles with his mouth wide open. He used to smile at everybody, but has recently started pouting at unfamiliar faces.
He has been easy-going, so we've been going everywhere with him — 2 trips to Singapore by car and several other local road trips. Most of the time outdoors, he's in a baby carrier, sleeping whenever he wants to.
However, he has decided NOT to fall asleep in the car seat, which gives me a headache for long rides. I need to nurse him to sleep, then try to transfer him into the seat. Very challenging!
Health, Diet & Feeding
Baby Jae was exclusively breastfed and first tasted water at 5.5 months old. He hasn't used the bottle teat before, and went straight to feeding through a spoon, or milk bottle without the teat.
He has a small appetite for breastmilk compared to chubby Vee, so the nurse suggested we introduce semi-solids at 5.5 months old. (Vee started at 6.5 months old.)
So far, I've been eating various foods, including bits of allergenic ones like soy and nuts, and his skin is fine. Hopefully he's spared from eczema and food allergies, which runs in the family.
Every morning for the past 2 weeks, he has been eating 1-2 tablespoons of organic rice cereal mixed with expressed breastmilk. He has finished every bit of it. Hope he'd enjoy eating like Vee.
This also means I need to express 1-2oz of breastmilk every night, for the following day's breakfast. To minimise washing, I express by hand, which takes about 15 minutes. Ha, super lazy, right?
He's been teething for a while and there're bulges at his gums, but no teeth yet. He enjoys a good teether and sometimes, the discomfort makes him grouchy at night.
His diaper area is very sensitive to poo, and the poor baby has gone through several episodes of yeast infection. This made cloth diapering very challenging in the early months when I'd to lather lots of strong diaper cream on him. At home, I try to use breathable fitted, prefolds and fleece diapers instead of PUL ones.
Sleep
Finally, I get to experience a non-high needs baby. From day 1, Baby Jae has been able to fall asleep easily or by himself when he's tired.
If he has gas in the tummy, he'd fuss very often when asleep. So I need to be diligent in burping him well or do tummy massage to help him pass out all the gas.
His feeds are between 3 to 5.5 hours at night. I actually don't wish for him to sleep through 12 hours a night yet because breastfeeding can help to put the menses away, and give the petite boy more nutrients to grow.
How to burp gassy babies — The Vertical Bounce: After experimenting with my 2 gassy boys, with some reading and advice by a nurse, this is the most effective way to burp a baby.

I hold baby close to my body, rub his back with some pressure, and bounce up / down.

If he doesn't burp, I'd sit him down and rub his tummy in circles, then hold him to me and bounce vertically again.

For more "power", I'd lay him tummy down, rub his back with my palms (in perpendicular direction to his spine) upwards / downwards along his spine. Then carry him and try burping with the vertical bounce again. Usually, this does the job.

Else, after baby rests for 1 sleep cycle (about 30-60 minutes), he'd probably fuss. I'd quickly carry him up and do the vertical bounce. After burping, he'd usually continue sleeping and can be put down.
Woo… thanks for reading through the long post! This is what happens when busy Mummy only updates once in 6 months. With Baby Jae crawling and starting on solids, I hardly have time to write. I'm still finding my momentum, so please bear with me.
And by the way, my laptop would be sent for repair and then traded in for a new one (yippee!), so that'd be a few weeks to get things settled again.
Here's wishing Happy Mother's Day to all you!
—
P.S. View more developmental milestones here
P.P.S. Our latest homeschooling updates are posted at MummysHomeschool.com HERE,