Singapore's very own minky cloth diaper is here! Today, I'm reviewing SgBum Minky Suede Cloth Diaper, provided by SgBum.
I've secretly been wanting to try a minky cloth diaper but didn't buy one because we already have a full stash. After 3 months of testing, I like SgBum Minky Suede Cloth Diaper for its fluffiness and keeping Vee feeling dry all night long.
About SgBum Minky Suede Cloth Diaper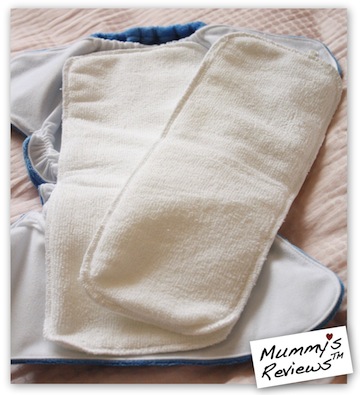 These are the main features of the cloth diaper:
Outer fabric: Mink (100% polyester) with TPU lamination
Inner fabric: Suedecloth (100% polyester)
Soaker: 2 microfibre inserts (80% polyester, 20% polymide) – 1 large, 1 small, 3 layers each
Closures: 4 front snaps. 1 row of 10 waist snaps.
Rise: 3 x 3 snaps
Country of origin: Designed by SgBum in Singapore, made in China
Currently, the diaper is available in 3 solid colours.
First Impressions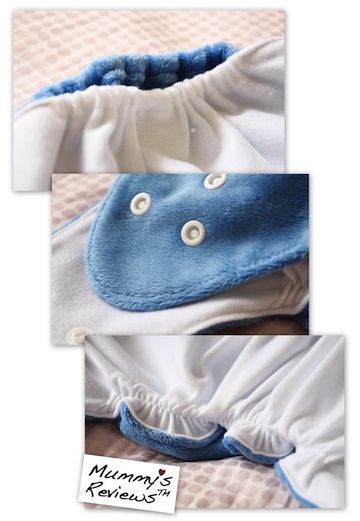 The minky outer layer feels soft and fluffy, just like a teddy bear. I like the ruffled hem at the thigh area too.
Overall, a refreshing addition to our current diaper stash.
Our Detailed Review
Rating Guide: ★ Oh no!     ★★ Poor     ★★★ Fair     ★★★★ Good     ★★★★★ Excellent!
(a) Prewash & Laundry: ★★★★ I prewashed the SgBum Minky diaper by hand in warm water once, and it started absorbing.
The label tab on the diaper indicates 2 dots, meaning warm wash, but no specific degree mentioned, so I assume it's 40 deg C. (As always, I'd prefer diapers that can specifically be washed in 60 deg C, at least occasionally. But these are rare gems!)
It dries in 1 sunny day.
(b) Ease of Use: ★★★★ The pocket opening and pocket are roomy enough for Daddy's bigger hands and double-stuffing for overnight use.
With 2 front snaps per side, it's easier to put on than cloth diapers with 4 snaps per side. (Velcro diapers are the easiest to put on.)
(c) Fit / Trimness: ★★★ On Baby Jae, this minky one-size diaper can fit him at about 3 months old and 6+kg, but it looks too overwhelming on him. I usually prefer Small or petite one-size diapers on newborns. (SgBum has a petite one-size diaper. Read the review here.)
Here's how it looks on average-sized 3+ months old Baby Jae…
On Vee, the diaper fits well on the highest rise and second largest waist setting. Only a little bit more room for growth. I "warned" Vee that he'd better start keeping his diapers dry when sleeping or all the diapers will be too small for him. Ha!
Here's how it looks on chubby 15+kg 3-year old Vee…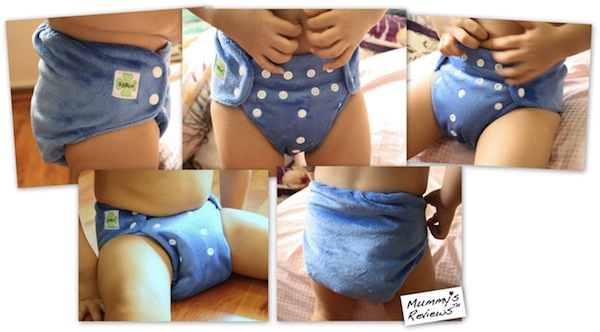 The elastics at the back and thighs are gentle without leaving red marks.
It's a comfy diaper that makes Mummy want to touch the fluffy bums more often. More of a "show-off" diaper than for going under pants or baby rompers because it isn't very trim when the rise is folded. Just let baby wear a top / dress over this diaper will do.
(d) Performance: ★★★★ For Vee's 2-hour nap, he tested this minky diaper with its 2 inserts. The diaper was soaked, with no leak.
For him overnight, I used the famous SuperDo insert (the only insert that works for my super heavy wetter) with this diaper, and the combination held up well overnight. As always, I love the superb stay-dry effect of suedecloth for overnight use, because the boys have very sensitive skin. Even Daddy praises it for its ease of use and effectiveness.
We didn't get to test the diaper with poo. For newborn with explosive poo, SgBum Petite or Grande Suede may be more suitable, with the thigh elastics sewn in double casing, instead of ruffled hems. (Read the reviews here.)
(e) Quality: ★★★★★ The sewing and workmanship is excellent. After many washings, the diaper still looks and performs as good as new. And I'm very happy with the suedecloth that doesn't pill.
(f) Overall Value: ★★★★ Each SgBum Minky Suede Cloth Diaper retails at SGD32, which is SGD4 more than the Grande Suede, likely due to the minky fabric.
It's a good choice for bigger babies or toddlers (with no explosive poo), for a fluffy twist to the diaper stash. It can be used overnight when the appropriate inserts combination is used.
—
What we like about it:
Gentle leg and back elastics that leave no red marks on chubby toddler
Love the minky feel and ruffled hems
Stay-dry suede that doesn't pill — suitable for long hours of use
What can be improved:
Indicate specific washing temperature on label tab and packaging, instead of 2 dots, to help new users
"Easy-to-use closures like disposables" on packaging and website should be for diaper with velcro tabs instead of snaps
Introduce prints in future?
—
Win Your Own — CLOSED
To thank supporters of Mummy's Reviews™ Parents Club, this Giveaway is EXCLUSIVE to Parents Club members. TWO (2) lucky members will win one SgBum Minky Suede Cloth Diaper worth SGD32 each!
How to Participate
1. Join Mummy's Reviews™ Parents Club here or below (existing members counted)
You're in the club only if the emails you receive from Mummy's Reviews has a big Parents Club logo right on top.
2. Fill in the online form HERE
Other Information
This Giveaway is open to subscribers with a mailing address in Singapore or Malaysia.
If you're a winner, the colour / design of your prize depends on the stock available.
It will run until 1 June 2012 (Friday) 2359hr (GMT +8).
The usual Giveaway Terms apply.
Submit your entry now and good luck!
Winners Announcement
Thank you to all Mummies and Daddies who have participated in this Giveaway. The winners are …
Sherlyn who chose "Minky Snap Spring Bouquet"
nanie who chose "Minky Snap Blue Atoll"
Congratulations to you! You'd receive an email on how to claim your prize.
—
Get Your Own (with Discount!)
To get your own SgBum cloth diapers, visit Mummytoon's Shop (SgBum's sister retail website).
Special Treat: Additional 15% discount on existing cloth diaper promotions
Discount Code: PRMTMR05
Validity Period: 14 May 2012 to 15 June 2012
You may also check the price at Amazon here: 
SgBum Minky Suede Cloth Diaper
*
—
P.S. Read more on cloth diapering here.
P.P.S. To stay updated on latest cloth diaper and baby product reviews, join Mummy's Reviews™ Parents Club now:
—
Disclosure: I received these items from SgBum for review — Minky Suede Cloth Diaper and Fitted Diaper. The fitted diaper doesn't fit the boys well, so it isn't reviewed here. SgBum is also a banner ad sponsor at the time of publishing this review.
Mummy's Reviews™ is a review site that receives compensation if readers make purchases from affiliate links (these are marked with an *). If we receive compensation from the companies whose products we review, this would be disclosed. These compensation help to maintain and grow Mummy's Reviews™. We test each product thoroughly and give ratings according to our experience with it. We are independently owned and the opinions expressed here are our own.