This article is part of Vee's developmental milestones update series. It summarises my parenting approach, Vee's progress, challenges we face and how we overcome them.
Inspiration this month:

Focus on building right brain learning skills and imparting values. This will set the foundation for efficient and effective lifelong learning.
Vee, the elder brother, has grown up another notch after 3 months, and I've observed many positive changes in him. Be prepared, this is a long update…
Learning & Communication
Our homeschool continues to be led by The Shichida Method and Montessori Method, which complement each other very well. Our focus is still on The Shichida Method, because I believe that with right brain learning skills such as photographic memory and speed reading, the child would be able to learn anything easily in future.
母子一体感: As part of our Shichida home practice, we play senses games regularly. I notice that we've very strong telepathy with each other. A recent example: we were snuggling together before nap, and he said that if he slept well, we could do painting after that. I was completely surprised that he knew exactly what was on my mind! And we haven't done painting in a long while since Baby Jae arrived.
This is probably the state mentioned by Shichida — when the mother and child is bonded as one unit (母子一体感), which is essential for the right brain to develop well. And when this state is reached, the child would be able to behave well and develop his innate abilities.
Montessori: After Practical Life, we've started doing Sensorial activities. Vee's a kinesthetic learner who enjoys touching (a lot!), so the Montessori materials suit him very well.
He has learnt the basic classroom rules such as asking for a lesson before working with new materials, being gentle with the materials, and putting his work away when done. I love how the method builds self-discipline in a young child. I've seen my son blossom into a more mature boy over the months, and being an enthusiastic and satisfied learner. (Read the review of the training course I'm attending here.)
Here's our Practical Life shelf with activities such as lacing, turning bottle caps, tongs, dressing up (inside the fabric book), dry pouring, matching cards, pegging, sweeping and dusting: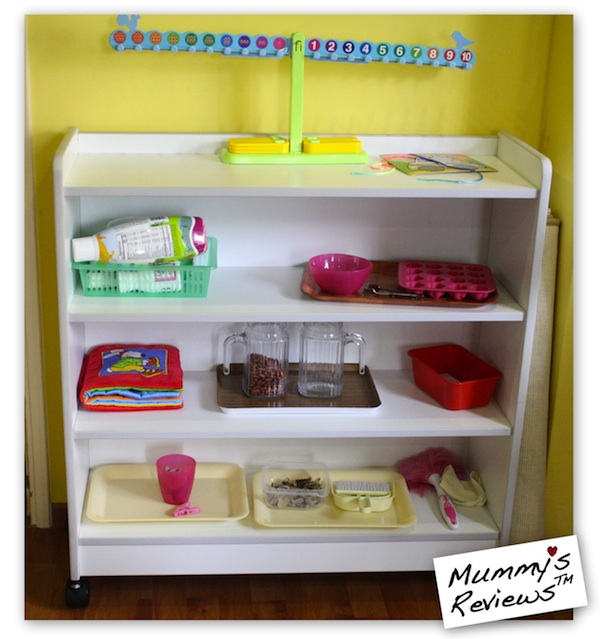 (The math balance right on top should be on the Math shelf, which isn't set up yet.)
And here's the Sensorial shelf with materials such as the Pink Tower, Red Rods, Knobless Cylinders, Geometric Presentation Tray, and Brown Stairs: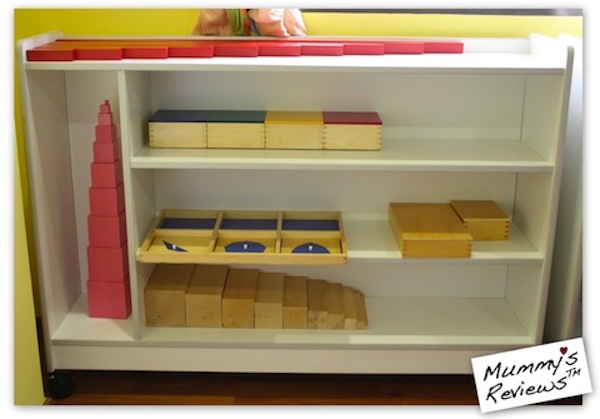 The Montessori set-up indeed creates a very welcoming learning environment. Even I feel happy to be in the classroom every day.
Music: Vee has completed one term of Kindermusik classes with Daddy, and the teacher says he's ready to move a level up. He started joining songs with similar tunes together. For instance, using "Pease Porridge Hot" melody to sing "Baa Baa Black Sheep". "你是懒惰虫" (You're a lazy worm) ended with "Thousand-Legged Worm" He finds doing this amusing! And he started making up his own "funny" songs.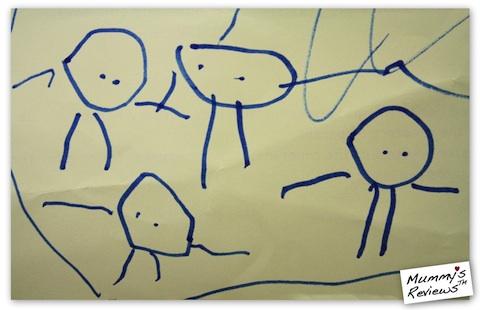 Art: He enjoys painting (though we do it once in a blue moon), and drew our family with super-cute stick figure! We did sand art and he loves it too. And recently, he's really into pretend cooking with play dough.
Jigsaw Puzzles: For a period of time, Vee-the-jigaw-lover was "obsessed" with a 24-piece safari puzzle by ELC. He did it several times a day until he could complete it within 5 minutes. Then he moved on to complete this Melissa & Doug Underwater 48-Piece Floor Puzzle*. Now he has mastered a Winnie-the-Pooh hexahedron (12 cubes) puzzle, and even copied me in flipping each row to reveal a new picture. I loved my wooden hexahedron puzzle as a child! You can probably see why I love homeschooling, it's like reliving childhood all over again. So much fun.
Reading: He started recognizing Chinese characters quite some time back. Then he started reading simple Bahasa Melayu by working out some basic phonics himself from the Paul dan Mary reader series mentioned in the last update here.This week, he surprised me by asking, "Is this 'big, bigger, biggest'?" in a book. Spot on.
He also started using his fingers to run through words as he recites from memory. This confirms exactly what the Shichida school's principal mentioned in class 2 years back — that we simply need to keep reading a big variety of books to the child, and he'd eventually match the sounds to the words.
Currently, I'm learning phonics from the English album in Karen Tyler's Montessori course. After preparing the material, I'd finally be able to teach Vee.
Why I haven't been eager to formally teach Vee to read phonetically: from 0-3 years old, it's time to focus on developing the powerful right brain, which thinks in images not words. I wish to make full use of this window now, because I know Vee will eventually read. So far, it's been amazing how fast his right brain picks things up, while he isn't "distracted" by words that may "slow" him down in recitation, instant memory, and imaging skills.
 National Geographic Readers: Great Migrations Amazing Animal Journeys*: Thanks to Vee's cousin in school, we get to order books from the Scholastic Book Club. We started reading more non-fiction books such as this on the migration journey of the zebra, walrus, and Christmas Island red crab. Vee enjoys discussing the lessons we learn from the book. This book led us to the importance of recycling and we set up a paper recycling bin in the room.
My Big Book of the Amazing Malaysia Atlas by Kohwai & Young: This is a very big book that introduces the various Malaysian states. As a bonus, there's also a section on Singapore.
Motor Skills
Swimming: Re-introducing swimming after a few months' break was challenging. He wanted to cling on to Daddy in the pool. Recently, he's slightly more confident, and willing to try swimming "like a fish".
Behaviour & Social Skills
Usually, he plays nicely with others. But for one period, he became very rough to other children. Then I realized that he was upset with the way I punished him once, so his behaviour changed completely. After I apologised to him using The Shichida Method, he returned to his old self immediately!
Mummy's lesson learnt: always use positive discipline, no matter how emotionally challenging it is.
Nowadays, he's cooperative and sweet on most days, yet tries to be cheeky at times. He understands clearly what he should or shouldn't do, but will test our limits to see if we mean what we say.
Diet & Feeding
This fit boy is already 16kg. In contrast, I was only 16kg at Primary 1!
Vee has never been a fussy eater. In fact, his appetite is huge and sometimes I've to stop him from stuffing himself silly with food like rice when outdoors. Yes, I limit his intake of carbohydrates (especially refined carbo) and load him with vegetables, beans/peas, eggs, fruits and soup. By the way, refined carbo refers to stuff like white rice and white bread.
Yet he has his quirky preferences due to his hypersensitivity for taste and texture: loves pumpkin soup but dislikes steamed pumpkin. He says it's sticky.
Loves soup but won't finish the last bit if there's powdery sediments.
Prefers crunchy food like cucumbers to smushy stuff like porridge. That's why he hasn't eaten porridge since 12 months old.
Loves noodles / pasta lightly fried with vegetables, but MUST separate the vegetables from plain rice.
He has learnt that prunes are good for bowel movements, but will wait until feeling constipated before eating them. Urgh!!!
Potty Training
He whined for cloth diapers when I offered him training pants for nap. He said he'd wet himself.
Then he whined for underwear when I offered him training pants for a whole-day excursion. He said he'd wet the training pants. Can you catch the 3-year old's logic?!? Never mind if you can't cos I can't too.
Nowadays, he sleeps very soundly outdoors and pee-ed once in the car seat and once in the stroller. To my horror! Imagine all the washing I'd to do! He was soaked in wetness yet didn't feel it until he woke up. Definitely still a long way from staying dry when asleep.
Sleep
Finally, a BIG milestone! I observed that he's ready to sleep by himself (thanks to the Montessori course for sharpening my observation skills). That night, we shifted his mattress to another corner of the room, about 2 metres from our mattress. We also brought him to buy vehicles wall stickers for his special sleeping corner. It worked!
Initially, he'd climb onto our bed a few times in the middle of the night. We'd always carry him back to sleep on his mattress. Nowadays, he usually sleeps through the night on his own! Indeed, when a child's emotionally ready, no sleep training is needed.
When he wakes up earlier than me, he'd fix jigsaw puzzles or read books for up to 1 hour until his tired Mummy is awake.
With Baby Jae starting on solid foods and being more mobile (pulling up to stand at 6.5 months old?), I'm much busier. I'm very thankful that Vee is more independent and well-behaved on most days. I'm enjoying his cute 3-year old behaviour while it lasts — the way he says "pay with PayDough" with the "l"s missing; trying his very best to balance on 1 foot, and thinking that it's another day after waking up from his nap. Love you, son!
—
P.S. View more developmental milestones (from 8 months old onwards).
P.P.S. Our latest homeschooling updates are posted at MummysHomeschool.com HERE,
—
Disclosure: Mummy's Reviews™ is a review site that receives compensation if readers make purchases from affiliate links (these are marked with an *). If we receive compensation from the companies whose products we review, this would be disclosed. These compensation help to maintain and grow Mummy's Reviews™. We test each product thoroughly and give ratings according to our experience with it. We are independently owned and the opinions expressed here are our own.