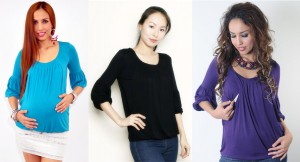 Annee Matthew has a range of maternity and nursing wear made from bamboo and I'm privileged to try out the Jenna Bubble Top featured above. Oooh… it's super soft and cooling!
About Annee Matthew

Here's a little background on Anne Matthew:
Style: Ranges from casual chic to classy comfort for every mood and move
Function: All styles have discreet nursing access and most are designed to be worn while pregnant, for easy breastfeeding and beyond. The designs are innovative, fashionable and suitable for all phases of a mother's life.
Where to buy: Singapore, Malaysia, United States, France, United Kingdom, Canada, Japan, Australia
First Impressions
Ever since Baby Jae arrived, I've been shopping for stylish and comfortable nursing wear. The best is if it doubles up as maternity wear because my "factory" is still open for production.
When Annee Matthew approached me for a review, I was eager to try her range made from bamboo fabric. After receiving my dimensions and preferences, she sent me a Jenna Bubble Top in Honeysuckle — one of my favourite colours for clothings.
The fabric is incredibly soft and smooth, with a bit of stretch. The label states 60% bamboo, 35% modal and 5% spandex though the website says 96% bamboo and 4% spandex.
The colour is vibrant and makes me want to wear it outdoors straightaway!
Based on Annee Matthew's sizing guide, I should be a size XS. Since this top is only available from S to XL, I was sent an S.
It is made in China — no surprise here because China is a huge producer of bamboo fabrics.
Our Detailed Review
Rating Guide: ★ Oh no!     ★★ Poor     ★★★ Fair     ★★★★ Good     ★★★★★ Excellent!
(a) Laundry: ★★★★★ The top is machine washable at 40°C, very convenient. For my outdoor clothes, especially stretchy ones like this, I prefer to handwash them in cold water. I also dry it flat on a horizontal rack to retain its shape.
(b) Fit & Comfort: ★★★★ Size S is a wee bit too loose at the neckline because I'm very petite with narrow shoulders. When I carry Baby Jae, he likes to pull my clothes, so I've got to pull it back often. Wish it came in XS…
Otherwise, the top is very comfortable and cooling, even with long bubbly sleeves. All thanks to the bamboo fabric. Certainly looking forward to continue wearing this top during the next pregnancy too.
(c) Ease of Use: ★★★★★ To nurse, simply push the front centre layer to the side — very easy and discreet.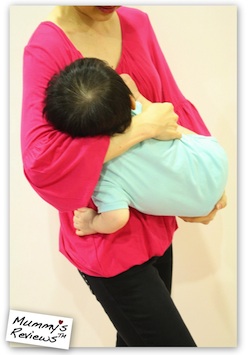 (d) Quality: ★★★★ The sewing and workmanship is excellent. I've worn it several times, not enough to judge its long-term quality though.
(e) Overall Value: ★★★ Each Annee Matthew Jenna Bubble Top retails at SGD79, exceeding my budget for a maternity-cum-nursing top because I need a wardrobe of them for several years! With the SGD25 discount below, the price would be about right.
This is certainly a stylish and comfortable maternity-cum-nursing top that I like to wear outdoors.
—
What we like about it:
Soft and comfortable fabric that's machine washable
2-in-1 for maternity and nursing
What can be improved:
Ensure that fabric content stated on website and clothes label are consistent
Make it available in XS for petite Mummies
—
Get Your Own (with Discount!)
To get your own stylish maternity and nursing wear, visit Annee Matthew.
Special Treat: SGD25 discount
Discount Code: OFF25
Validity Period: Until 31 July 2012
—
P.S. Read more reviews on these bamboo items that we love:
—
Disclosure: I received a Jenna Bubble Top from Annee Matthew for review.
Mummy's Reviews™ is a review site that receives compensation if readers make purchases from affiliate links (these are marked with an *). If we receive compensation from the companies whose products we review, this would be disclosed. These compensation help to maintain and grow Mummy's Reviews™. We test each product thoroughly and give ratings according to our experience with it. We are independently owned and the opinions expressed here are our own.