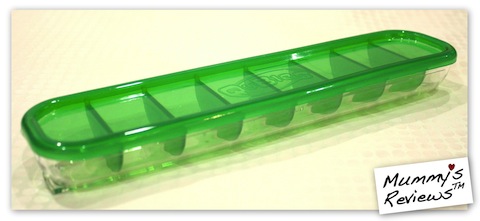 Qubies have made freezing and storing baby food a breeze. I received samples provided by New Baby Singapore to review, and Baby Jae has been eating food cubes made using Qubies for almost 2 months.
Why freeze baby food?
When Vee was a baby, I cooked fresh baby food for him every day. He was the only child then, so it was manageable.
With the addition of Baby Jae now, I'm busy to my neck and decided to freeze baby food. These are the benefits:
Cook anytime when I'm free. For example, if the kids are peaceful for an extra 10 minutes after breakfast, I'd quickly wash the broccoli, break it into smaller pieces, and place it in the electric steamer. When it's ready, just freeze in bulk. Another extra 5 minutes? I'd cut the avocado, mash it up then freeze. No time to cook? It's ok, there's ready food in the freezer.
Super fast to heat up and serve. Every evening, I'd mix and match a few baby food cubes for Baby Jae's lunch and dinner for the following day. Store them in small containers, and thaw them in the refrigerator overnight. Before meal time, it takes only several minutes to heat it up using an electric warmer. No sweat!
Economical use of expensive organic ingredients. For instance, 1 organic apple can cost RM5 over here. Steaming 1 apple a day to feed a little bit to baby will break the bank! Steaming 2 apples to last 1 week makes more money sense.
The invitation to review Qubies came at the perfect time.
About Qubies
These are the main features of Qubies:
Tray: Free from BPA, phthalate and PVC
Lid: Silicon
Volume: 8 x 30ml cubes
Country of origin: Designed in Australia. Made in China
They're available in 3 colours — Aqua (blue), Lime (green) and Pink.
This clever upside down ice cube tray has dividers moulded on the soft silicon lid! This means I can simply pour the food into the base rather than spoon into individual compartments. Cubes can be released first time, every time!
Qubies has a max fill line to prevent overfilling and create perfect 30ml cubes.
They're slim and stackable to save precious freezer space, and can be used to freeze just about anything needed in 30ml portions.
Our Detailed Review
Rating Guide: ★ Oh no!     ★★ Poor     ★★★ Fair     ★★★★ Good     ★★★★★ Excellent!
(a) Ease of Use: ★★★★★ The max fill line is very useful. After preparing the food, I'd scoop it into the Qubies and use a fork to level it to make sure it's below the line.
It's easy to align the soft silicon lid to the base, before covering it.
So far, we've used the Qubies on these fruits and vegetables:
Apple
Avocado
Banana
Broccoli
Cabbage
Cauliflower
Papaya
Pumpkin
Prune
Sweet potato
The real test is in releasing the food cubes. Here's what I do:
Remove Qubies with frozen food from the freezer
Twist it using both hands — This is rather easy because of the Qubies' slim design.
Carefully peel off the silicon lid — At this stage, I'd have a clean spoon on hand to help ensure the food cubes remain in the tray, in case they stick to the lid.
Transfer the cubes into a freezer-safe container — I prefer to use containers than freezer bags because they're reusable and easy to organise. I'd use the same clean spoon to help slide the cubes down.
Out of perhaps 300 food cubes over nearly 2 months, only 3 have overshot and landed on the table-top. 2 when I was learning how to use it, and 1 just today because I was trying to watch the kids, the food and the camera all at the SAME time! That's why there're only 7 instead of 8 prune cubes in the picture below.
Overall, it's well-designed and easy to use.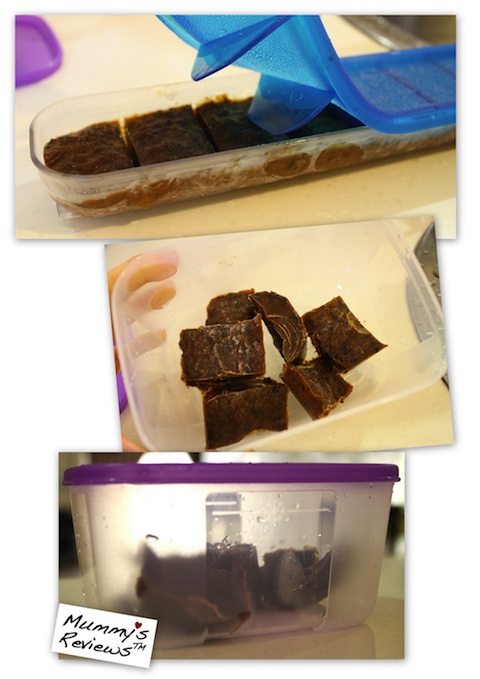 (b) Washing: ★★★★★ Both the base and silicon lid are very easy to clean. Just a normal sponge and dishwashing detergent will do the job. For "oily" food such as breastmilk, using warm soapy water would clean it well.
(c) Quality: ★★★★ I like that the Qubies is BPA-, phthalate- and PVC-free. In my ideal world, the base would be made of glass. But it won't be twistable and the cubes would be hard to release. To freeze food cubes, I guess there's no running away from some form of plastic.
I've accidentally dropped an empty Qubies onto the floor and it survived the fall well. No such luck if it were made of glass!
(d) Overall Value: ★★★ Each Qubies retails at SGD29.90. In Australia, it's at AUD19.95.
Currently, I'm freezing 6 types of baby food to mix and match over 1 week. On a peaceful day, I can prepare 3 foods to freeze, so 3 Qubies is just right for me. Initially, I tried surviving with only 1 but needed to "queue" the puree in the fridge to wait for the Qubies.
Later on, I'm planning to freeze homemade pasta sauce and soup stock. Some Mummies have also used Qubies to freeze breastmilk in 30ml cubes.
The product is very good, just that I'd prefer its price to be more affordable, especially when 2 or more are usually needed.
Qubies is a versatile and simple way of freezing food cubes for storage. Perfect for the busy Mummy!
—
What we like about it:
Simple way to freeze food cubes for storage
Very easy to use and wash
What can be improved:
Indicate what material the Qubies base is made of
Offer bulk discount to help ease the wallet
—
Win Your Own – CLOSED
To thank supporters of Mummy's Reviews™ Parents Club, this Giveaway is EXCLUSIVE to Parents Club members. THREE (3) lucky members will win one Qubies worth SGD29.90 each!
How to Participate
1. Join Mummy's Reviews™ Parents Club here or below (existing members counted)

2. Fill in the online form HERE
Other Information
This Giveaway is open to subscribers with a mailing address in Singapore.
If you're a winner, the colour / design of your prize depends on the stock available.
It will run until 13 July 2012 (Friday) 2359hr (GMT +8).
The usual Giveaway Terms apply.
Submit your entry now and good luck!
Winners Announcement
Thank you to all Mummies and Daddies who have participated in this Giveaway. The winners are …
Peiling who chose "Aqua"
Joice Lee who chose "Aqua"
Linda Chan who chose "Lime"
Congratulations to you! You'd receive an email on how to claim your prize.
—
Get Your Own (with Discount!)
To get your own Qubies, visit New Baby Singapore, currently the only stockist in Singapore.
Discount details:
Special Treat: 10% discount
Discount Code: MVPROMO
Validity Period: Until 1 August 2012
How to order: Visit New Baby Singapore's Facebook page, send a message indicating your order and the discount code
—
P.S. Read more on Introducing Solid Foods to Your Baby.
P.P.S. If you've participated in Giveaway #25 (SgBum Minky Suede Cloth Diapers), please check the Winners Announcement section here.
—
Disclosure: I received 3 Qubies from New Baby Singapore for review.
Mummy's Reviews™ is a review site that receives compensation if readers make purchases from affiliate links (these are marked with an *). If we receive compensation from the companies whose products we review, this would be disclosed. These compensation help to maintain and grow Mummy's Reviews™. We test each product thoroughly and give ratings according to our experience with it. We are independently owned and the opinions expressed here are our own.