Looking for baby head support and more? Here's a review of Snuggin Go provided by SMT Distributors. This innovative positioner provides complete and comfortable support for baby, helping him sit and breathe right in strollers, car seats and other seating devices.
About Snuggin Go
The Snuggin Go is constructed of memory foam which displaces with just four pounds of pressure. The shoulder bar crosses behind baby's shoulder blades and gently pushes the chest forward, opening the airway. It adjusts up and down for a custom fit.
The base bar cradles baby's bottom, reducing slouching, and the side bars support the shoulders to prevent rolling.
These are the main features:
Outer fabric: 100% polyester
Fill: 100% polyurethane foam
Frame: 100% polyethylene plastic
Country of origin: Designed in the U.S.A. by a neonatal nurse practitioner. Made in China
They're available in several colors. The bigger Snuggin Go Too is designed for toddlers and preschoolers.
View a video of Snuggin Go at Youtube here.
First Impressions
Just before our road trip to Singapore in March, SMT Distributors invited us to try out Snuggin Go and Snuggin Go Too. The online reviews by other parents seemed favourable, so I decided to give them a try. As for our usual long trips, the boys MUST nap, else I'd go bonkers trying to entertain overtired kids for 4+ hours straight, in a claustrophobic space.
I chose pink to match the fabric colours of our car seats and strollers. Pink for boys? Well, Vee LOVES red, so our stuff are usually in red, pink and purple. Ha…
The Snuggin Go comes with a reusable plastic carrier. I'd prefer the carrier to be made of fabric or cardboard instead, more environmentally-friendly and less risk of phthalates.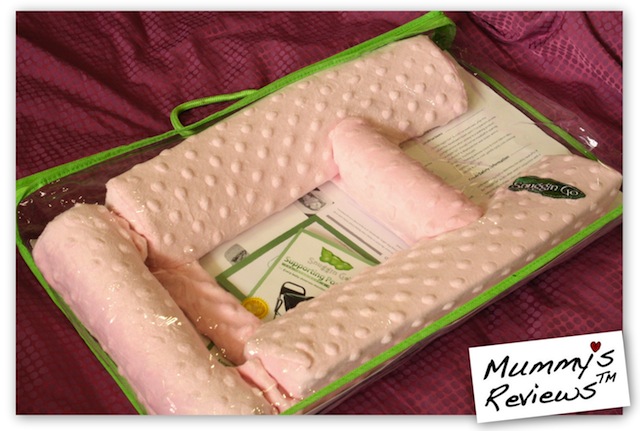 Each Snuggin Go is made of super cushy memory foam, which I couldn't help squeezing repeatedly. For years, I've loved sleeping on memory foam pillows!
The cover is made of soft and comfortable dotted minky fabric.
The horizontal shoulder bar can be adjusted up and down to fit the child's height.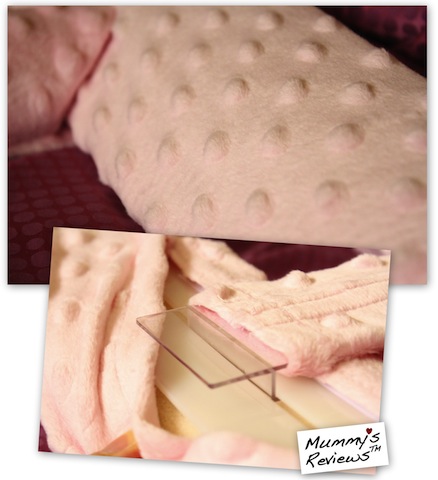 Our Detailed Review
Rating Guide: ★ Oh no!     ★★ Poor     ★★★ Fair     ★★★★ Good     ★★★★★ Excellent!
(a) Laundry: ★★★ After using both Snuggin Gos for a few months, I finally got down to washing the covers. I spent several minutes figuring out how to remove them, then hand washed in cold water.
Putting the covers back was more challenging, especially when I tried to do that in semi-darkness when the kids were asleep.
(b) Ease of Use: ★★★★ This depends on the seat belt design of the car seat (or other seating devices).
For our infant car seat, it's very easy to fit the Snuggin Go in. Simply lay it on top.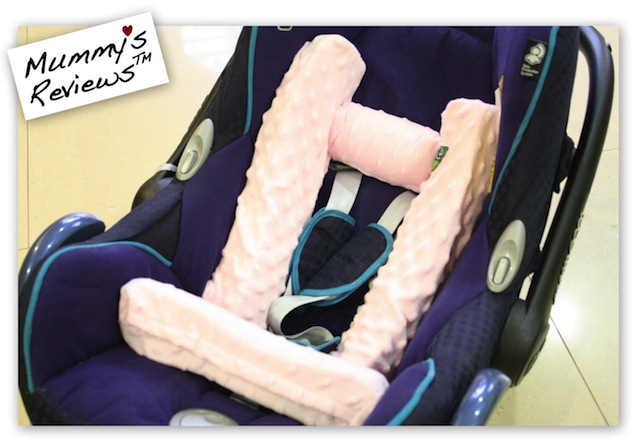 For our booster car seat, I needed to undo the seat belt from the bottom, fit in the Snuggin Go Too, then redo the seat belt. I racked my rusty brains a little for the first time. After I figured out how to undo the seat belt, it's quite easy.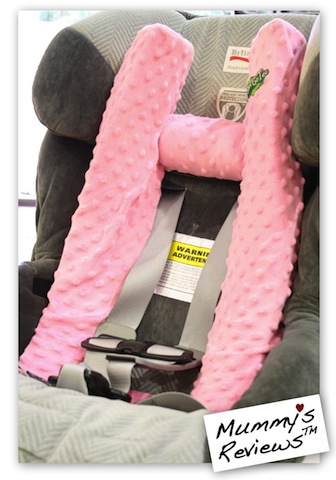 (I babywear Baby Jae outdoors and he rarely sits in the stroller. And Vee fits into the stroller snugly, so we didn't test the Snuggin Go with the stroller.)
(c) Performance: ★★★★★
– Snuggin Go: When Baby Jae first tried it with the car seat at 4+ months old, he sat in it snugly and well-supported.
I love the extra base bar that cradles the bottoms to prevent slouching, especially useful for a small baby.
During the trip to Singapore in March, Baby Jae refused to fall asleep in the car seat. I'd to carry, nurse, then transfer him into the seat with the Snuggin Go. He slept well-supported for 2.5 hours, what a bliss!
But that was about the last time he agreed to sleep in the car seat, with or without Snuggin Go. Duh…
Soon after, Baby Jae started sitting up straight and wanted to do so even in the car seat. So it's great that the Snuggin Go allows him to sit up straighter while he plays.
Now at 8+ months, he's quite petite at about 8kg and still uses the Snuggin Go.
To maximise the benefits of the Snuggin Go, it's best to use it on sleepy newborns, straight upon leaving the hospital. The cheaper infant head positioner we already have only provides some support for the head, but none for the neck, the sides of the body or under the knees. Snuggin Go is soooo much better!
– Snuggin Go Too: Vee said that the car seat is more comfortable with it. By the way, the Britax Boulevard booster seat is already very comfortable by itself — it's like the Rolls Royce of car seats!
For several months, Vee has been sleeping very often in the car seat during road trips, so the Snuggin Go Too comes in useful. He sits up rather straight, and his head is well-supported and lifted up.
Sometimes when he sleeps, he'd deliberately let his head fall forward. Whenever I prop his head backwards, he'd be properly supported.
(d) Quality: ★★★★ The sewing and workmanship is excellent. But I've only washed the covers once and used the positioners for a few months, too short to judge the long-term quality.
(e) Overall Value: ★★★★ Both Snuggin Go and Snuggin Go Too retail at SGD59.90 each. In the U.S., the suggested retail price is USD37.95 and USD38.95 respectively.
The Snuggin Go is an excellent solution for babies and children who have yet to fit well into their strollers, car seats or other seating devices. It's also for children with spinal or other medical conditions that require a supportive positioner.
—
What we like about it:
Well-designed to provide complete support for children in seating devices
Made of cushy memory foam and comfortable fabric cover
The cover is machine washable
What can be improved:
It's quite challenging removing and putting back the covers for washing
Reusable carrier: I prefer fabric or cardboard over plastic
Fabric cover: I prefer natural fabrics such as cotton and bamboo, especially for young babies
—
Win Your Own — CLOSED
To thank supporters of Mummy's Reviews™ Parents Club, this Giveaway is EXCLUSIVE to Parents Club members. THREE (3) lucky members will win one Snuggin Go / Snuggin Go Too worth SGD59.90 each!
How to Participate
1. Join Mummy's Reviews™ Parents Club here or below (existing members counted)

2. Fill in the online form HERE
Other Information
This Giveaway is open to subscribers with a mailing address in Singapore.
If you're a winner, the colour / design of your prize depends on the stock available.
It will run until 3 August 2012 (Friday) 2359hr (GMT +8).
The usual Giveaway Terms apply.
Submit your entry now and good luck!
Winners Announcement
Thank you to all Mummies and Daddies who have participated in this Giveaway. The winners are …
Yiwen who chose "Snuggin Go – Camel"
Hui San who chose "Snuggin Go Too – Green"
Siew Chern who chose "Snuggin Go Too – Dark Pink"
Congratulations to you! You'd receive an email on how to claim your prize.
—
Get Your Own (with Discount!)
To get your own Snuggin Go or Snuggin Go Too, visit SMT Distributors.
Special Treat: 15% discount
Discount Code: MUM-0123
Validity Period: Until 31 October 2012
Live outside Asia? You may also check the prices at Amazon here:
—
Disclosure: I received 1 Snuggin Go and 1 Snuggin Go Too from SMT Distributors for review.
Mummy's Reviews™ is a review site that receives compensation if readers make purchases from affiliate links (these are marked with an *). If we receive compensation from the companies whose products we review, this would be disclosed. These compensation help to maintain and grow Mummy's Reviews™. We test each product thoroughly and give ratings according to our experience with it. We are independently owned and the opinions expressed here are our own.