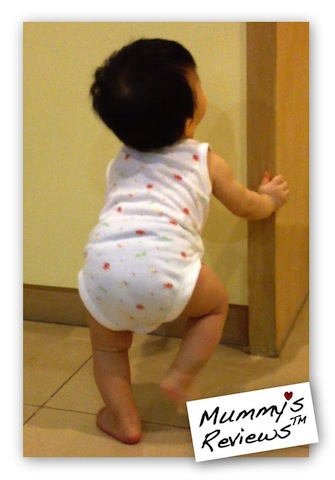 Another 3 months have flown by! Here's Baby Jae's developmental update:
Health, Diet & Feeding
He's still breastfed by latching on directly, about every 3 hours in the day and several times at night.
Thankfully, he loves to eat his 3 meals a day. He doesn't even spit out slightly bitter vegetables, phew!
Breakfast: 3 food cubes + rice cereal. Lunch: 2-4 food cubes + fruits / finger food. Dinner: 3 food cubes + porridge + fruits / finger food
He enjoys eating our table food too, so I simply squash bits of food with my fingers and feed him or put them on his food tray.
He loves feeding himself and is now very good at it. This buys me time to wash dishes and prepare more frozen food cubes with Qubies. His current favourite finger food is Kallo's Organic Rice Cake. I break it up into tiny pieces and he happily helps himself.
Though he enjoys eating, he's really petite, perhaps like his tiny mummy. 8.5kg today.
After teething for months, 2 bottom front teeth finally erupted. But there're many more to come, so he's especially grouchy at night and wants to latch on frequently.
Potty Training
We've started pre-potty training (read detailed tips here), though less consistent compared to Vee's time. I only plop him onto the potty chair occasionally, yet we've had frequent successes. Just this morning, he did a poo and pee in it after I whistled for a short while. Before bed, he pee-ed almost immediately upon sitting on it! I'm love poop-free cloth diapers. 🙂
Sleep
It's been a roller-coaster ride. For a period, Jae fussed almost EVERY hour. Either teething, burping or both. Then he got better, and fussed every 2-3 hours. Then the frequent fussing is back again!
I've sort of given up walking to and fro the bedrooms. So I put a mattress next to his cot in the room. On fussy nights, I simply camp there.
To improve his sleep, I've been trying Traditional Chinese Medicine (TCM) acupressure with some success, especially with naps. He usually sleeps through 2 x 1.5 hours naps each day. More on the acupressure method review next time.
The rest of Baby Jae's homeschooling, communication and motor skills updates are posted at Mummy's Homeschool here.
I'm busy to the neck taking care of the 2 active boys, so being able to write one decent blog post a week is already a bonus! Upcoming reviews: some of the safest teethers around, an ergonomic baby carrier, and an ergonomic chair that will grow with your child. Stay tuned!
—
P.S. View more developmental milestones here
P.P.S. Mummy's Reviews Facebook page has more than 1,580 likes! You're invited to "Like" our Facebook page here.