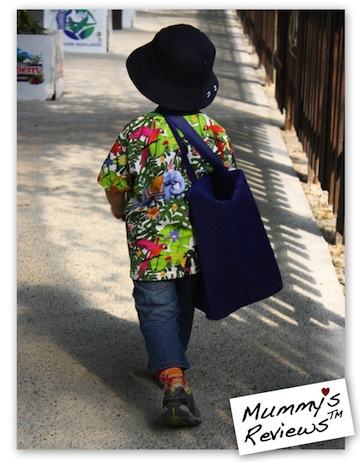 It has been a roller-coaster 3 months, with Vee experiencing his third and most serious episode of febrile fits. Fortunately, all's well now.
Health & Diet
Last month, poor Vee had febrile fits again. This time, the longest and scariest! We'd been out the whole day and he was his chirpy self, except for grumbling occasionally that he's tired.
In the evening, he was sitting on a shopping trolley at KLCC Isetan when he suddenly banged his head hard against a freezer shelf. He became non-responsive. Hubby carried him, he pee-ed, and we knew it was fits. But the fits lasted for more than 1 minute, which was unusual. I thought he'd concussion from the bang.
We dumped the groceries, rushed to the car, lay him sideways (for safety during fits), and drove to A&E department. The fits went on for about 5-10 minutes, stopped, then happened again during the car ride. I sang, called, rubbed him, but still no respond!
At the A&E department, the doctor took his temperature, and we realised he had a sudden fever of 39.6°C — good news because this likely means febrile fits instead of other conditions. She inserted medicine to stop his fits. Finally Vee woke up, about 30 minutes after the fits started. We were absolutely relieved! That 30 minutes was torturous because I felt like I was losing my precious child.
Test results showed a viral infection. He was hospitalized for a day. After discharge, hubby stayed at home to take care of him day and night. The fever went on for about a week, so he was understandably tired and fussy. I couldn't have coped alone, having to handle Baby Jae at the same time.
After speaking to the paediatric neurologist, he should be fine, so no extra tests needed.
On hindsight, fortunately he's homeschooled and is with me or hubby all the time, so we can react appropriately in case he gets a seizure. He's also less exposed to viruses from a big group of children, reducing the chances of sudden fever and fits. Usually, children outgrow the condition after about 5 years old. We certainly hope he'd outgrow this condition before attending primary school.
Febrile fits / seizures are common among babies and young children. Do read up more on it

here

 to know what to do just in case it happens to someone nearby.
Potty Training
Afternoon naps are now optional for Vee, depending on whether he's tired. I lay an absorbent bed pad or thick folded towel on the mattress. If he dozes off for nap, it's fine, I simply let him wet his shorts and the bed pad / towel. (This is the one we tried out: Conni Absorbent Bed Pad* I'd be testing out another brand soon.)
For long outings where he may nap in the car or stroller, I'd put training pants on him. Great that he's open to this now, after a couple of "accidents". Before he naps outside, we'd bring him to the toilet. And just as he's waking up, we'd remind him to hold his pee. (He usually pees soon upon waking up.) So far, this has been working well.
Night-time — 12 long hours, deep-sleeping boy, tonnes of pee –> zero progress
Sleep
His "battery life" is excellent, so if he takes an afternoon nap, he'd fall asleep only from 11+p.m. to even after midnight. He simply can't help bouncing up and down the mattresses until draining his last drop of energy.
Ever since dropping his afternoon nap, he started sleeping at 9+p.m. Peace!
So when Baby Jae takes his afternoon nap, we'd have "quiet time" — chit chat in whispers, cuddle (sometimes we doze off, oops!), or do quiet activities such as preparing new learning materials. All in a dim room. He loves this special time with me and is very well-behaved. Once the baby wakes up, he starts his attention-seeking behaviour. Guess he can never get enough time with Mummy?
Vee's homeschooling progress has been shared at Mummy's Homeschool here.
Hope my little boy will remain strong and healthy all year round!
—
P.S. View more developmental milestones (from 8 months old onwards).
—
Disclosure: I received a Conni Bed Pad for review. Currently, there's no full product review because the supplier decided not to distribute it in Singapore.
Mummy's Reviews™ is a review site that receives compensation if readers make purchases from affiliate links (these are marked with an *). If we receive compensation from the companies whose products we review, this would be disclosed. These compensation help to maintain and grow Mummy's Reviews™. We test each product thoroughly and give ratings according to our experience with it. We are independently owned and the opinions expressed here are our own.