Ubermums offers maternity and nursing wear for stylish Mummies. And shh… here's a little secret: often, you'll find nursing access via concealed / invisible zippers. This way, no one can tell that you're wearing a nursing top or dress. Even when baby has been weaned off, you can continue to wear the clothes for years to come. How's that for great value?
About Ubermums

Here's a little background on Ubermums:
Started by: Edwina Eng, mother to a toddler and a baby (from Singapore)
What's HOT: DUO range that combines maternity apparel with nursing features — a practical and popular choice
Country of origin: Made all over the Asian region as different countries specialise in different fabrics
First Impressions
During my quest for stylish maternity-cum-nursing wear, Ubermums approached me for a review. The nursing access via concealed zippers caught my attention because I've always been a fan of such zippers on my dresses.
After some virtual shopping, I selected the Lovely Garden Nursing Dress, and Lilyth Eyelet Nursing Top. This is the 100% cotton Lilyth Eyelet Nursing Top in light blue: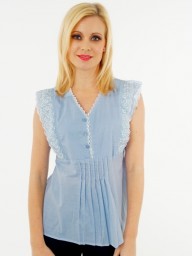 Because my torso is very short, the neckline is too wide, so I might have to send it for alteration. The zippers are hidden under the frills at the sides, so discreet that I sometimes forget that it's a nursing top!
As a surprise, Edwina included a nursing poncho in the mail. Baby Jae follows everywhere I go, so this comes in very useful for nursing in public. Exactly what I need.
Reviews of the dress and the nursing poncho are below…
Our Detailed Review – Ubermums Lovely Garden Dress
Rating Guide: ★ Oh no!     ★★ Poor     ★★★ Fair     ★★★★ Good     ★★★★★ Excellent!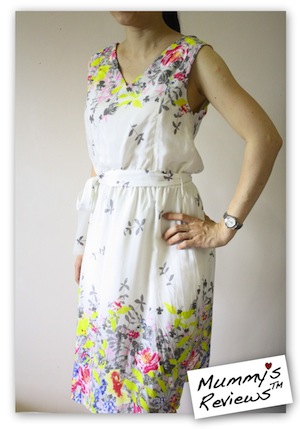 Doesn't look like a nursing dress at all!
(a) Laundry: ★★★ This dress is made of viscose, recommended to be hand washed in cold water. This is fine because I prefer all my nice tops and dresses to be hand washed.
(b) Fit & Comfort: ★★★★★ Since size XS isn't offered, I settled on size S. Fortunately, it fits nicely across my narrow shoulders and rests on my knees. (I've long outgrown the age of wearing mini-skirts. Ha!)
There's a gentle elastic at the waistline, so I expect to wear this dress up to the second trimester of the next pregnancy.
The viscose fabric is very smooth and flowy. I love the flowery print — perfect for dressy weekends!
(c) Ease of Use: ★★★★ To nurse, just slide the concealed zipper upwards — manageable with one hand and discreet. (Comparatively, it's more difficult to nurse with the Lilyth Eyelet Nursing Top because the zippers are hidden under the frills.)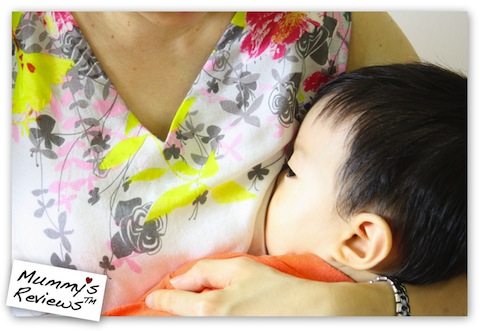 (d) Quality: ★★★★ The dress is made in India; sewing and workmanship are excellent. I've worn it several times, not enough to judge its long-term quality though.
(e) Overall Value: ★★★★★ Each Lovely Garden Nursing Dress retails at SGD62.90, which is very reasonable for a pretty 2-in-1 maternity / nursing dress.
In fact, Ubermums DUO dresses are mostly priced at SGD60+. The nursing tops typically retail at SGD30+. Working mums, do check out the nursing work tops.
I love Ubermums nursing dress with concealed zipper!
—
Our Detailed Review – Ubermums Nursing Poncho
Rating Guide: ★ Oh no!     ★★ Poor     ★★★ Fair     ★★★★ Good     ★★★★★ Excellent!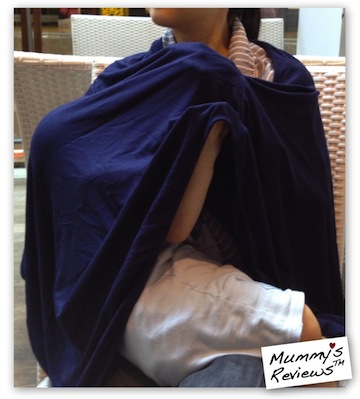 (a) Laundry: ★★★★ This nursing poncho from the soft and stretchy range is made of breathable rayon spandex jersey fabric. It can be hand or gentle machine washed. So far, I've only hand washed it in cold water.
(b) Fit & Comfort: ★★★★★ Indeed, the poncho is very soft and stretchy, providing ample coverage for 10 months old (about 8.5kg) Baby Jae.
(c) Ease of Use: ★★★★★ Very simple — simply wear over the neck and bring baby inside the poncho to nurse. No need to adjust any strap like my existing nursing cover.
The neck hole is just nice — big enough to check on Baby Jae's latch, yet not too big to slide off my shoulders.
I also like that it's in a plain neutral colour, no loud print to draw unnecessary attention.
It's easily rolled into a small bundle and has become a staple in my diaper bag. So far, I've been using it to feed Baby Jae in various restaurants and even during a picnic at a crowded Bon Odori event, with strangers standing right beside us.
Also, when I'm cold, the poncho can keep me warm, since I usually don't an extra shawl or cardigan.
(d) Quality: ★★★★ The nursing poncho is now being dried, and I forgot to note down where it's made in. Oops! Anyway, the sewing and workmanship are excellent. I've used it many times over the past 2-3 months, still not enough to judge its long-term quality though.
(e) Overall Value: ★★★★★ Each Ubermums Nursing Poncho retails at SGD21.90, very affordable!
Ubermums Nursing Poncho is a must-have in my diaper bag — soft, stretchy and does its job well.
—
What we like about them:
Nursing access via concealed zippers — doesn't look like nursing clothes at all
Multi-purpose DUO range — 2-in-1 for maternity and nursing
No-frills nursing poncho does it job well
What can be improved:
Offer clothes in XS for petite Mummies
Many nursing wear designs are possible with concealed zippers — look forward to even more colours and prints
—
Win Your Own — CLOSED
To thank supporters of Mummy's Reviews™ Parents Club, this Giveaway is EXCLUSIVE to Parents Club members. There will be TWO (2) lucky winners:
First Prize: 1 Ubermums dress
Second Prize: 1 Ubermums nursing poncho
How to Participate
1. Join Mummy's Reviews™ Parents Club here or below (existing members counted)

2. Fill in the online form HERE
Other Information
This Giveaway is open to subscribers with a mailing address in Singapore.
If you're a winner, the colour / design of your prize depends on the stock available.
It will run until 5 October 2012 (Friday) 2359hr (GMT +8).
The usual Giveaway Terms apply.
Submit your entry now and good luck!
Winners Announcement
Thank you to all Mummies who have participated in this Giveaway. The winners are …
Divya M. who chose "Chambray Nursing Shirtdress"
Wendy P. who chose "Fraiche DUO Dress – Dew Drops print" (and wins a nursing poncho)
Congratulations to you! You'd receive an email on how to claim your prize.
—
Get Your Own (with Discount!)
To get your own stylish and wearable maternity and nursing wear, visit Ubermums.
Special Treat: 10% discount
Discount Code: Mummy10
Validity Period: For 1 month until 18 October 2012
—
P.S. Why I was M.I.A. for 2 weeks: Hubby was hospitalised due to dengue fever for 1 week, so I'd to manage the boys on my own. Amazingly, all of us pulled through the tough time! We're very grateful that hubby is back to health and home again.
Now I can finally resume writing overdue reviews, close previous giveaways, and reply your emails / comments. Thank you very much for your patience!
—
Disclosure: I received a Lovely Garden Nursing Dress, a Lilyth Eyelet Nursing Top and a Nursing Poncho from Ubermums for review.
Mummy's Reviews™ is a review site that receives compensation if readers make purchases from affiliate links (these are marked with an *). If we receive compensation from the companies whose products we review, this would be disclosed. These compensation help to maintain and grow Mummy's Reviews™. We test each product thoroughly and give ratings according to our experience with it. We are independently owned and the opinions expressed here are our own.