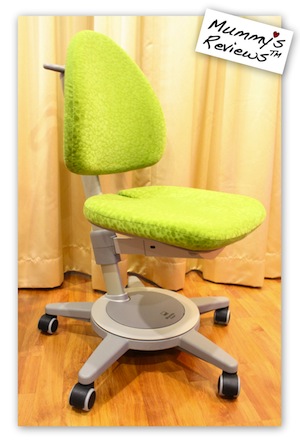 Today, I'm reviewing my dream ergonomic Moll Maximo Forte Chair, a lovely present from hubby and made possible by XTRA Furniture. Moll ergonomic desks and chairs from Germany are designed to grow with your child, supporting her posture through her education years.
Even before marriage, we've been eyeing the Moll ergonomic furniture range for our future children. Since Vee is still too young for the chair now, I get to use it first. Finally, no more backache from regular chairs that are too big, too deep and too high for petite me (who's as small as a primary school student).
After more than 1 year, I still love the Moll Chair for its perfect fit, comfort and durability.
About Moll Maximo Forte Chairs
These are the main features of the Moll Chair:
How it grows: Seat height, seat depth and backrest height are easily adjustable
Load: Up to 80kg
Suitable for: Height approximately 110 to 195cm
Warranty: 5 years
Country of origin: Made in Germany
The washable upholstery covers are available in a range of colours and prints.
A video introducing Moll ergonomic desks and chairs is on Youtube here.
Our Plan
In Jan 2011, I started doing more desk work (related to this blog) at home. Same as my previous work experience, I developed a backache from sitting down 2 hours a day on a non-ergonomic office chair.
I started searching for a suitable ergonomic chair and tadaa… a light bulb moment appeared — get the Moll Chair now to relieve my backache and pass the chair to Vee when he's about 5 years old. Then if budget allows, we'll get the ergonomic desk for him too.
Why Moll? After 5 years, we still haven't seen any other ergonomic children furniture that comes close to this invention, in terms of design and quality.
First Impressions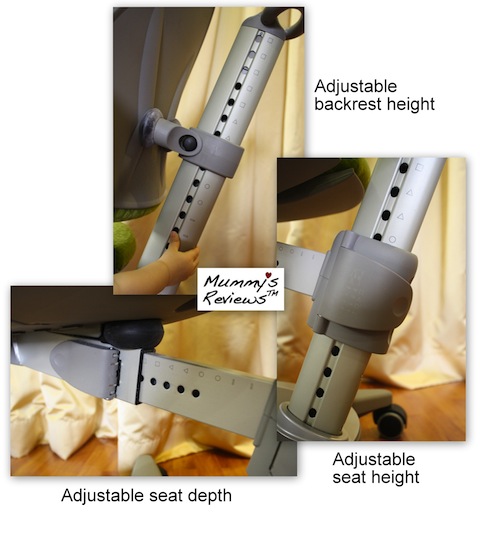 I first tried out the Moll Chair at XTRA Furniture. The sales personnel adjusted it to fit me. When I sat down, my feet could finally rest flat on the ground, how wonderful! For almost three decades, my feet have been dangling on EVERY adult chair that I've used!
Regular adult chairs are usually too deep for me, so I can't rest my back and end up with backache. Alternatively, I've to do work sitting on the floor, which is also uncomfortable over long hours. Moreover, I have slight scoliosis (curved spine), which worsens the backache. With the Moll Chair, my back could rest comfortably on the backrest.
Have a child who keeps fidgeting when doing her homework at the dining table? Perhaps the table and chair are too high for her. There are five points to note whether the child is seated ergonomically at her desk. Find out by viewing the video on Moll's page on ergonomics.
As a Mummy semi-obsessed with cleanliness, I like that the cover is washable and replaceable if necessary.
Overall, the chair seemed well-designed and well-made, so we bought one with a press discount, in exchange to publish a review only if we liked the chair.
After paying for the chair, it was delivered the following day, on time. The delivery staff assembled the chair, then showed me how to adjust it and use its features.
You may view a video on using the Moll Chair at this page.
Our Detailed Review
Rating Guide: ★ Oh no!     ★★ Poor     ★★★ Fair     ★★★★ Good     ★★★★★ Excellent!
(a) Ease of Use: ★★★★★ The seat height, seat depth and backrest height are easily adjustable, just as shown in the video linked above.
More importantly, the adjustments are done easily by an adult, not a child, because of its lock features (one example in the picture below). This means Vee can't meddle with the chair as he wishes.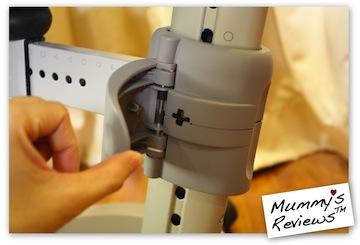 There are interesting secret compartments under the chair, but I don't use them. Perhaps a child will find them interesting to keep his secret messages.
(b) Performance: ★★★★ After using the ergonomic Moll Chair for a few days, my backache disappeared. Reasons? All the five points for sitting ergonomically are met:
the backrest supports my spine
my arms rest comfortably on the desk
my hips are flushed against the back of the seat
my calves are vertical and thighs are horizontal to the floor
my feet are flat on the floor
The wheels are uber-smooth, which I love. The chair is quiet when I swivel it around or move across the room. However, the backrest makes a creaky sound when I rest on it and move my back.
The velvety fabric feels very comfortable. This applies to the solid colours. Printed designs are on coarser fabrics, that's why I gave them a miss though I adore prints.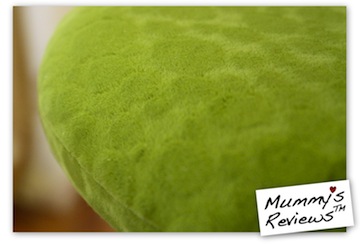 The maximum load is 80kg. This means it's ok when Vee wants to sit on my lap while I'm doing desk work. Not ok for hubby + Vee on the chair though. Since the chair is designed for an individual up to 195cm tall, the load limit should correspondingly be about 95kg, based on the Ideal Weight Calculator here.
Hubby doesn't feel that this chair is supportive enough for his weight, 60+kg. So our conclusion is that the Moll Chair can be used comfortably until 40+ kg. For a petite girl like me, it can used till adulthood. For a plus-size child, perhaps until primary school. After which, he'd need to upgrade to an ergonomic chair designed for adults.
(c) Quality: ★★★★ The chair is very well-made. There's more information on the quality and safety standards that Moll abide to here.
I didn't buy an extra cover and have maintained the cleanliness by occasionally steam-cleaning it.
One flaw: the cover at the base of chair is easily removable. For a while, Vee loved to pull it out, and that irritated me! Otherwise, I can't find other faults. The chair is as good as new after 1 year and 8 months.
(d) Overall Value: ★★★ When I bought the Moll Maximo Chair in Jan 2011, each was retailed at RM2900, about SGD1100+. That's equivalent to about 10 sessions of private physiotherapy sessions to alleviate my backache.
Instead of upsizing Vee's chair as he grows or affecting his spinal health on an ill-fitting chair, one Moll is all he needs from about 5 years old through primary school. For one chair, it's a high price, yet a worthy long-term investment, especially for a petite child.
The Moll Maximo is a German-quality ergonomic chair designed to grow with the child. I'm a happy user and hope to get the table for Vee when he's older.
 —
What we like about it:
Seat height, seat depth and backrest height are easily adjustable,
Lock features for adjustments
Promotes proper sitting posture, relieving me of backache
Cover is washable and replaceable
Well-made — German-quality
What can be improved:
Increase load from 80kg to 95kg to match maximum child height of 195cm
Use velvety (instead of coarser) fabric for printed designs too
Extend warranty from 5 to 15 years (for the price paid, we'd prefer a longer-term assurance)
—
Get Your Own (with Discount!)
To get your own Moll furniture, visit XTRA Furniture at:
The Gardens Mall
Lot S-236 & 237, 2nd Floor
Mid Valley City
Lingkaran Syed Putra
59200 Kuala Lumpur, Malaysia
Special Treat: 10% discount on Moll furniture only
How to claim discount: Show the staff this review article (on your gadget screen or printed)
Validity Period: For 1 month until 9 November 2012
Website: XTRA Furniture
Live outside Kuala Lumpur, Malaysia? Find the retailer closest to you here.
—
P.S. XTRA Furniture carries a wide range of ergonomic furniture. The next ergonomic chair that I'm interested in is the world's first original kneeling chair, Variable Balans. More details can be found here. It seems like a very intelligent design!
If you've tried any ergonomic furniture, feel free to share your recommendations.
—
Disclosure: We bought our own Moll Chair with a 25% press discount from XTRA Furniture. As part of our fair review policy, XTRA Furniture is given 4 months of free sidebar banner ad.
Mummy's Reviews™ is a review site that receives compensation if readers make purchases from affiliate links (these are marked with an *). If we receive compensation from the companies whose products we review, this would be disclosed. These compensation help to maintain and grow Mummy's Reviews™. We test each product thoroughly and give ratings according to our experience with it. We are independently owned and the opinions expressed here are our own.