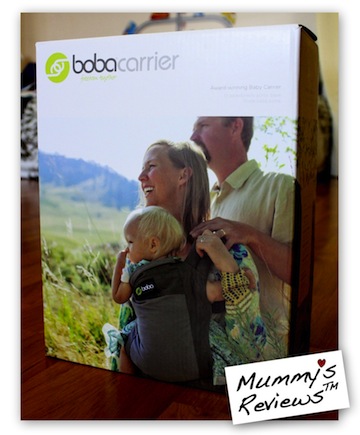 Hubby and I are HUGE fans of babywearing. Today, I'm reviewing Boba Baby Carrier 3G, provided by Boba.
After 7 months of testing, I love the Boba Baby Carrier 3G for providing excellent support, and securing my precious handbag when I'm outdoors (my must-have for shopping and travelling!).
What's an ergonomic Soft Structured Carrier?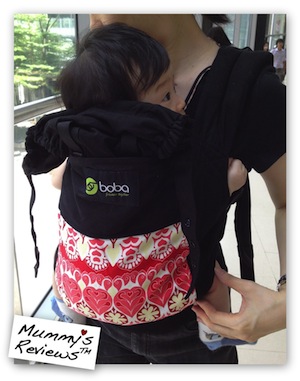 There're many baby carriers available in the market. Personally, I like to use the sarong ring sling or baby pouch carrier for a young baby. When he gains better head control, I start using an ergonomic Soft Structured Carrier (SSC).
An SSC has a body panel, adjustable padded waistband and shoulder straps, and buckles.
Features of an ergonomic baby carrier:
allows the baby to sit comfortably instead of dangle his legs by the crotch (as in the picture above)
distributes baby's weight evenly across caregiver's shoulders and hips
About Boba Baby Carrier 3G
These are the main features of the baby carrier:
Fabric: 100% cotton (organic cotton option is available)
Carry options: Front and back carry
Closures: 1 buckle for the waist, 1 buckle for the back (front carry) / chest (back carry), High quality military grade buckles
Sleeping hood: Yes, removable, adjustable, can be stored in zipper pouch
Baby / Child's weight range: 7 – 45lbs (~3.18 – 20.4kg)
Infant carrier option: Converts to an infant carrier without an insert, Extra head support adjustments for infant
Caregiver build: Height 5'0" – 6'3", Waistband range 25" – 58"
Safety: Meets or exceeds all ASTM F-2236, EN13209-2 and CPSIA baby carrier standards or requirements
Country of origin: Designed in Colorado (U.S.), made in China
They're available in a range of solid colours and prints.
First Impressions
When Boba invited me to review the 3G carrier, Baby Jae was 3+ months old. We babywear regularly, at home and outdoors. Since Baby Jae regurgitated milk very often, it was essential to have another carrier to rotate while one is in the wash. After reading up on Boba 3G, I agreed to test it out.
At that time, the organic cotton option wasn't available yet, so I settled for the very feminine and pretty SOHO print in regular cotton.
Since we've been using and loving the Beco Butterfly 2, it's inevitable that I'd be looking for improvements. The Boba 3G has these additional interesting features:
Elastic bands that neatly roll up straps
Shoulder strap holders that keep purses and diaper bags in place
Patent-pending removable foot straps for toddler
So far so good, now to the REAL test…
Our Detailed Review
Rating Guide: ★ Oh no!     ★★ Poor     ★★★ Fair     ★★★★ Good     ★★★★★ Excellent!
(a) Laundry: ★★★★
The washing instructions state, "Spot clean with soap and water. Machine wash only when necessary on delicate cycle. Air dry."
After using the Boba 3G several times, Baby Jae regurgiated some milk on it, so I handwashed it in cold water. There was severe colour run, so the water turned very blackish. After 4 rinses, the water finally turned lighter, and I gave up rinsing further. I hung the carrier to dry but a small part of the nice print was stained.
We continued to use the carrier and I handwashed it again subsequently. This time, some (but less) colour run. After drying, the previous stain disappeared.
Baby Jae loves sucking the shoulder straps, and I don't want him to consume dye from the colour run, so I religiously use a big piece of cloth or super-wide bib to cover the straps. If he's sleeping, I'd remove the cloth or ensure nothing is blocking his face. The alternative is to buy or make strap covers.
Recently, I've also put the Boba 3G in a laundry net and washed it with a load of black clothes. It turned out fine.
There's no inside panel (like the Beco Butterfly 2, so for outdoor walks, hubby won't dampen the carrier with his perspiration, which means less frequent washing is needed
Update: I received a newer stock of Boba 3G to test out the fabric. Great to find out that there's NO colour run problem, so this section has been updated from 2 to 4 stars.
(b) Ease of Use: ★★★★
For a young baby, front carry is the only option. The steps: buckle the waist belt, tighten, place baby in carrier, put on the shoulder straps, buckle at the back, tighten. For subsequent use on the same caregiver, there's no need to adjust the straps anymore.
Buckling at the back proves a little too challenging for hubby, so he gets me to do it for him. For this sole reason, he prefers the Beco over the Boba when he needs to take care of Baby Jae alone.
I can easily buckle up at the back, but the buckle is often too high and presses against my bony frame, so I may need hubby to pull it down further.
At about 8-9 months old, Baby Jae went through a clingy-koala-bear-stage. To keep him calm, I had to back carry him when preparing meals, eating, bathing Vee, and even using the washroom. It was a crazy period! Thanks to Boba for keeping me sane.
Back carrying is very easy. I lay the carrier on a sofa / thick mattress, sit baby on it, turn my back to buckle at the waist, put on the shoulder straps (like carrying a backpack), then buckle at the chest. The moment I stand up and start walking, Jae stops fussing. Oh great… peace! And life goes on.
Because of no inside panel, it's less convenient to transfer baby to another caregiver, or from front to back carry. Which isn't a big deal for us.
Interestingly, the BEST feature that got me completely hooked to the Boba 3G are the shoulder strap holders that keep my handbag in place. I simply carry my handbag, snap over it, and it's as good as being glued to me. It won't slide down wherever I go, and I can't forgetfully leave it all over the place. This is the reason I choose to bring the Boba 3G for all my shopping and overseas trips.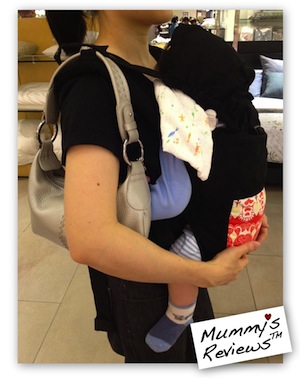 The elastic bands that neatly roll up excess part of the straps is suitable for petite Mums.
(c) Fit & Comfort: ★★★★
The waist belt is well-padded and comfortable. Initially, I found the shoulder pads too thick, but have gotten used to them after a while.
I'm very petite and am using the smallest setting for both the waist and shoulder straps. Thankfully, I'm not any tinier!
Here's Baby Jae in front carry mode, awake on the left and asleep on the right: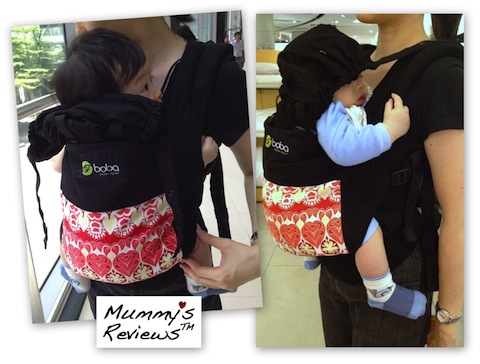 The sleeping hood can be folded into the front zipper pouch. When needed, remove it and snap it onto both shoulder straps. I like that the sleeping hood has adjustable side elastics that give a very snug support, even on a small baby.
And here's Baby Jae in back carry mode, trying to whack me with a clothes hanger!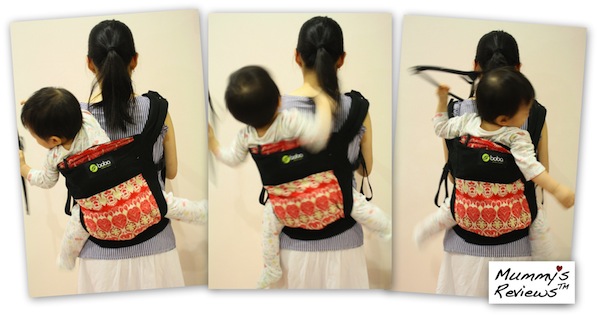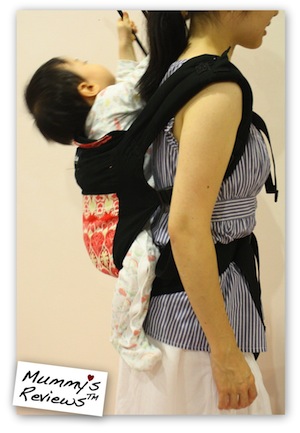 The Boba 3G fits hubby well too (he's of average Asian build), just that we didn't manage to take suitable pictures.
(d) Performance: ★★★★
When it's naptime outdoors, I simply need to snap the sleeping hood into place, start walking about, and Baby Jae would fall asleep easily. Hubby can do the same too! 🙂
Now that he's 9kg, I can still babywear him for 2 hours at a stretch. After some rest, usually in a car ride or a meal, I can continue to carry him.
Boba 3G distributes the weight across the shoulders and waist, providing excellent support, so I don't get backache from babywearing.
We didn't manage to try out the infant carrier option (3.5 to 7kg) and foot straps for toddler. (Just for fun, I tried back carrying 16kg Vee for 15 minutes though. Ha!)
Update: As Jae grew older and I was pregnant with Baby #3, I stopped babywearing him. When he was 11kg and beyond, hubby said that the Boba 3G doesn't provide sufficient support for long walks, so he chose to bring the Beco Butterfly II for our one-week vacation.
(e) Quality: ★★★★
The sewing and workmanship is excellent. After a few washings, the Boba 3G still looks and performs as good as new, except for the colour run part which is getting less.
Update: The newer stock of Boba 3G doesn't have colour run problem.
(f) Overall Value: ★★★★
Each Boba Baby Carrier 3G retails at USD120 (solid colours) and USD125 (prints). Organic cotton option is at USD160. In Singapore, it's at SGD189.90 for solid colours, very reasonably-priced.
The Boba Baby Carrier 3G provides excellent support for babywearing at home and outdoors.
—
What we like about it:
Safety first: Meets or exceeds all ASTM F-2236, EN13209-2 and CPSIA baby carrier standards or requirements
Provides excellent support — ergonomic for baby and caregiver (for hubby, it's for baby up to 11kg)
Easy to do front and back carry
Can be used until child is 20kg
Suitable for caregivers with a wide range of build (Height 5'0" – 6'3", Waistband range 25" – 58")
Shoulder strap holders that keep handbag in place
Sleeping hood with adjustable side elastics provide snug support
What can be improved:
Use fabric with no colour run (Resolved, so not a concern now)
—
Get Your Own
To get your own Boba Baby Carrier, visit Boba. Boba products are widely available in Singapore and Malaysia, refer to Boba's International Store Locator page.
You may also check the price at Amazon here: Boba Baby Carrier 3G
*
—
P.S. Read more on Why I Love Babywearing.
P.P.S. I'll update the review on Beco Butterfly 2 when time permits.
—
Disclosure: I received a Boba Baby Carrier 3G from Boba for review. After the report of colour run, Boba sent me a replacement sample to test out.
Mummy's Reviews™ is a review site that receives compensation if readers make purchases from affiliate links (these are marked with an *). If we receive compensation from the companies whose products we review, this would be disclosed. These compensation help to maintain and grow Mummy's Reviews™. We test each product thoroughly and give ratings according to our experience with it. We are independently owned and the opinions expressed here are our own.